In The Resilient Gardener: Food Production and Self-Reliance in Uncertain Times, self sufficient living is the focus. In it, author Carol Deppe discusses how to create successful gardens and overcome weather-related issues that can interrupt a harvest. She even discusses how to alter garden plans to accommodate personal issues like illness or poor health.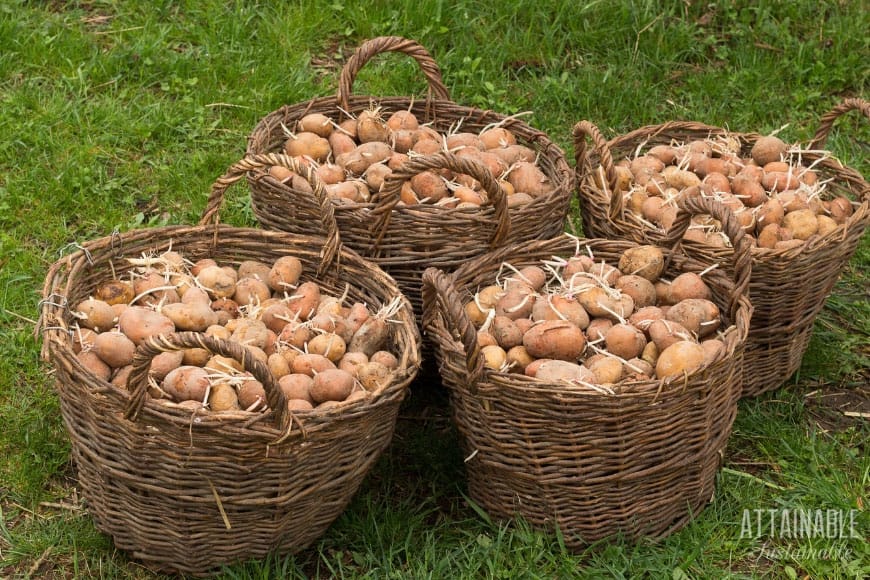 Self sufficient living
Despite the slightly ominous title, The Resilient Gardener is not a book about calamity and strife. It's a book—simply—about being self-reliant, growing your own food rather than leaving that responsibility to the local supermarket. A prepper garden, you might say.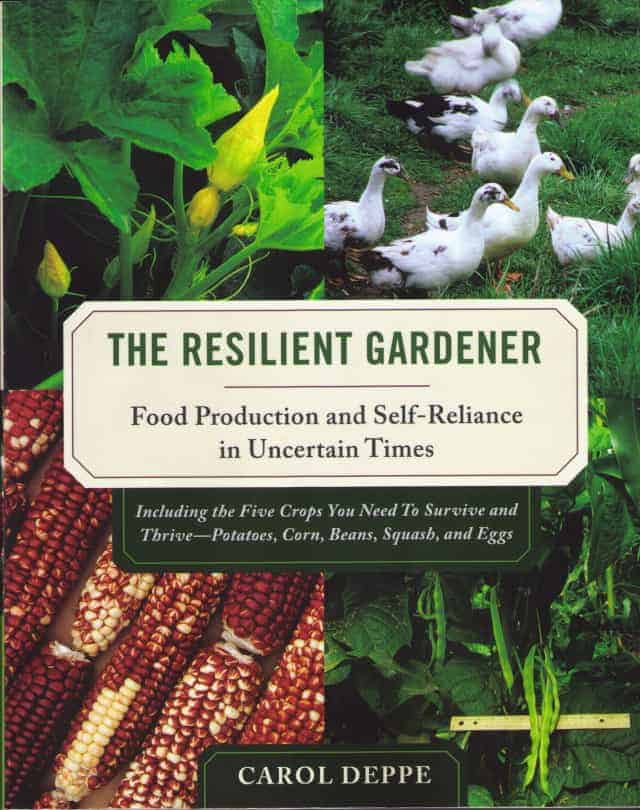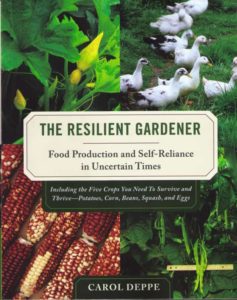 I loved this book. Really loved it. It's chock full of information and at the same time takes readers on a wandering tour through the author's farm and garden. The author's tips, randomly interspersed throughout the text are invaluable.
This isn't a book to quickly skim; I found myself reading every single word, just to be sure I didn't miss a valuable nugget of information. Happily, it's a pleasant book to read, cover to cover and the author's wry sense of humor is evident in her writing.
Grow Some Greens!
Ready to grow fresh greens, no matter WHERE you live? Sign up for my
FREE quick-start guide and start growing some of your own food!
Planting for calories
Deppe focuses on five crops—potatoes, squash, corn, beans, and eggs—for good reason. (Read more about those here.) Think about this: If your community found itself in a situation that prevented food from coming in (think: earthquake, hurricane, flooding) would your garden feed you? It might.
But while a garden full of tomatoes, squash, lettuce, chard, carrots, and peppers is certainly providing your family with healthy food options, it's not providing enough calories for self sufficient living.
Expand to include those five crops that Deppe covers in her book—or even just a few of them—and your garden will sustain you in uncertain times. Or year round, as the author's does.
The chapters focusing on each of those specific crops are detailed. Some might say too detailed, but I learned so much! Deppe discusses different varieties and how they differ as well as how best to store each crop. (Did you know that some potato varieties are better for baking while others shine in the frying pan?)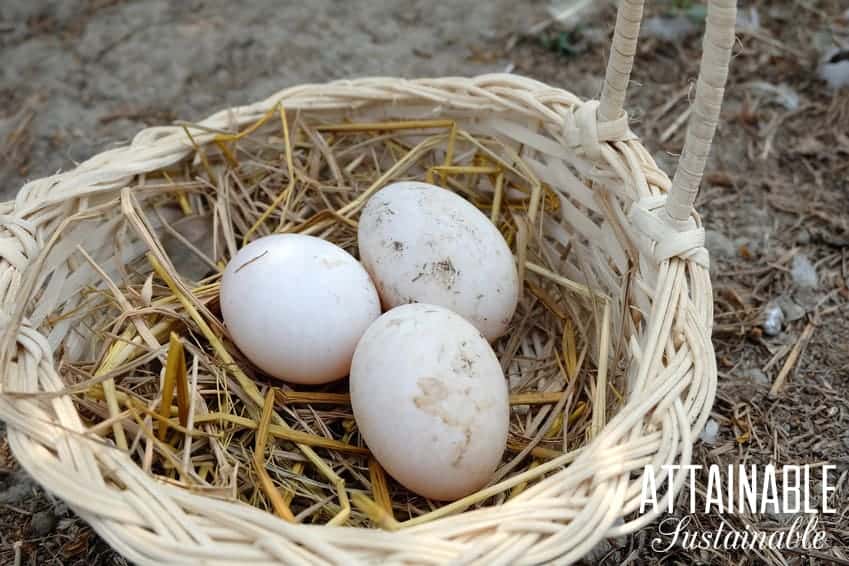 She discusses both chickens and ducks, detailing her reasons for choosing ducks as her source for eggs. And she writes about seed saving and even a bit about developing her own seeds through breeding. I checked The Resilient Gardener: Food Production and Self-Reliance in Uncertain Times out of the library initially, but after reading it I've decided to add it to my bookshelves.
It's a book I'll read repeatedly for inspiration and know-how about growing more food.