Rhubarb is one of the earliest harvests of springtime, and the stalks continue to grow throughout the summer. Learning how to make rhubarb jam lets you preserve some of the harvest to use year round.
Rhubarb is often paired with fresh strawberries in a variety of recipes. Try this strawberry rhubarb jam for a somewhat different flavor!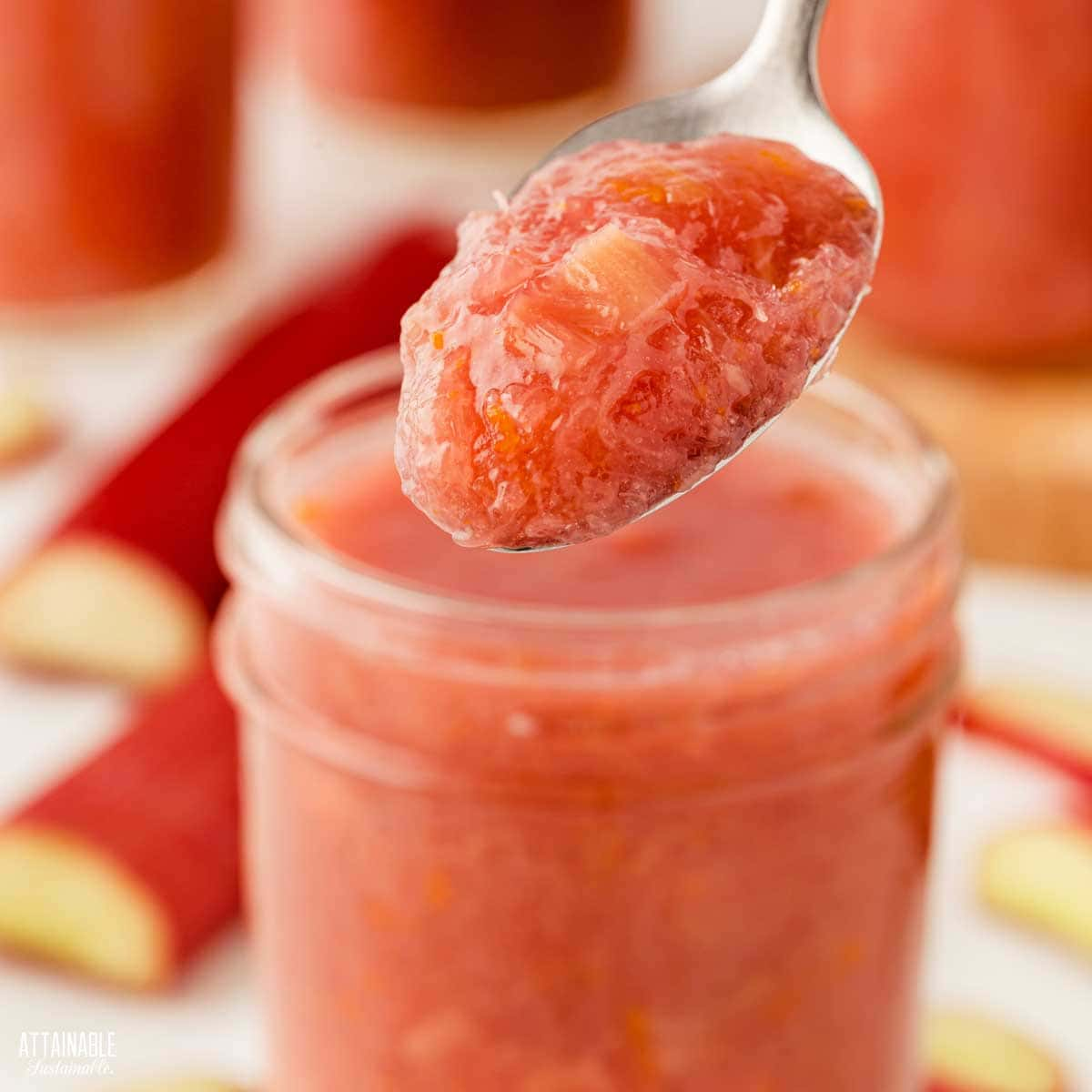 Despite the ready availability of rhubarb during the growing season, it's an unlikely product to find in grocery stores. This recipe calls for simple ingredients and uses added pectin.
You can follow the instructions here for canning the jam to make a shelf stable product, save it as freezer jam, or if you go through fruit spreads quickly at your house, simply put it directly in the fridge. (Unprocessed jam will last in the fridge for about a month.)
The Handcrafted Pantry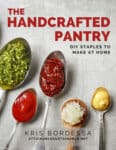 Ready to DIY your pantry with healthier ingredients? Check out my ebook, The Handcrafted Pantry! Filled with delicious recipes for some of your favorite condiments, snacks, and toppings, it's the guide you need to start skipping packaged products and embrace homemade.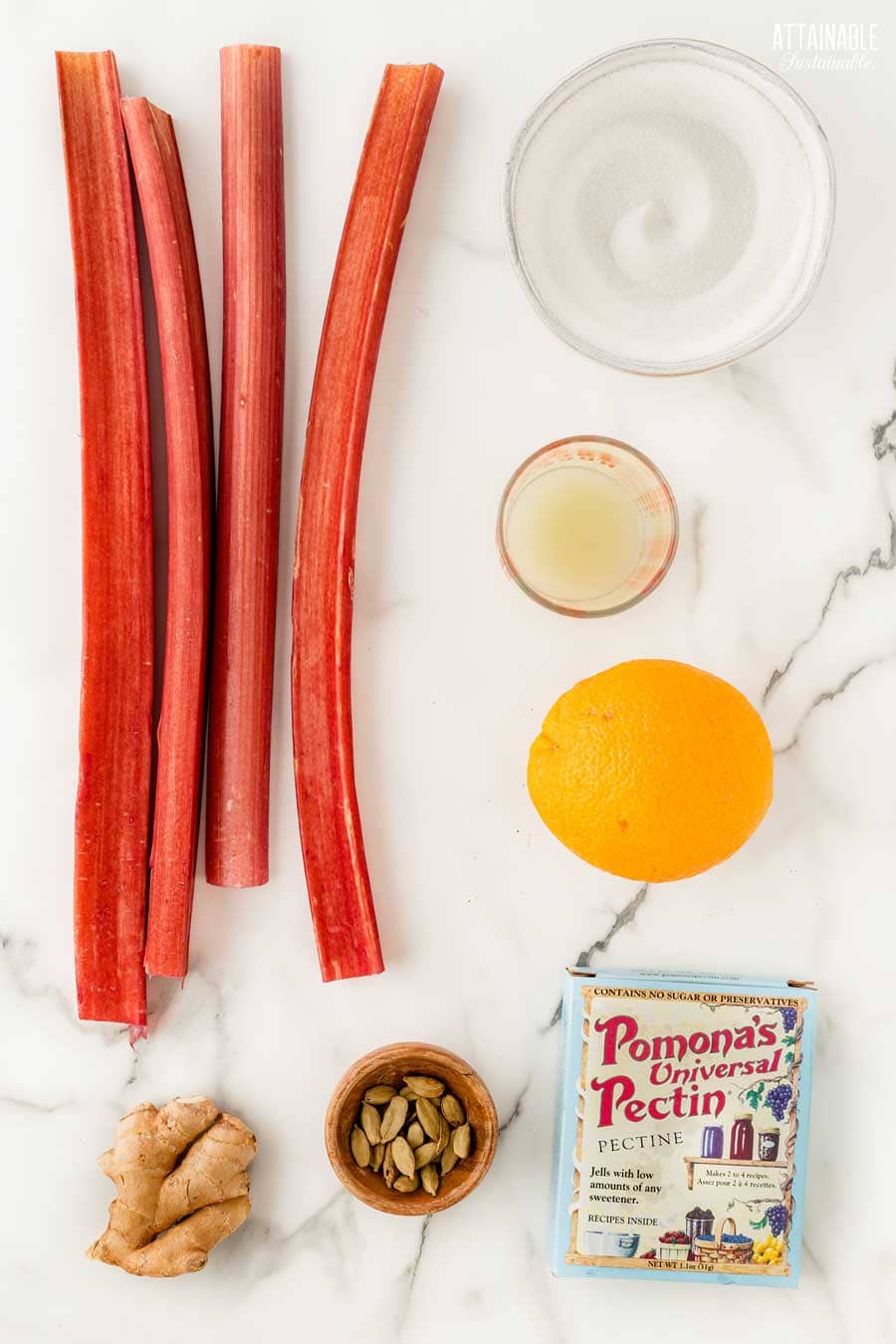 Ingredients
Rhubarb — Fresh spring rhubarb stalks look much like a reddish colored celery and have a somewhat sour flavor. Find a friend or farmer who can supply you with a pound or more. The leaves are to be avoided, as they are poisonous. (Read about growing perennial rhubarb plants here.)
5 Easy Steps to Transform Your Pantry!
Ready to switch from store bought to homemade? Let me help you make some changes! Grab my FREE five-part guide to getting started.
Sugar — Sugar is required for the setting of the jam, but it also balances the tart rhubarb. Use your favorite brand of granulated cane sugar. I prefer organic.
Pectin – This recipe is made using Pomona's Universal Pectin. This is the only pectin I use anymore as it allows me to use much less sweetener. The standard pectin brands use an obscene amount of sugar in my opinion, often requiring equal amounts of sugar and fruit! This product uses a low methoxyl method and calls for using two different ingredients, which are included in the box: pectin (the large packet) and calcium powder (the small packet). The dry pectin is mixed with the sweetener before being added to the fruit. The calcium water is added directly to the fruit.
Spices — This recipe calls for using cardamom pods, freshly grated ginger, and orange zest to make a spiced rhubarb ginger jam. If you want a plain rhubarb jam, it is safe to omit the spices.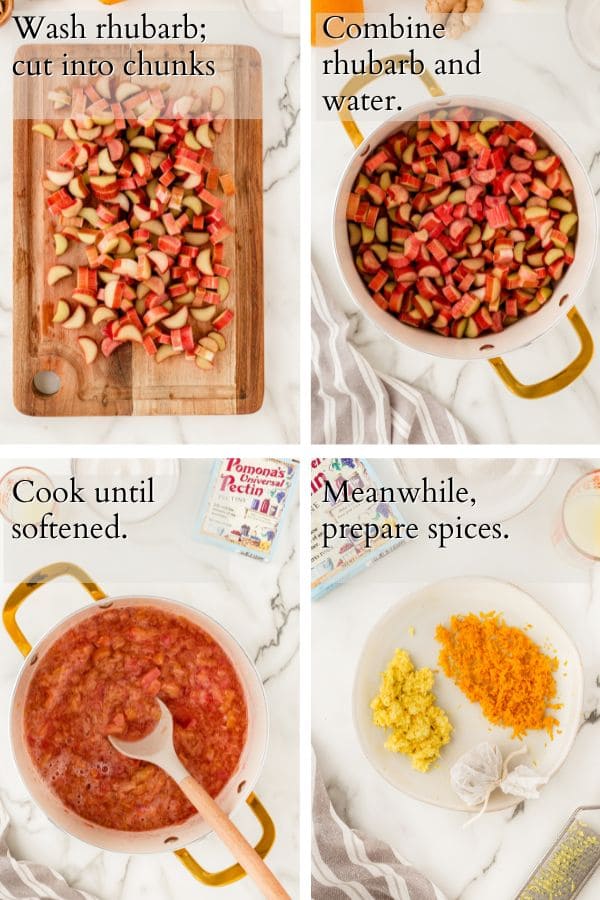 Preparing the Jam
Start by chopping and cooking the rhubarb until it's soft. Because rhubarb is a bit like celery in texture, chop the stems into small pieces to avoid stringy bits in the finished batch of jam. (You'll notice that even with this precaution, the strings of rhubarb will be visible in the jar; this is perfectly normal.)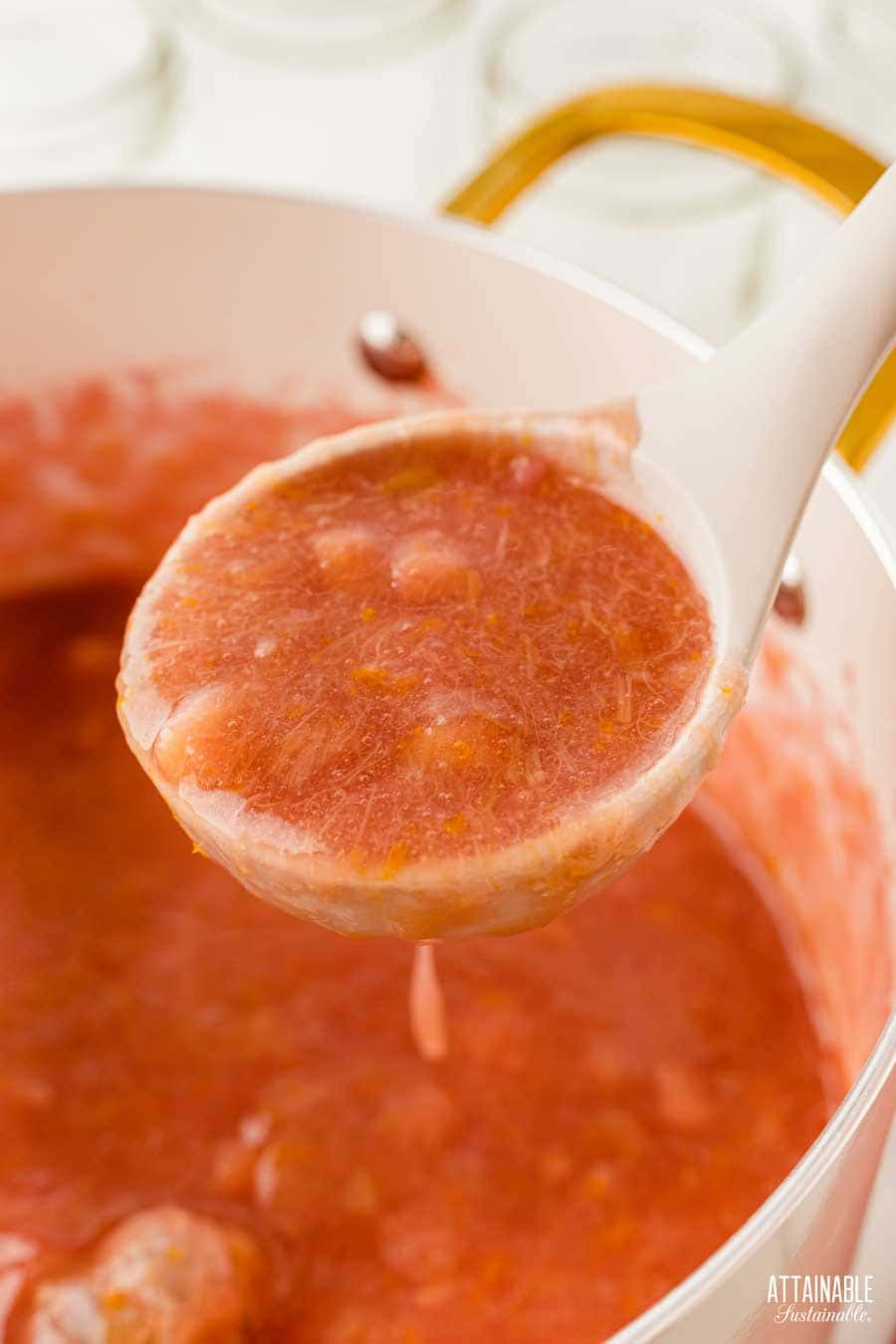 Cook the rhubarb with a cup of water until soft. Add the spices and calcium water and bring to a boil.
Meanwhile, combine the sugar and pectin thoroughly. Once the fruit mixture is boiling, you'll add the sugar and stir vigorously to dissolve the pectin.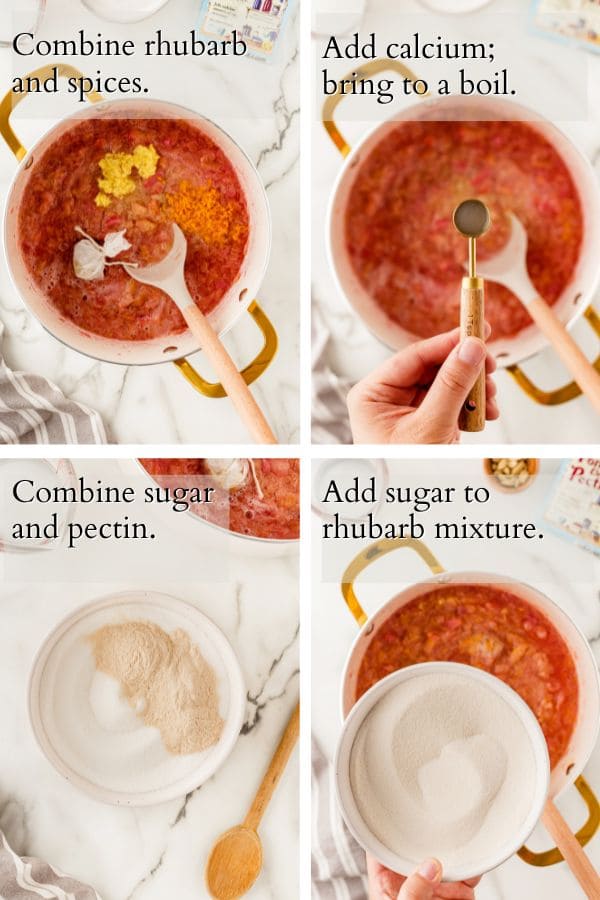 Preserving this Rhubarb Jam
My favorite way to preserve homemade jam and jelly is to water bath can it. This means that it becomes a safe shelf stable product that can be stored at room temperature. It's easy to do, but if you'd prefer, freezing or simply refrigerating this jam is fine, too.
🍅 Safety First!
Canning is an excellent way to preserve food for the pantry, but there are some important safety considerations to keep in mind. The recipes on this site have been made following safe canning procedures by a certified Master Food Preserver.
Know the difference between water bath canning and pressure canning. Low acid items must be pressure canned for safety.
Altering ingredients may change the recipe's pH, posing a safety issue. I highly recommend investing in pH paper to test your products for acidity level when canning. Note: For safe water bath canning, the Hawaii Master Food Preservers suggest a pH of 4.2 or lower in the tropics. In other regions, the recommended pH is 4.6 or lower.
Use the proper jars and lids. Never reuse lids, with the exception of the Tattler or Harvest Right hard plastic lids that are intended for such a purpose.
For more on canning equipment, please go here.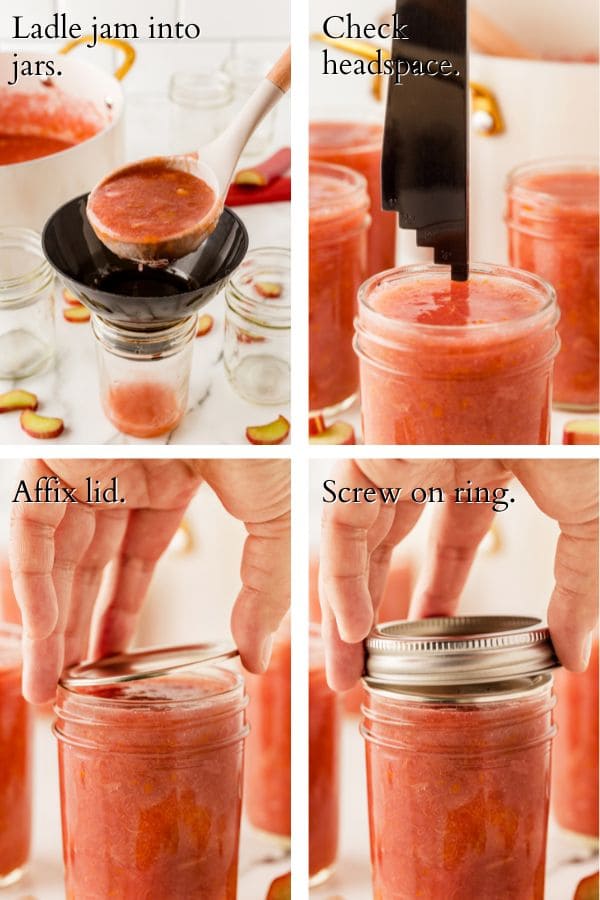 Canning Jam
You'll need special canning jars, lids, and rings (read more about canning equipment here) to make this homemade jam shelf-stable, but the process isn't difficult.
Use quarter-pint or half-pint jars for this recipe.
Once the jars are filled, you'll process them in a water bath. What this means is you'll put the filled and sealed jars of jam into boiling water and heat them for ten minutes. This assures that the jars will seal well.
You might be able to use a large pot, rather than a special water bath canner.
Hot tip: Boil some extra water in a saucepan or electric kettle as you're working. If you need to top off the water in the canner, you won't cool down the water too much.
Place hot jars on a countertop lined with a kitchen towel and allow to cool fully. As they cool, you'll hear the little "tink" sound of the jars sealing. Store any unsealed jars in the fridge and use those first. (This is unusual, but it does happen once in awhile.)
Remove the ring from each sealed jar, rinse to remove any jam residue, and store (without the ring) in a cool place, such as the pantry.
Here's a more detailed look at canning jam and jelly and a collection of even more jam recipes!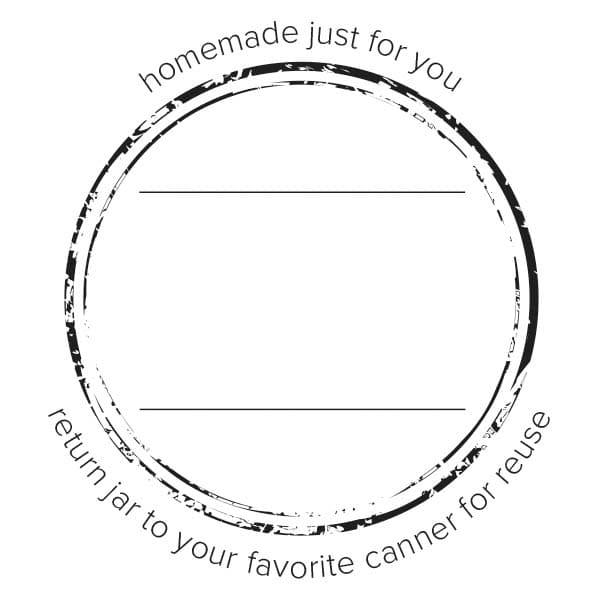 Planning on doing lots of canning this year? Grab a FREE download of these
cute printable canning labels
— complete with a gentle reminder to return the jar, in case you're giving some as gifts!
Using this Jam
Spread this delicious jam on toasted bread or English muffins for a quick breakfast.
Spoon a little jam over vanilla ice cream for dessert.
Use it to baste on grilled chicken.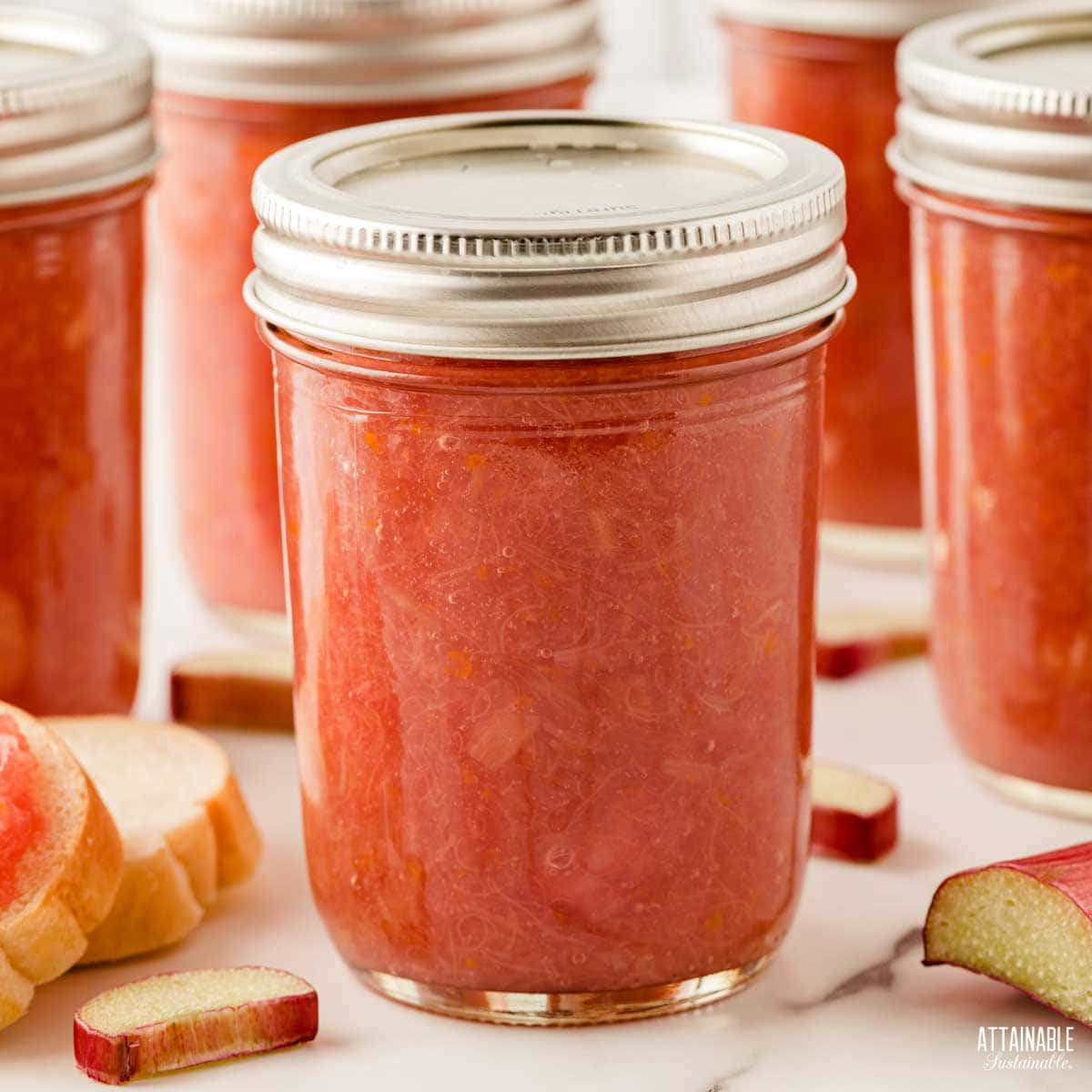 FAQs
Do I need to use sterilized jars?
According to the National Center for Home Food Preservation, canning jars only need to be sterilized if they are processed for fewer than 10 minutes. Because this recipe calls for a process time of ten minutes, you do not need to sterilize the jars – the canning process is sufficient. DO start with clean jars, though!
How long does homemade rhubarb jam last?
For best quality, homemade jam should be used within a year or so, though as long as the seal remains intact, the product inside the jar should be good.
Why did my rhubarb jam turn brown?
It happens. It's not a safety concern, but jams and jellies can lose their original vibrant colors over time. This is especially true of lighter colored jams and those made with less sugar.
★ Did you love this recipe? Be sure to give it a star rating below! ★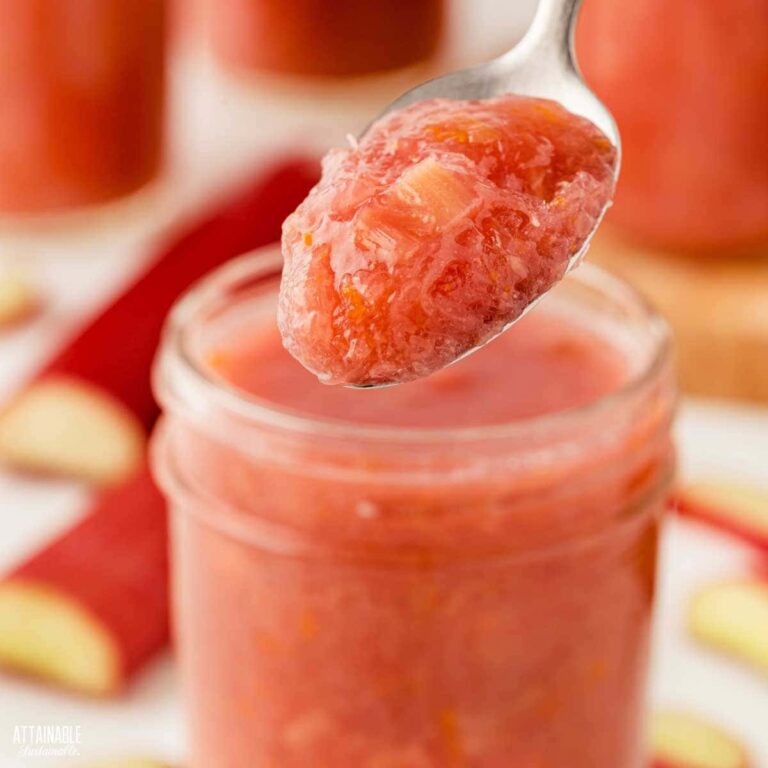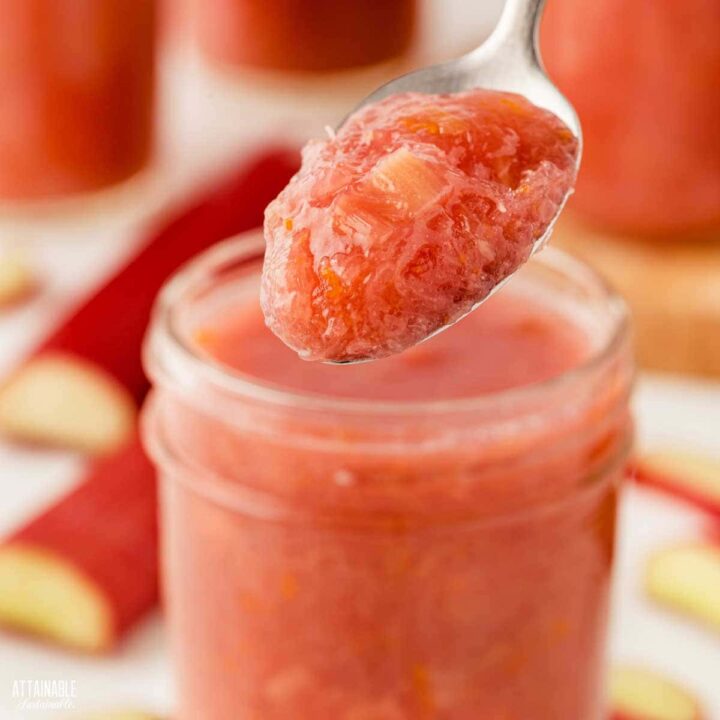 Rhubarb Jam
Processing Time:
10 minutes
This lightly spiced rhubarb jam has a hint of ginger and cardamom for a little something different on your morning toast!
Ingredients
4 cups cooked rhubarb (about 2½ lbs rhubarb stalks)
2 tablespoons lemon juice (bottled)
2 teaspoons calcium water (from Pomona's Pectin package)
1 tablespoon finely grated orange zest
1 tablespoon whole cardamom pods
4 teaspoons finely grated ginger root
2 cups sugar
3 teaspoons pectin (from Pomona's Pectin package)
Instructions
PREP FOR CANNING
Fill a canning pot with water, set the lid in place, and heat on high heat until boiling. It can take awhile for the water to come to a boil, so get it started before you begin making the jam.
Gather the jars you'll use and wash in hot soapy water. Make sure each is free of nicks in the rim, which could impede sealing.
Bring a small pot of water to a simmer and turn off the heat. Place lids and rings into the water and leave them there until you're ready to screw them onto the filled jars.
MAKE THE CALCIUM WATER
Combine ½ teaspoon calcium powder (from the small packet in the box of Pomona's pectin) with ½ cup water in a small jar.
Screw on a lid and shake until well-combined. You'll have more than you need for this recipe.
Store the excess in the refrigerator for use in making additional jam or jelly recipes.
MAKE THE RHUBARB JAM
Wash and trim the rhubarb stalks. Cut into 1/2" chunks and place chopped rhubarb into a saucepan with 1 cup of water. Simmer until rhubarb is soft. Use a potato masher to mash the fruit mixture or for a finer jam, use an immersion blender.
Tie cardamom pods into a piece of cheesecloth.
Measure 4 cups of the prepared rhubarb, lemon juice, orange zest, ginger, prepared cardamom, and calcium water into a large saucepan; bring to a boil.
Meanwhile, combine the sugar with the pectin until it's thoroughly combined.
When the rhubarb mixture comes to a boil, stir in the pectin and sweetener, stirring vigorously for 1 to 2 minutes to dissolve the pectin while bringing the jam back to a boil. Remove from heat when the jam boils.
CANNING THE JAM
Ladle hot jam into quarter-pint, half-pint, or pint sized jars, leaving 1/4" head space. A canning funnel makes this easy.
Wipe jar rims to remove any jam that may have spilled. A clean rim is essential to a good seal.
Set jar lids in place. Screw bands on finger tight.
Use a jar lifter to gently submerge jars into hot water in the canning pot. Water should cover the top of the jars by an inch. The water will cool somewhat in reaction to the addition of the jars. Return the water to a boil and then set the timer.
Process for 10 minutes 0-1,000 feet altitude; add an additional minute for every additional 1,000 feet in elevation.
Remove jars from water using the jar lifter and transfer to a solid, towel-covered surface. Allow to cool for 24 hours.
Check seals. Lids should be solid and pulled down tight. (if they flex and pop, the jar didn't seal; put unsealed jars in the refrigerator and use those first).
Remove rings and wash outsides of jars. Store in a cool, dry place.
Notes
This recipe calls for using cardamom pods, freshly grated ginger, and orange zest to make a spiced rhubarb ginger jam. If you want a plain rhubarb jam, it is safe to omit the spices.
Store opened jars of home made jam in the fridge for up to a month.
To make rhubarb freezer jam:
Prepare jam as directed. Transfer jam to jars leaving sufficient headspace for expansion during freezing. Use your favorite freezer containers or glass jars. Go here for tips on safely freezing in canning jars. Store for up to six months. Thaw in the refrigerator to use.