This savory pizzelle recipe makes light, crispy crackers right in your kitchen. This recipe can be modified to include your favorite herbs and spices!
Store-bought crackers are no comparison to freshly baked, homemade crackers. Instead of rolling out cracker dough, this recipe is made with a pizzelle press. This savory pizzelle recipe makes light, crispy crackers. You can make them while you are doing other things in the kitchen, like mixing up a cheese ball or a nut spread, tossing a salad, or laying out a meat tray.

---
The Handcrafted Pantry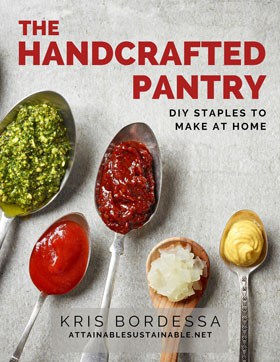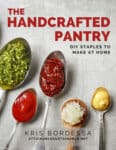 Ready to DIY your pantry with healthier ingredients? Check out my ebook, The Handcrafted Pantry! Filled with delicious recipes for some of your favorite condiments, snacks, and toppings, it's the guide you need to start skipping packaged products and embrace homemade.
---
Pizzelle ingredients
Lemons give these pizzelles a tangy, bright flavor. Orange or lime zest could also be used in these savory pizzelle crackers. Use the zest from organic fruit to avoid pesticide residues.
These savory pizzelles are made with whole food ingredients that you probably already have in the cupboard. Real butter, organic eggs, and whole grain flour make up the bulk of the batter. While this pizzelle recipe uses lemon and dill to flavor the savory pizzelles batter, the possibilities are endless.
Try grated cheese, seeds, nuts, herbs, and spices creatively to capture your favorite cracker flavors. Your homemade crackers will taste better, be fresher, healthier, and more eco-friendly than the crackers wrapped in plastic that come in a box.

Related: Sweet Snacking: Easy Ginger Cookies With Fresh Ginger
5 Easy Steps to Transform Your Pantry!
Ready to switch from store bought to homemade? Let me help you make some changes! Grab my FREE five-part guide to getting started.
An iron for making savory pizzelles (and sweet ones, too!)
This recipe for savory pizzelle recipe requires a pizzelle iron. (Pronounced "peet-zal") A pizzelle iron, similar to a krumkake iron, or waffle cone maker, makes a thin wafer cookie that cooks on both sides at the same time.
While an electric pizzelle maker may seem like a one-use-wonder, some of these appliances come with switchable plates that also make regular waffles, crepes, waffle cones, or tortillas. If you are shopping for a pizzelle iron consider what other uses you may want before you purchase one, so you can find the best appliance for your needs.
If you are living off-grid, or trying to cut back on electrical appliances, stove top pizzelle makers are also available for both gas ranges, electric, or wood fueled stoves. These are a little more challenging to master due to the uneven heating of the appliance, but our foremothers did it without smart appliances. We can, too. You may need to shop around to find a stove top pizzelle iron at a reasonable price in the USA. The stove top versions are imported from Europe and can be pricey.
Used cast iron or cast aluminum pizzelle irons can be found in antique stores and estate auctions. Older pizzelle and krumkake irons often have intricate, lacy designs that make exceptionally beautiful cookies and crackers. If you find one, you've found a treasure.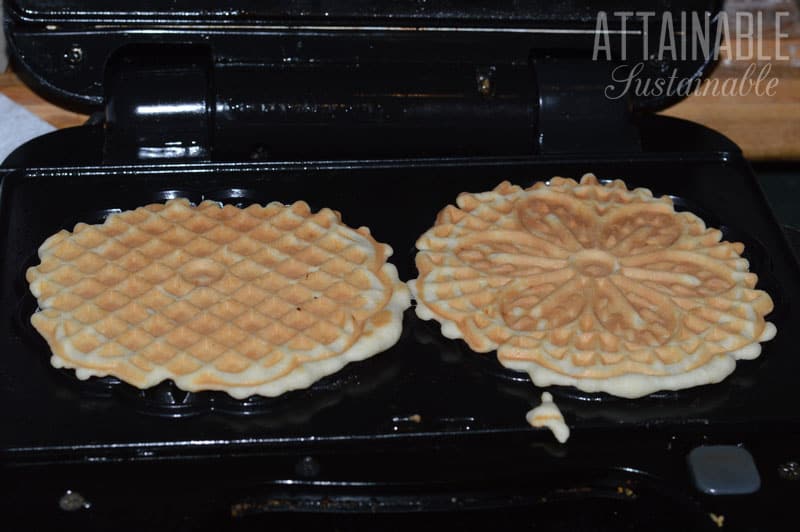 Related: The Best Gluten Free Crackers to Make at Home
Look for a pizzelle iron that has a shiny cooking surface. Appliances with a black, non-stick Teflon™ surface aren't the best health investment. The Teflon coating off-gasses when the appliance heats and can harm birds and people. Further, small amounts of the non-stick coating will wash away when the appliance is cleaned. Teflon persists in the environment and can harm water sources and soils for centuries.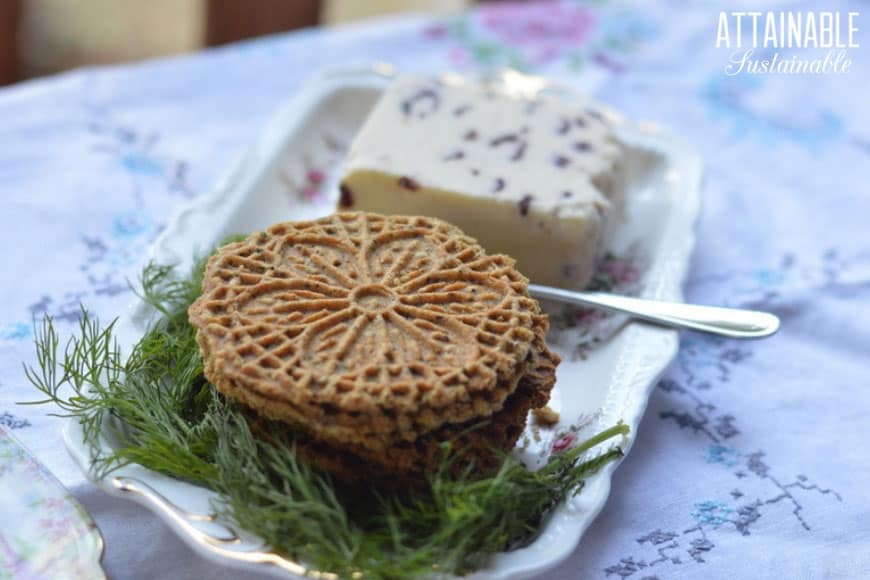 Porcelain non-stick coatings are more durable and healthier, but more expensive. Uncoated irons can be greased with butter or oil before use to make them non-stick, so avoid the chemicals if you can.
★ Did you make this pizzelle recipe? Don't forget to give it a star rating below!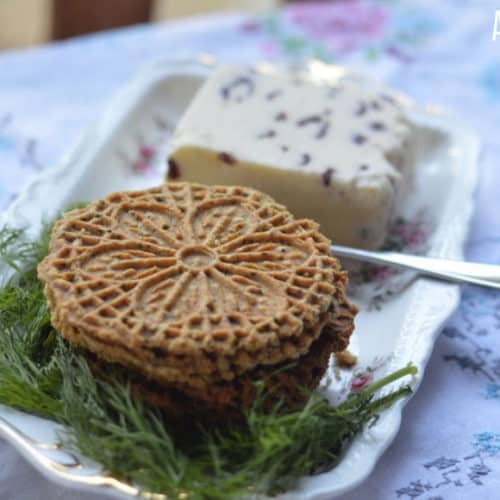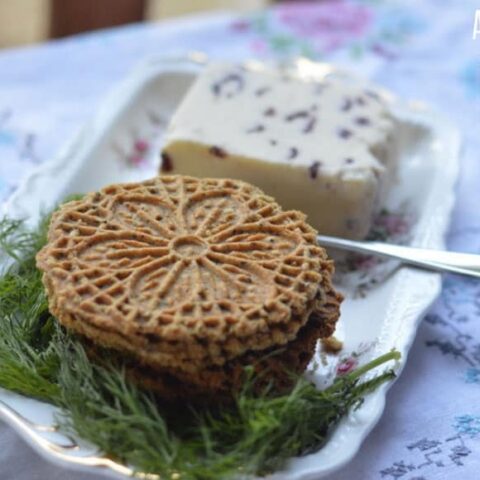 Lemon Dill Savory Pizzelles
These savory pizzelles are light, crispy crackers that you can make right in your kitchen. This recipe can be modified to include your favorite herbs and spices!
Ingredients
3 eggs
¼ cup + 2 Tablespoons butter, melted
2 Tablespoons fresh dill, finely chopped
Zest of 2 lemons, finely grated
1 teaspoon granulated organic cane sugar
¼ teaspoon Himalayan salt
1 cup whole wheat flour
2 teaspoons baking powder
Instructions
Add eggs, one at a time, to a medium bowl, whisking after each addition. After melting allow the butter to cool slightly. Pour butter into egg mixture whisking while you add it.
Add dill, lemon peel, sugar, and salt to the egg mixture. Whisk until the batter is light and frothy, about a minute.
Add whole wheat flour, and baking powder together to the egg mixture. Stir with a wooden spoon just until the flour is moist and the batter clings together. The batter will be thick and it will clump together but it should still be light. The batter consistency is a little thicker than muffin batter but not as thick as biscuit dough.
Preheat the pizzelle iron according to manufacturer's directions.
Drop the pizzelle batter by heaping teaspoonful into the centre of the pizzelle design plate, just a little toward the back of centre. Close the pizzelle iron. Latch the lock to ensure even thickness.
Cook the savory pizzelles until the steam stops escaping from the iron, around a minute. Pizzelles should be golden brown and will hold their shape when removed from the pizzelle iron. They will still be soft, but will crisp up as they cool.
If you wish to make smaller crackers, use a pizza wheel to cut each pizzelle into 4 pieces immediately when you take it out of the pizzelle iron. Cool in a single layer on a cooling rack. Stack to store.
Package savory pizzelles in a cookie tin or other air tight container. Pizzelles will keep a week or two at room temperature. They may be frozen for longer storage.
Notes
Gluten-free variation To make gluten-free savory pizzelles substitute Bob's Red Mill Gluten-Free 1-to-1 Baking Flour for the whole wheat flour called for in this recipe.
Nutrition Information:
Yield:

18
Serving Size:

1 grams
Amount Per Serving:
Calories:

34
Unsaturated Fat:

0g
Cholesterol:

27mg
Sodium:

37mg
Carbohydrates:

5g
Protein:

1g
What to do with the leftovers
Crumbs from these savory pizzelles can be used like other cracker crumbs for herb crusted chicken, schnitzel coating, croutons, casserole topping, and baked potato topping.
More pizzelle recipes to inspire you
Pizzelle irons make both sweet cookies and savory crackers. Try these recipes to fill your cookie tins. Pizzelles make lovely and attractive hostess gifts and neighbor gifts, too. You can also roll them with a cone form to make waffle cones or cream horns. Pizzelles are surprisingly versatile waffle cookies and crackers.
Sweet pizzelle recipes
Savory pizzelle recipe