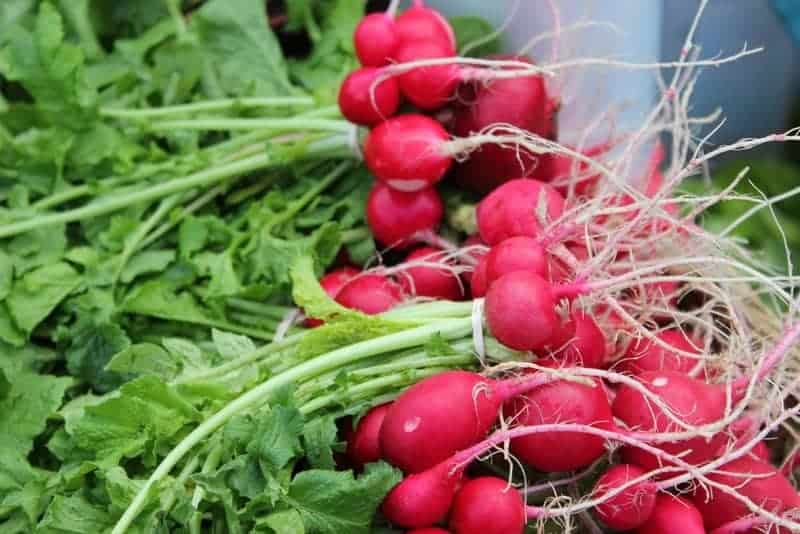 Radishes are one of the fastest ripening crops a gardener can plant. If you're aching to have something – anything – that you grew yourself on the dinner table, radishes are a good bet. They're one of the earliest crops you can plant, and are ready in just 3-4 weeks from planting date. But don't stop at eating the rosy roots. I discovered a couple of years ago that the radish leaves are edible too. (I have no idea how I grew up without knowing this!)
My writing colleague, April Paffrath, shared a recipe for radish leaf pesto on Wicked Tasty Harvest a couple of years ago, and I've been hooked ever since. Spicier than pesto made with basil leaves, radish leaf pesto is a fabulous way to stretch the harvest from an early spring garden. I've served it over pasta, and my kids love to spread it on crackers or in mozzarella grilled cheese sandwiches. It has a tendency to maintain its bright green hue without discoloring like traditional pesto does, so it's a nice bet for a pretty springtime appetizer, too.
If you know me at all, you know that I didn't make this without modifying April's recipe just a bit. Here's my version:
Radish Leaf Pesto
Leaves from two bunches of radishes (about 3 cups)
2 big cloves garlic
1/4 cup olive oil
1/3 cup shredded pecorino romano cheese
small handful of fresh cilantro leaves (optional)
pinch of sea salt
Thoroughly wash and dry radish leaves. Remove woody stems and put in blender with remaining ingredients. Blend until smooth.
This post is part of Simple Lives Thursday.