Summer delivers a fine treat with cherries. Make these black cherry preserves with a subtle hint of thyme to capture the essence of the sweet summer bounty.
Give this easy blueberry jam a try, too!
Contributed by Devon Young
Cherries play a large part in my childhood memories. Every variety of cherries. In fact, the capital city of Oregon is called the "cherry city." Growing up, both sets of my grandparents had cherry trees. My great-grandparents homestead and my uncle's land had acres devoted to cherry crops.
Cherries are simply part of the Pacific Northwest culture.
Why I love cherries
Cherry picking is one of the swift and highly satisfying harvests of summer. Unlike many berries, you neither have to crawl on the ground peeking under leaves, nor contend with thorny vines. Furthermore, cherries are big, firm, and fill your bucket quickly.
5 Easy Steps to Transform Your Pantry!
Ready to switch from store bought to homemade? Let me help you make some changes! Grab my FREE five-part guide to getting started.
Perhaps you will even be lucky enough to harvest cherries from a well trimmed and tended tree whose fruit-bearing limbs are within a comfortable arms reach. The habitat of cherries allows one to easily harvest only the best fruit. It's no coincidence that the term "cherry picked" refers to selecting only the best.
Cherries are just like that…
---
The Handcrafted Pantry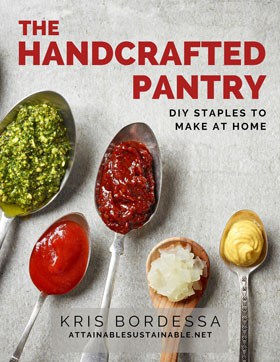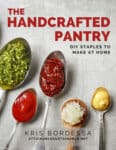 Ready to DIY your pantry with healthier ingredients? Check out my ebook, The Handcrafted Pantry! Filled with delicious recipes for some of your favorite condiments, snacks, and toppings, it's the guide you need to start skipping packaged products and embrace homemade.
---
Choosing cherries for this recipe
There are a few different kinds of cherries — but most crops are identified as sweet or sour cherries. While sour cherries are often used in pies and wide variety of culinary applications (like this cherry chipotle BBQ sauce), sweet cherries are more often eaten fresh. The flavor of fresh sweet cherries is unbeatable — a perfect one bite dessert (sans pit, of course). A great deal of my childhood memories and now my own children's memories are beautifully cherry-stained. There are few things as satisfying as picking sweet cherries straight from the tree to your mouth.
My favorite of the sweet cherries are the black cherries, often Bings, Chelans or Lapins. These varieties are among the darkest — with both the skin and the flesh being of the deepest burgundy to black-purple in color. While my own homestead cherry trees are undergoing some "rehabilitation" (post a brutal winter pruning to tame the feralized orchard on our property), this summer I purchased a lovely half flat of Chelans from the farmer up the road in the interest of putting up some delicious black cherry preserves. Essentially a black cherry jam, these preserves would have to be not too sweet and offer an unexpected flavor.
Related: Canning Jams, Jellies, and Other Preserves (And 100+ Recipes to Get You Started!)
Black cherry preserves
So these black cherry preserves with thyme were born. Thyme compliments the rich sweetness of the black cherries with a subtle warm woodsy undertone. These preserves are just the right kind of sweet. They're perfect served as a black cherry jam on a freshly baked biscuit or English muffin or spoon some on waffles. They lend themselves to savory applications, too; spoon over baked brie or a pork chop. I halved each cherry by hand, giving these preserves a toothsome bite of cherry flesh with each mouthful. One can certainly use a cherry pitter for speed and efficiency, but I do rather enjoy the meditative process of halving and pitting cherries by hand. (If it was good enough for Granny, it is good enough for me.)
Sweeten this recipe to taste and process in a water bath canner for year round enjoyment. I like to use Pomona's Pectin, which always you to adjust sweetness to taste as the pectin relies on calcium (powder and instructions included) instead of high sugar concentrations to "gel."
Homemade Black Cherry Preserves Recipe
Yield:
64 1 ounce servings
Processing time:
15 minutes
These black cherry preserves have a subtle hint of thyme, capturing the essence of the sweet summer bounty.
Ingredients
8 cups black cherries, pitted and halved
1/2 cup water
⅓ cup lemon juice
2-3 cups honey , or organic sugar
4 teaspoons calcium water, instructions and calcium included in the Ponoma's Pectin package
3 teaspoons Pomona's pectin
6 sprigs thyme, fresh
Instructions
In a large, heavy bottomed saucepan, combine cherries, water, prepared calcium water, thyme, and lemon juice. Bring to a simmer over medium heat. Reduce to low and simmer for about 10 minutes or until the cherries are tender.
Meanwhile mix together the pectin and honey or sugar. Add the honey (or sugar)/pectin mixture to the cherry mixture and return to a low boil for at least 2 minutes.
Remove thyme.
Ladle preserves into sterilized jars. Wipe the rims of the jars and place prepared lids on jars. Screw rings into place until finger tight. Process in a water canner at a full rolling boil for 15 minutes for pints or 10 minutes for half pints.
After processing time is complete, remove jars from canner and allow them to cool complete without disruption. Check for seal and store unopened jars for up to a year. Refrigerate after opening.
Notes
Makes 6-8 half pint jars.
Nutrition Information:
Yield:

64
Serving Size:

1 grams
Amount Per Serving:
Calories:

44
Total Fat:

1g
Saturated Fat:

1g
Unsaturated Fat:

0g
Sodium:

1mg
Carbohydrates:

12g
Fiber:

1g
Sugar:

11g
Protein:

1g