This tangerine or orange liqueur recipe is a fun way to use seasonal citrus, and it's easy to make. Really, you can make any kind of citrus liqueur — grapefruit, tangello, lime — depending on what you have readily available.
While you're mixing up liqueurs, give this homemade creme de cacao a try, too!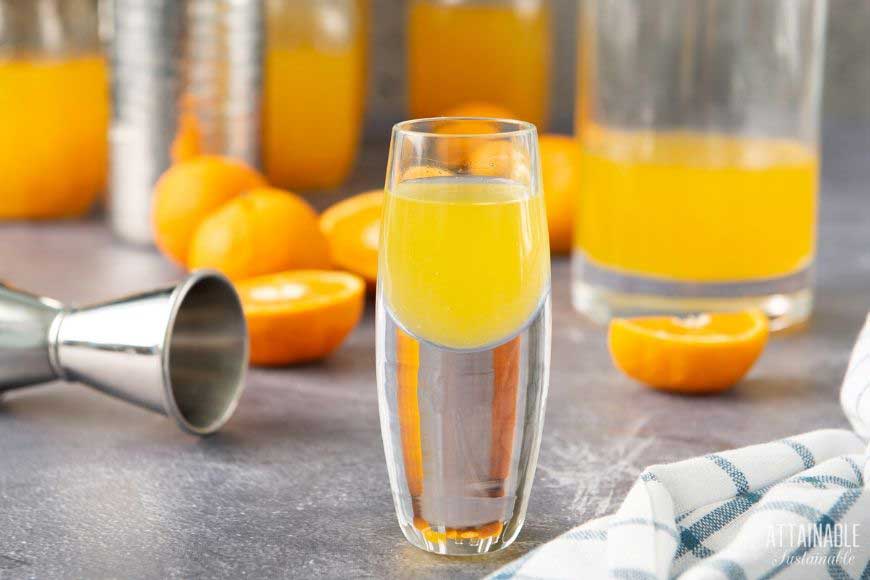 When it's citrus season, we have an abundance (and then some) of tangerines and oranges at our disposal. I've made Tangerine-Ginger Jam. I've made Tangerine Syrup. Now I'm even getting boozy on you with a homemade tangerine/orange liqueur.
First, what exactly is a liqueur?
Don't confuse it with liquor, often called hard liquor or spirits. Vodka, rum, and tequila all fall under the liquor category. Liqueur is first off, more difficult to spell. A liqueur is a sweetened, flavored alcoholic drink made from spirits or liquor. Liqueurs are often flavored with fruits and nuts (think amaretto). My homemade Kahlua-style coffee liqueur is made with real coffee.
These sweetened liqueurs can be sipped straight up as an after dinner drink or combined with additional ingredients to make a fancy cocktail.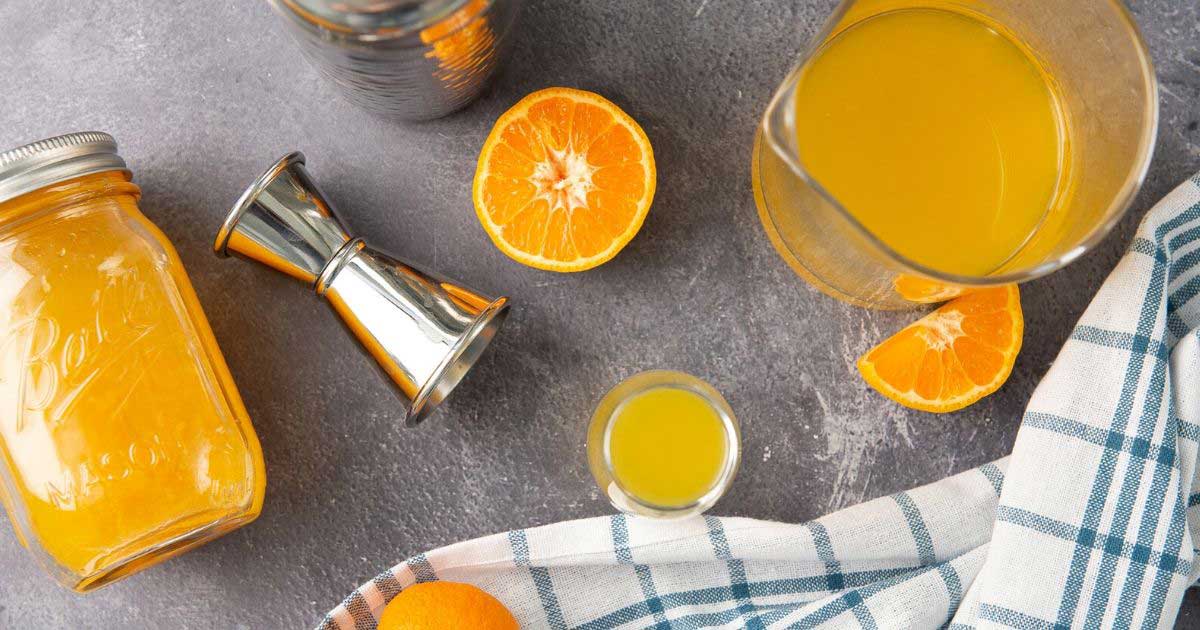 Free Printable Recipe Cards!
Let me send you a collection of recipe cards to help you get started with a homemade pantry! You'll also get my free weekly newsletter, complete with recipes, gardening tips, and a little peek at what's going on around here — both the zany and the mundane.!
Making the tangerine or orange liqueur recipe
You might be familiar with a liqueur known as Triple Sec. This is an orange liqueur with Triple Sec being the brand name. But you, my friends, are going to make your very own right at home. For less!
Making liqueur is easy, but it does require a bit of planning. In order to impart the flavor into the liquor, you'll combine your chosen fruit or nut or other flavor bomb with the liquor and tuck it away in a dark place for a month or so. The flavor of tangerine or orange in this liqueur needs time to transform into a citrusy flavored drink.
This recipe calls for fresh tangerines or oranges. Juice the fruit, but retain some of the peels, as you'll use those to give the homemade liqueur a bolder citrus flavor.
Don't use the white pith, as that will impart a bitterness. Use a spoon to remove that, keeping just the colorful outer part of the fruit to make this tangerine or orange liqueur recipe.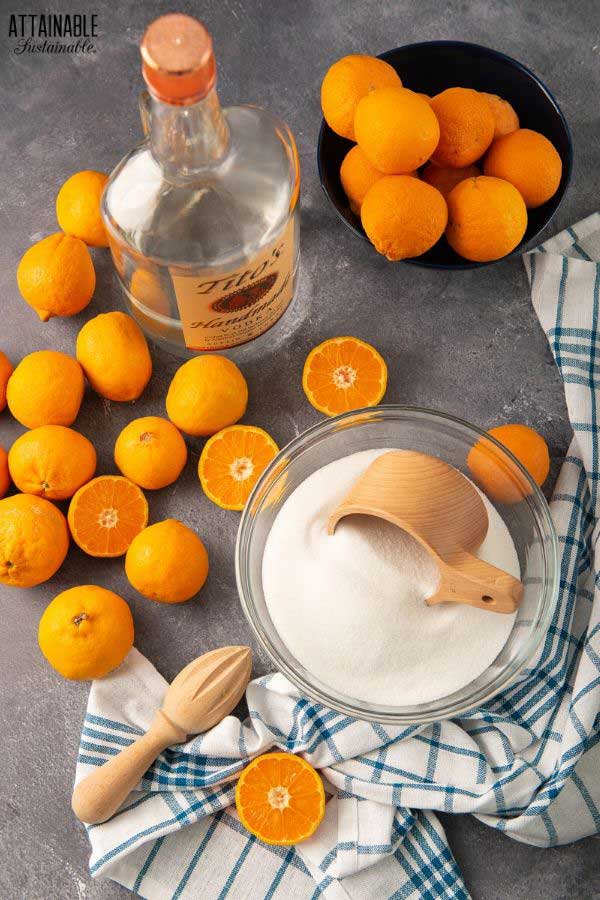 You only need four ingredients to make this orange liqueur. You'll need to cook the sugar in water to dissolve it, but beyond that it's pretty much just a matter of combining the ingredients in a jar. You'll need to strain them later, but really, it couldn't be simpler. And homemade liqueur makes a great gift!
When your tangerine liqueur — or orange liqueur recipe — is ready, strain it to remove the skins and particles. Store it in a sealed jar in a cool, dry place.
Giving liqueur as gifts
Once made, this tangerine/orange liqueur will need at least a month tucked in an out-or-the-way place to let the flavors get happy. Planning to give this as a gift for the holidays? Make sure you allot enough time for that.
Package strained tangerine liqueur in pretty bottles and tie on a tag. You might even consider adding a recipe or two for using this homemade liqueur and a couple of nice cocktail glasses.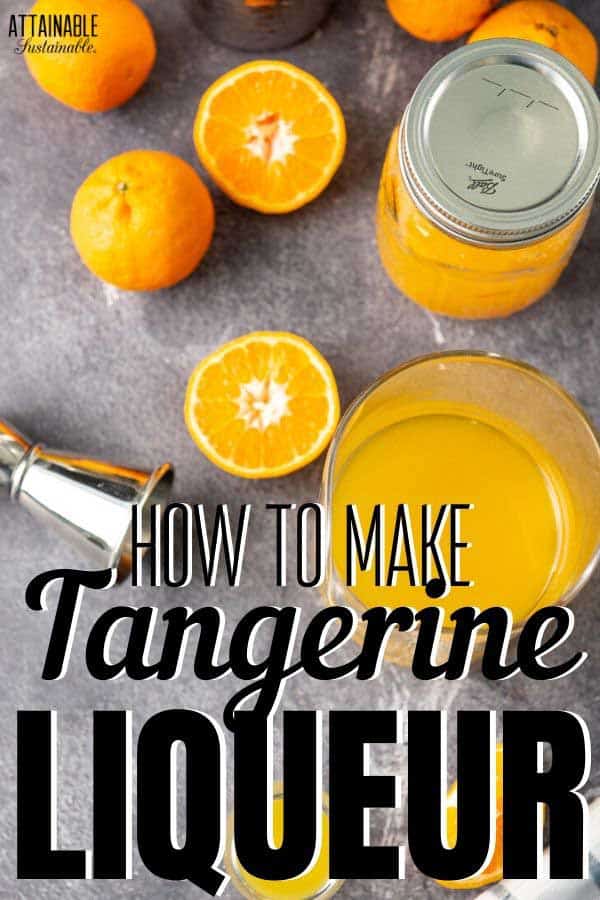 ★ Did you make this recipe? Don't forget to give it a star rating below! ★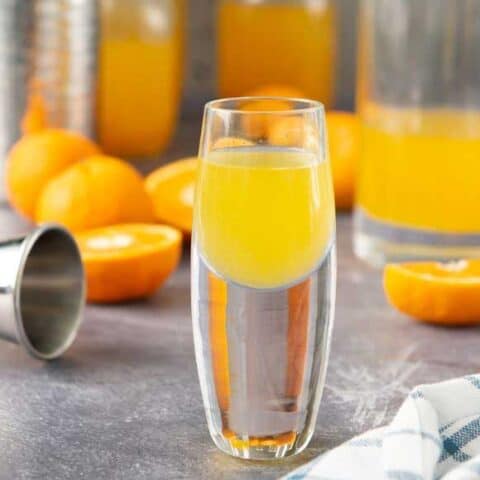 Homemade triple sec from tangerines
Yield: 50

Prep Time: 30 minutes

Cook Time: 25 minutes

Infusing time: 30 days

Total Time: 30 days 55 minutes

This homemade tangerine or orange liqueur is easy to make and a fun way to use seasonal citrus.
Ingredients
2 cups tangerine or orange juice, (about 15 tangerines or 10 oranges)
3 cups sugar
1 cup water
750 ml bottle of vodka
Instructions
Cut tangerines or oranges in half; juice. Reserve the peels from four tangerines. 
Use a spoon to scrape the white pith from the inside of the citrus peel; discard. Slice the remaining peel into 1/8" strips and divide between five pint sized jars.
In a large saucepan, combine sugar and water; heat until sugar is dissolved. 
Stir in juice. Simmer for five minutes and then allow to cool to room temperature. 
Pour in entire bottle of vodka, then divide liquid between the jars. 
Screw on caps, set the jars in a cool dark place, and forget about them for a month. Once your month of waiting is up, strain out the tangerine peels and you're ready to mix a drink.
Notes
Makes about 5 pints.

Don't use the white pith, as that will impart a bitterness. Use a spoon to remove that, keeping just the colorful outer part of the fruit to make this tangerine or orange liqueur recipe.

You can use any citrus juice to make this liqueur. Grapefruit, orange, tangello -- they're all fair game. 
Nutrition Information:
Yield: 50 Serving Size: 1 grams
Amount Per Serving: Calories: 85Unsaturated Fat: 0gCarbohydrates: 12gSugar: 12g

Inspired by this recipe for homemade triple sec made from Cara Cara oranges.
Originally published in February 2012; this post has been updated.