What if you could learn how to make sour cream at home, instead of relying on store bought plastic tubs? Let me let you in on a little secret: This homemade sour cream substitute couldn't be easier and it requires only two ingredients.
Trying to make more of your own condiments? Be sure to try this easy peasy homemade mustard!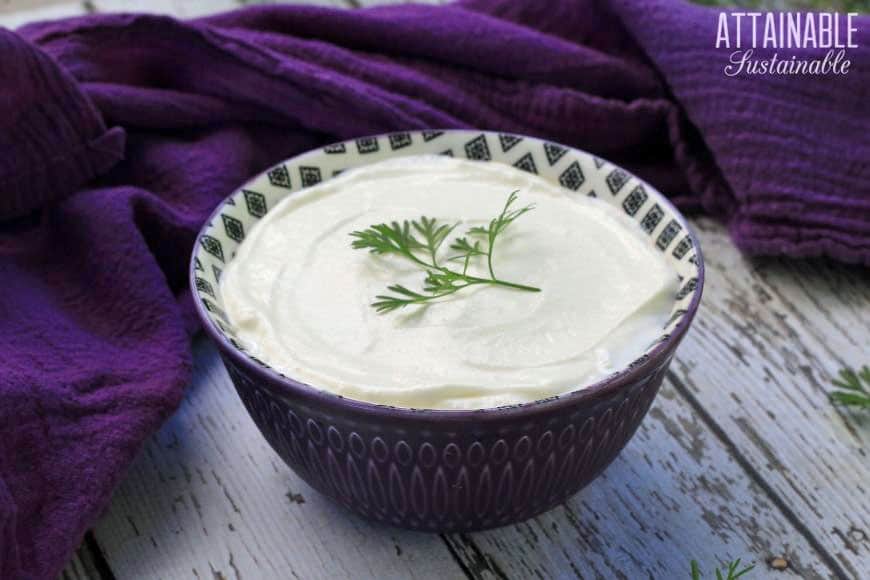 We love to make and eat Mexican dishes here, and those require (yes, require) a dollop of sour cream. The trouble is, every dollop of goodness comes with a price: disposable packaging. Sure, we reuse those containers, but what if we could eliminate them entirely? Thus my deep dive into how to make a substitute for our sour cream habit. Turns out? It's incredibly easy!
---
The Handcrafted Pantry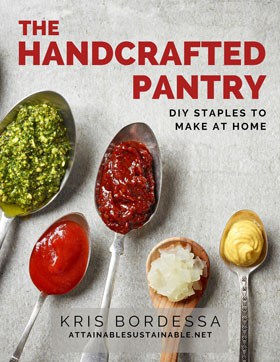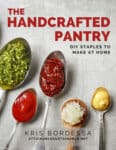 Ready to DIY your pantry with healthier ingredients? Check out my ebook, The Handcrafted Pantry! Filled with delicious recipes for some of your favorite condiments, snacks, and toppings, it's the guide you need to start skipping packaged products and embrace homemade.
---
How to make sour cream for recipes
This sour cream substitute is made by combining heavy (or whipping) cream with a starter culture. This mixture, allowed to sit at room temperature overnight, will thicken and become perfect as an ingredient in your favorite dip or add it to this spicy mayo recipe for extra creaminess.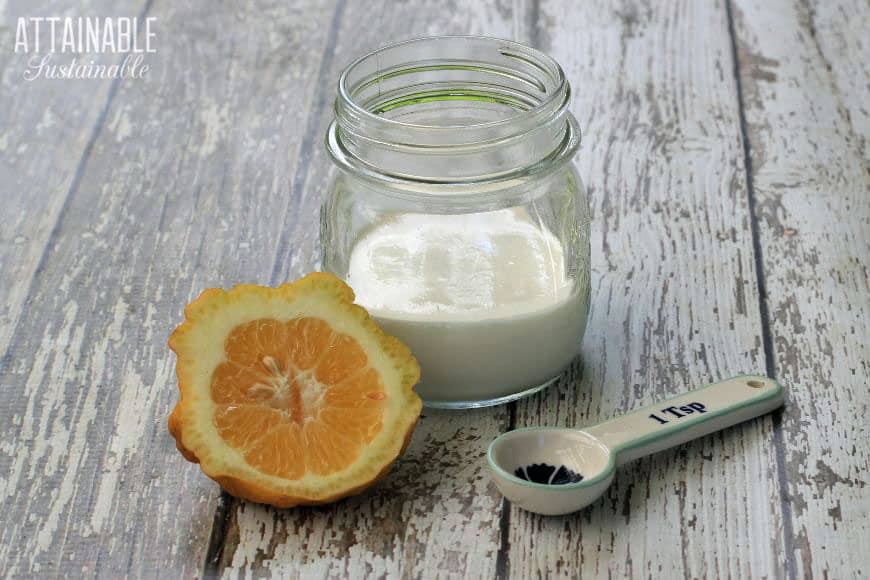 Sour cream ingredients
If you look at the side of some store bought sour cream containers, you'll see ingredients like grade A whey, modified food starch, sodium phosphate, sodium citrate, guar gum, carrageenan, calcium sulfate, potassium sorbate, and locust bean gum. That's a lot of extra stuff in your favorite dairy topping.
5 Easy Steps to Transform Your Pantry!
Ready to switch from store bought to homemade? Let me help you make some changes! Grab my FREE five-part guide to getting started.
Traditional sour cream is fermented at room temperature with a starter culture. This means keeping a starter culture on hand, though, and that's kind of a specialty item. I'd really rather work with what's readily available to me. So I was happy to discover that you can make a darned good sour cream substitute at home with just two ingredients.
The base ingredient here is full fat heavy cream. If you've got access to fresh cream, use that. Most of us, though, don't have that option readily available. We'll choose the heavy cream that comes in a waxed cardboard carton. (Don't use fluffy whipped cream.) It's best if you can avoid the ultra-pasteurized heavy cream, but if that's all that's available to you, it will work. A one-pint container will make about two cups.
The second ingredient for this sour cream substitute? Lemon juice. You'll simply stir the lemon juice into the heavy cream, cover loosely, and set out at room temperature until thickened (overnight or up to 24 hours). Stored in the refrigerator, this will keep for up to two weeks.
The fact that this recipe uses ingredients commonly found in many kitchens makes it a great substitute and a good way to replace sour cream in a pinch.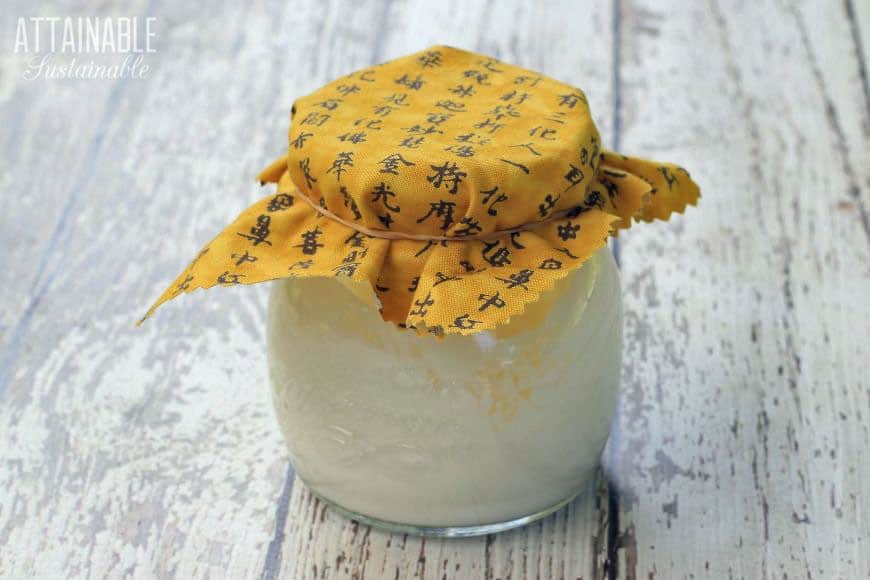 How does it taste?
When we've been using our favorite brand for years upon years, any change in flavor can seem "not right." Which translates to "not what we're used to." (Anyone remember mom trying to make the switch from name-brand cereal to a generic version to save money?)
This homemade sour cream alternative is softer than our usual store bought brand. And actually, this is great, since I feel like our store bought brand is always too thick. It's creamier, has a richer flavor, and isn't quite as tangy. That's an easy fix though — just stir in a teaspoonful of lemon juice if you prefer a tangier version. The recipe results in a finished product that's similar to sour cream and almost a bit yogurt-like. This will work perfectly in our favorite dips or dolloped on soup or served with our favorite refried beans.
I recommend that you try my creme fraiche recipe, too. In a side-by-side comparison of this recipe and the creme fraiche, the creme fraiche wins for being an almost exact replica of our favorite store bought sour cream. It, too, only requires two ingredients, but you may not always have one of them on hand. In the end, it's going to depend on individual taste buds to decide which you prefer.
And as far as waste goes, this recipe is a game changer.
Waste reduction
Buying heavy cream in a cardboard container does still generate some waste. But it allows us to avoid accumulating a stack of #5 plastic containers that come with buying regular sour cream. (These are no longer recyclable in my area.) The waxed cardboard containers can be added to a compost pile if they don't have a plastic spout. The cardboard will break down in the pile, leaving behind a thin film of plastic that can be picked out and thrown away. It's not ideal, but it's a lot less waste than a whole sour cream container. (Of course, some of you will have access to heavy cream in glass containers — or raw milk — which is perfectly awesome.)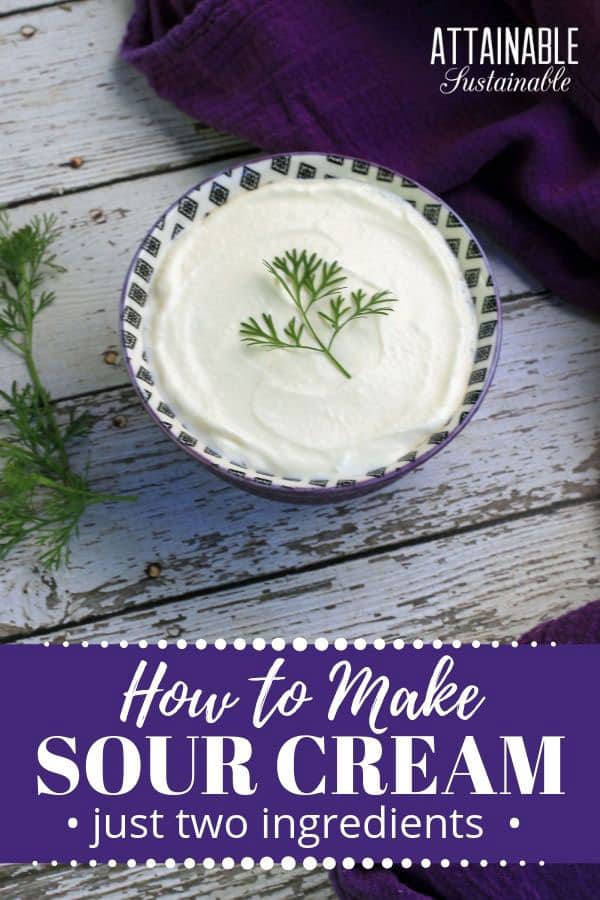 ★ Did you make this homemade sour cream recipe? Don't forget to give it a star rating below! ★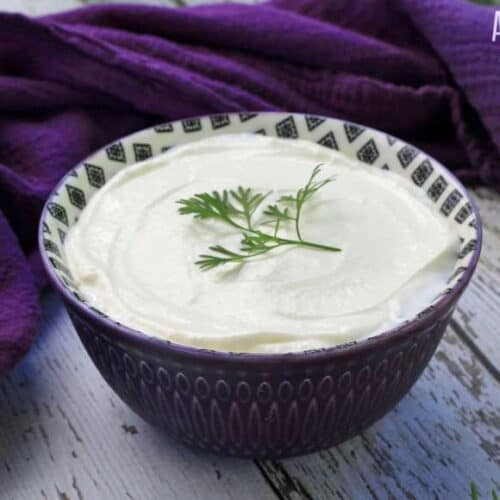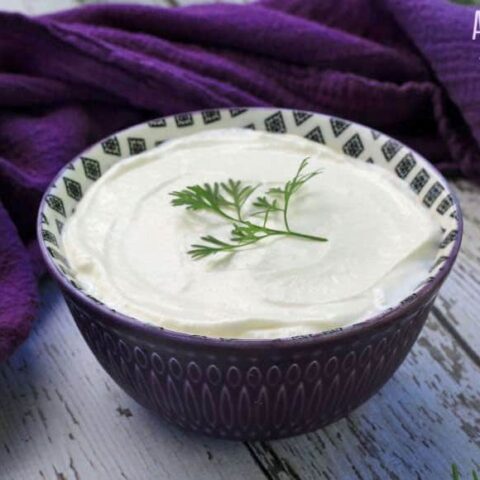 Homemade Sour Cream
Total Time:
18 hours
5 minutes
Making sour cream at home is easy with just two common ingredients.
Ingredients
2 cups heavy cream, or whipping cream
4 teaspoons lemon juice
Instructions
Combine cream and lemon juice in a jar. Screw on lid and shake lightly until combined.
Remove lid and use a rubber band to secure a thin piece of cloth or a napkin over the jar. This allows the mixture to breathe, while also keeping out bugs.
Set jar at room temperature for several hours or overnight until thickened. Stir and serve.
Refrigerate leftover sour cream for up to two weeks.
Notes
As soon as the ingredients are combine, you'll be able to see the mixture thicken a bit as the lemon juice reacts with the high fat cream.
This homemade sour cream alternative can be a bit thinner than the thick store bought version. If you prefer a thicker consistency, you can stir in a teaspoon or two of dry milk powder to help thicken it.
Nutrition Information:
Yield:

16
Serving Size:

1 grams
Amount Per Serving:
Calories:

103
Total Fat:

11g
Saturated Fat:

7g
Unsaturated Fat:

0g
Cholesterol:

41mg
Sodium:

11mg
Carbohydrates:

1g
Sugar:

1g
Protein:

1g