Mosquitoes can put a damper on time spent outdoors. From gardening to backyard barbecues, these little buzzers can make evenings miserable. Try implementing some (or all!) of these natural mosquito control tactics.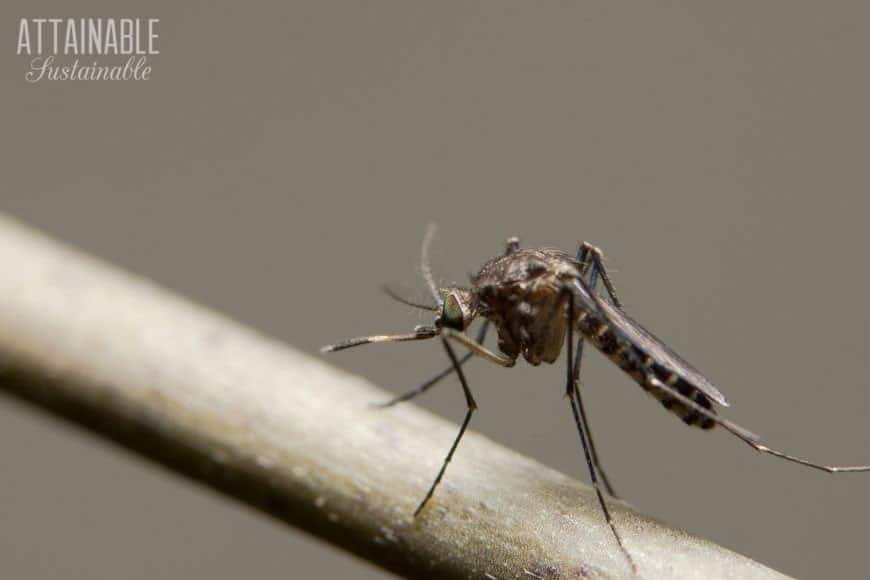 ---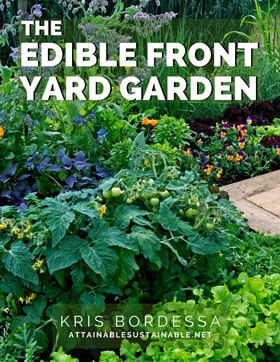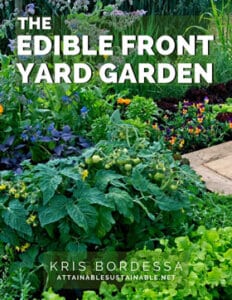 The Edible Front Yard Garden
Does your homeowners association prevent you from growing food in the front yard? What if they never even KNEW? My ebook, The Edible Front Yard Garden will show you how!
---
Natural mosquito control in your yard
Heading into the jungle is one thing. But if I can help it, I like to avoid using my homemade mosquito repellent while I'm at home in my own yard even though it's easy to make. I don't need one more thing to remember before I head out into the garden!
A female mosquito only lives for a couple of weeks, but she can lay thousands of eggs in that time period. And those mosquito eggs can hatch within 24-48 hours! Your goal is to hinder her ability lay eggs, thus breaking the mosquito life cycle.
Eliminate standing water for natural mosquito control
The first step in mosquito control for your yard is to eliminate standing water. Even small amounts of water can be a breeding ground for them.
Old tires (drill holes in tire swings for drainage)
Drainage saucers under flowerpots
Sealed buckets and barrels with lids that hold water
Animal dishes
Car parts
Puddles
Bird baths and water features (change the water regularly)
Tarps and pool covers
Plugged up roof gutters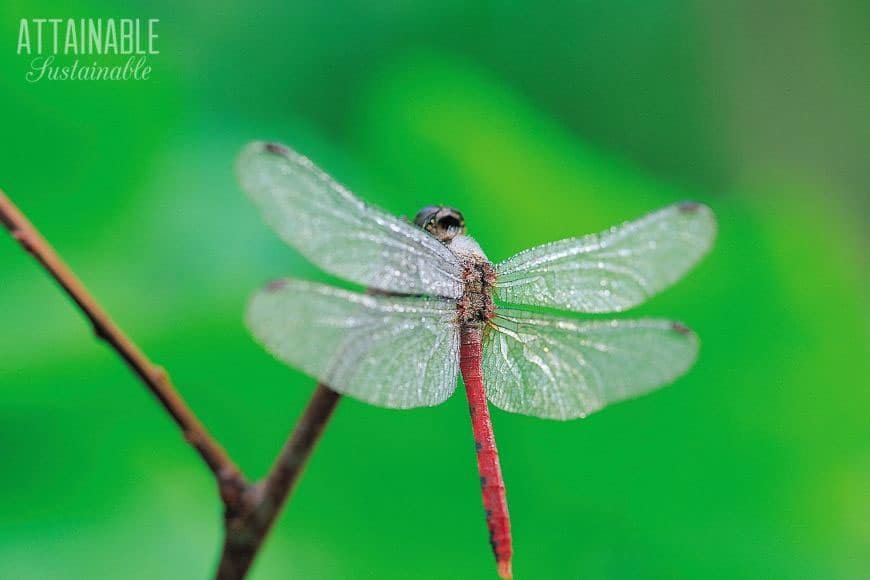 Encourage natural mosquito predators
Despite their creepy depiction in movies, bats are great to have around! They consume massive numbers of mosquitoes every night and are completely harmless. You can encourage them by hanging a bat house.
Birds like purple martins, swallows, and migratory songbirds will help keep the mosquito population in check. Encourage wild birds to visit your yard with a bird feeder and by avoiding poisonous chemicals.
Dragonflies are natural mosquito predators. The thing is, they need a water source to complete their life cycle — and that water source can also harbor mosquitoes. (Funny how symbiotic that is…) If you have a pond or water feature on your property, add some fish to help keep the mosquito larvae in check.
Yard maintenance for natural mosquito control
Mosquitoes can lay eggs in the tiniest amount of water. Overgrown grass and wild areas can harbor them. Keeping the grass mowed and plants pruned to allow a little bit of airflow will help.
Grow Some Greens!
Ready to grow fresh greens, no matter WHERE you live? Sign up for my
FREE quick-start guide and start growing some of your own food!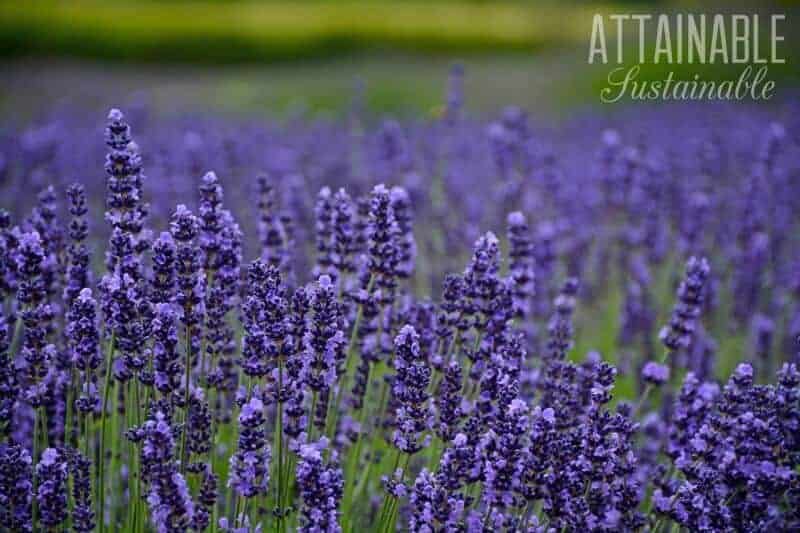 Mosquito repelling plants
A single fragrant plant won't keep mosquitoes at bay, but a yard filled with a riot of herbs and other mosquito repelling plants coupled with the natural mosquito control tactics outlined above can make a difference. The good news is, many of these plants are good to have in your yard for other reasons, too.
Include these mosquito repelling plants in your landscape plan:
Mint
Lavender
Marigolds
Chrysanthemums
Citronella geranium
Rosemary
Lemon balm
Lemon thyme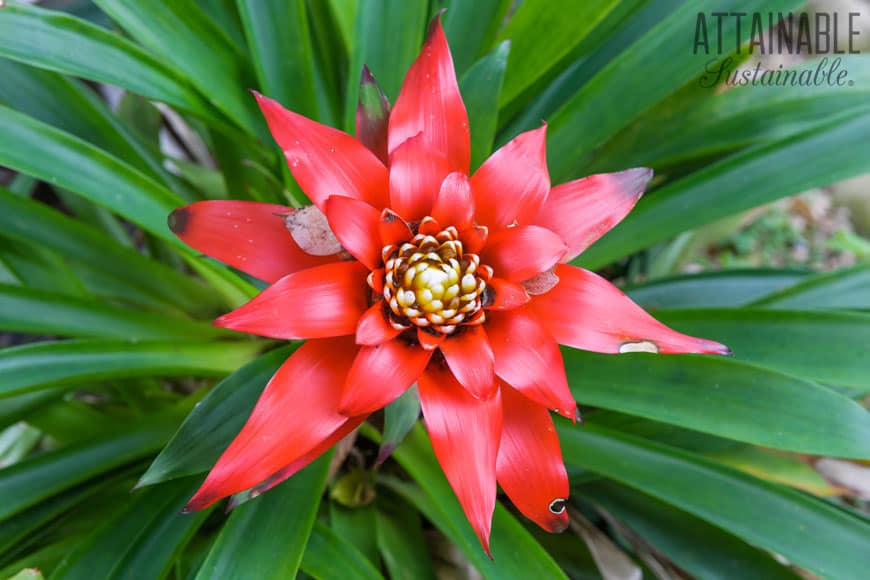 Plants to avoid for natural mosquito control
Plants that hold water, such as bromeliads, are also problematic. I've opted to avoid these pretty plants because with our year-round rain, the plants are constantly full of water. If you live in a drier area but want to grow bromeliads, be sure to water them at their base, rather than overhead to avoid filling the cupped plants with water.
Create a mosquito-free zone
No matter how hard you work at implementing natural mosquito control efforts and making your yard unattractive to these little buggers, some will still show up looking for something to eat. If you'd like to enjoy a warm summertime evening in the backyard without the inevitable mosquito bite, create a safe zone. Citronella candles or torches filled with citronella oil helps to keep mosquitoes from bugging you while you're out on the back deck. And of course, my homemade mosquito repellent is a must-try for persistent pests.