The seasoning for these homemade barbecue chips is a surprisingly good knockoff of your favorite BBQ chip.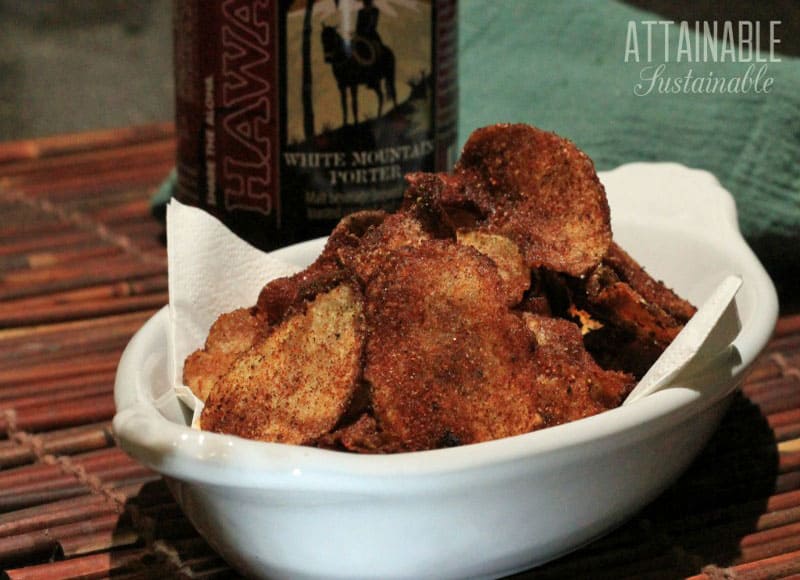 Even though we are diligently trying to eat a healthier diet in this household, I couldn't help myself. I ordered a copy of Casey Barber's Classic Snacks Made from Scratch.
This post may contain affiliate links; I'll earn a small commission if you choose to make a purchase.
My husband picked up the book and said, " Why did you get this? We don't eat this stuff. Ooooh, Funyuns." That's why I got the book.
Also: Hostess Cupcakes (chocolate and orange), Nacho Cheese Doritos, barbecue chips, Tater Tots, and Cinnamon Pop-Tarts. Cinnamon Pop-Tarts!
This book is chock full of recipes to replicate your favorite junk food.
It may not be health food, but the homemade versions certainly have fewer ingredients than the store bought versions (and none that I can't pronounce) and making them at home eliminates the packaging.
MY LATEST VIDEOS
I decided to try out the BBQ Potato Chips recipe from Barber's book when my eldest son, home from college, requested hamburgers for dinner.
My youngest sliced the potatoes (using the food processor) and mixed up the spices.
I did the frying. I don't do much deep frying; I was surprised at how little splattering and popping there was – unlike frying bacon.
The resulting chips had the classic BBQ chip flavor that we love. Everyone around the table was impressed with the results.
Our notes or alterations to the recipe
This is a condensed version of the recipe found in Classic Snacks Made From Scratch and is shared with the author's permission. In the book, the author goes into more detail about frying methods.
We are one of those households that saves bacon grease. We fried the chips in a blend of bacon grease and peanut oil. The author recommends vegetable or canola oil; I opted not use these genetically modified oils.
If you choose to use bacon grease, cut the amount of salt in the spice mix by half.
I found that tossing the chips with the spices after just one minute coated them too heavily for my taste, so I waited closer to five minutes.
The thinner the slices, the crispier the chip.
You can visit the author – and see more of her recipes – at Good. Food. Stories.
★ Did you make this recipe? Don't forget to give it a star rating below!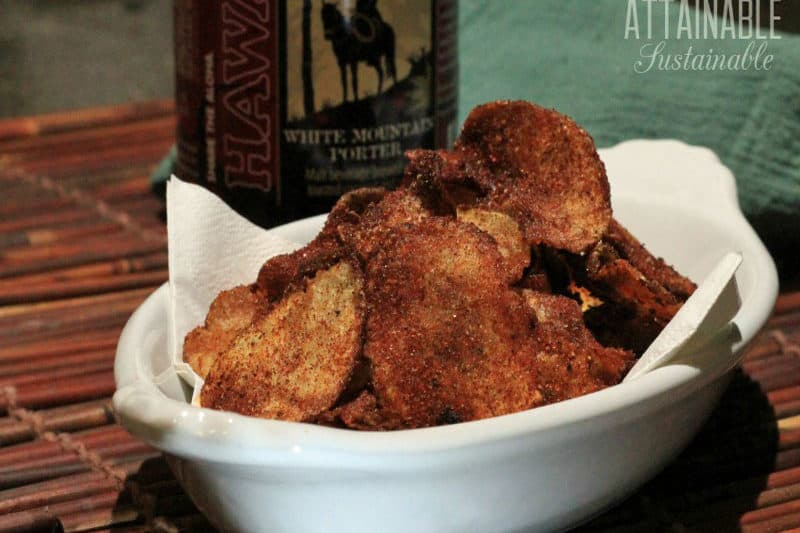 Homemade Barbecue Chips
It may not be health food, but this homemade version certainly has fewer ingredients than the store bought version and making it at home eliminates the packaging.
Ingredients
2

pounds

about 4 medium Yukon Gold or russet potatoes

2

T.

smoked paprika

1

T.

packed light brown sugar

2

tsp.

kosher salt

2

tsp.

chili powder

1

tsp.

garlic powder

1

tsp.

onion powder

1/2

tsp.

freshly ground black pepper

Oil for frying

(see my note below)
Instructions
Prepare the potatoes
Bring a 4- quart stockpot filled with water to boil over high heat. Line a baking sheet with a kitchen towel. While water is coming to a boil, rinse and peel the potatoes as thinly as possible. Transfer half of the slices to the boiling water and cook for 3-5 minutes. Don't overcook them; this is just jump-starting the cooking process. Using a slotted spoon or skimmer, transfer the slices to the kitchen towel, patting them dry. Repeat with second batch of potato slices.
Prepare the spice mix
Place all of the spices into a zip-top bag and shake to mix
Fry and season the chips
Heat at least 2 inches of oil to 350 degrees Fahrenheit in an electric deep fryer or a large, high-sided pot. Line a baking sheet with paper towels and a wire cooling rack. Fry the potato slices in batches until golden brown. Remove the cooked chips with a metal skimmer and drain on the prepared baking sheet. Allow to cool for one minute, then place the chips in the zip-top bag and shake lightly to distribute the spices. Remove chips from the bag and repeat with remaining slices.
Recipe Notes
These chips are best eaten the day they're fried.
Want to learn to make more of your own pantry staples? 
Check out Off The Shelf: Homemade Alternatives to the Condiments, Toppings, and Snacks You Love!
50+ recipes from some of the web's top real food bloggers.
100 pages featuring gorgeous photos and simple instructions.
Replace your favorite supermarket "cheats" with simple homemade alternatives.
Discover just how easy it is to make your own.
Save money and eliminate wasteful packaging.