If you're growing a garden plot with the intention of feeding your family, you need to know how much to plant. 
One of the primary reasons I garden is to fill my pantry with canned fruits and vegetables that are free of bpa (yes, those cans you get at the supermarket are lined with bpa!) and pesticides. Of all the different things I preserve, tomatoes are far and away the most-used ingredient in my household; it seems I'm constantly pulling a jar of some sort of tomato product or another out of the pantry.
It makes sense that growing tomatoes to stock my larder is top of my garden plot to-do list.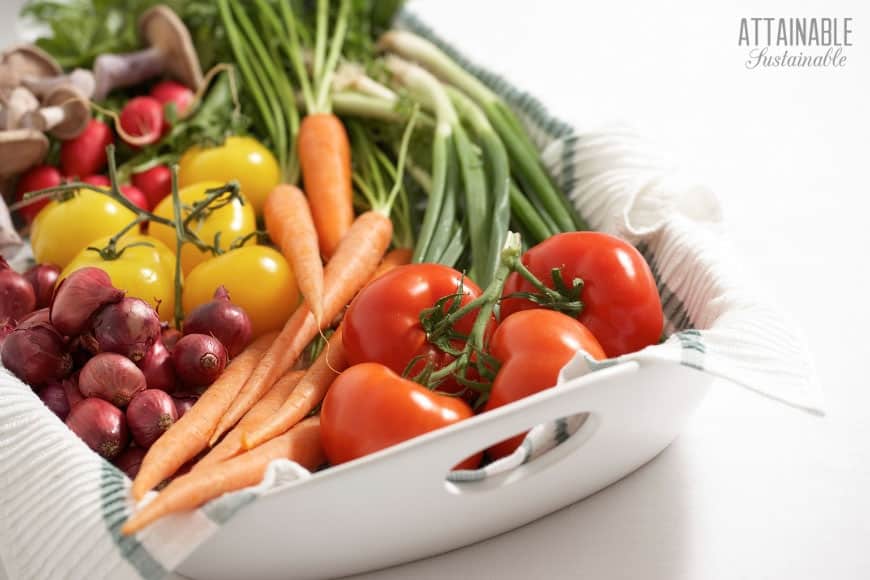 How many tomatoes in my veggie garden plot?
Since tomatoes are the crop I like to grow the most of, let's take a look at what makes sense for my family. Obviously, a single tomato plant won't suffice. Past experience in a hot summer region leads me to believe that a single tomato plant can yield as much as 20-30 pounds per season.
Since I'm gardening in a region that's notorious for being hard to grow tomatoes in, let's assume I can get 10-15 pounds of tomatoes from each plant. (Note: this differs from the chart below. I'm using numbers that I've seen in my own garden.)
Grow Some Greens!
Ready to grow fresh greens, no matter WHERE you live? Sign up for my
FREE quick-start guide and start growing some of your own food!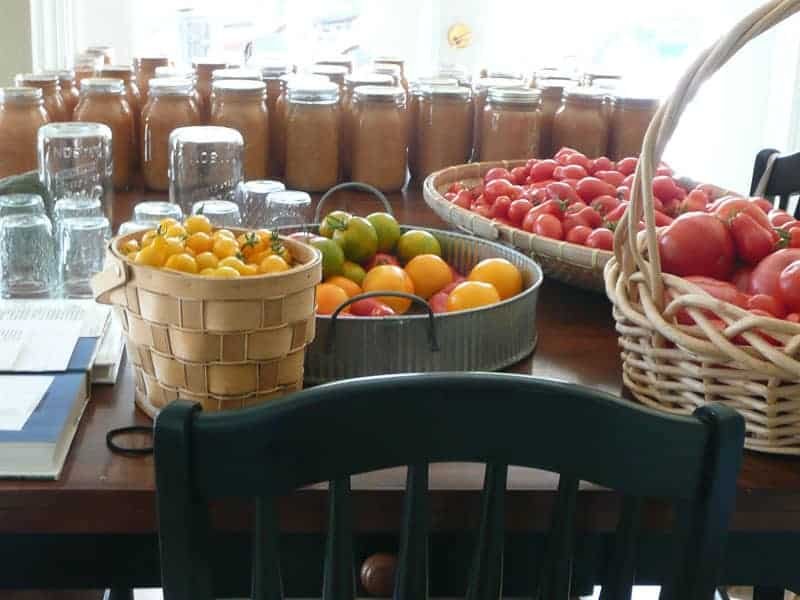 Estimating our personal tomato consumption
In a year's time, my family of four (myself and three grown men) will eat:
26 quarts of pizza sauce (in 52 pint sized jars)
23 quarts of marinara sauce
35 quarts of salsa (I use salsa in chili recipes and Mexican dishes in addition to snacking)
That's 84 quarts of tomatoes (more or less, as there will be other ingredients tossed in with the tomatoes).
It takes about 21 pounds of tomatoes to yield seven quarts of crushed tomatoes, which is a full canner load. [source]
So for the sake of mathematics, that's about three pounds of tomatoes per quart jar.
In order to stock my pantry with the tomato products we eat regularly, I'll need to grow 252 pounds of tomatoes (Roma tomatoes are meatier). That means I'll need between 17-25 tomato plants in order to accommodate my family's needs. Since growing tomatoes is a priority for my family, I'll make sure to get enough planted.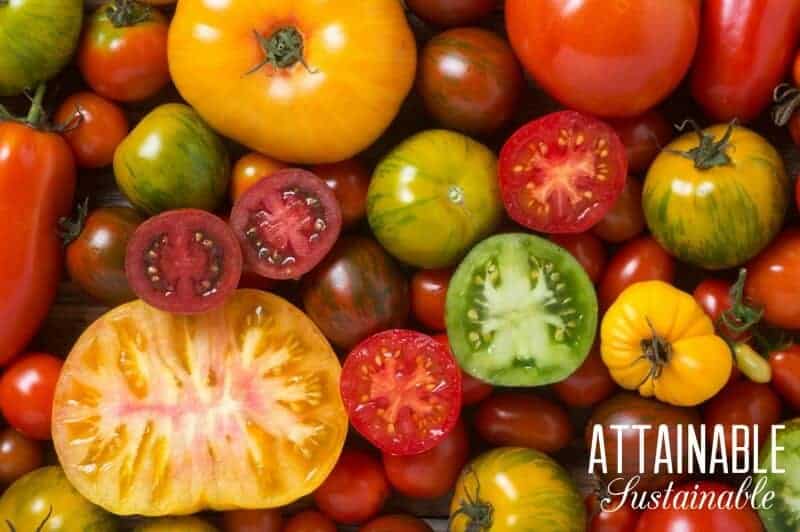 The right sized garden plot
Every household differs, of course. Knowing what produce your family loves (and what they'll only tolerate!) will help you decide what and how much to plant.
Questions to ask yourself when figuring out how much your family would use:
Will we eat this vegetable fresh from the garden?
Do we use this vegetable frequently in cooking? Or in baking?
Will we pickle or preserve or ferment this vegetable for winter storage?
How much would we like to share with neighbors and friends?
Plant enough
If you're going to go to the trouble of planting a garden, you want to make sure you plant enough. If you're feeding a family of four, one green bean plant is simply not going to be enough. Here are some very loose recommendations about how much to plant per person. Again, this will vary on your family's use of a particular crop (are you eating it fresh, or also canning some?) and your gardening success. Be sure to make note of what you plant and whether or not it was enough. Next year you'll have a better idea how much to plant!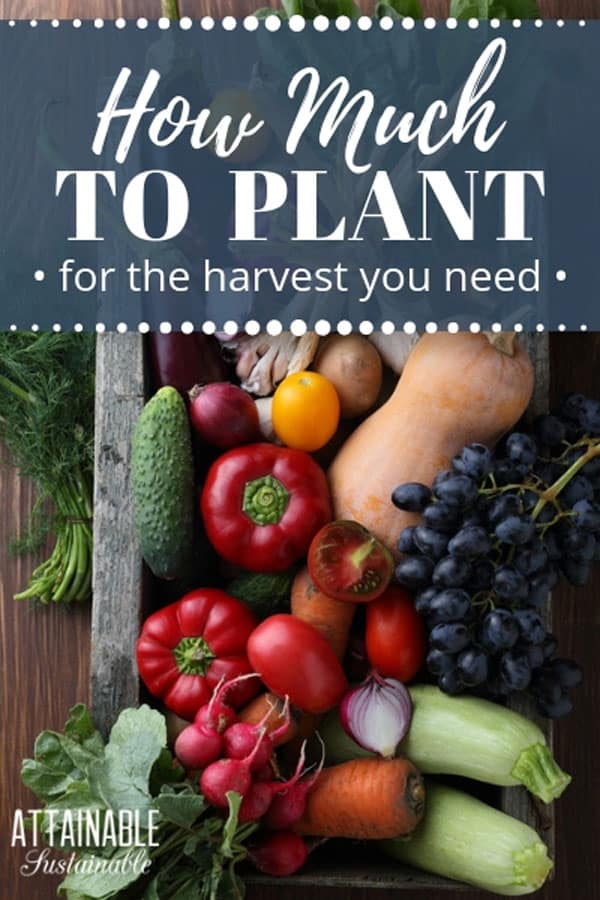 Vegetable garden yields
Knowing the approximate yield of vegetable crops will help you determine how much of each crop to plant. (Approximate because there are so many variables, from local conditions to plant varieties.)
Yield (in pounds) per ten foot row.
Beets – 10 pounds (roots)
Bush beans – 8 pounds
Broccoli – 7 pounds
Carrots – 10 pounds
Cucumbers – 12 pounds
Eggplant – 7 pounds
Green onions – 10 pounds
Kale – 7 pounds
Lettuce (leaf) – 5 pounds
Melon – 10 melons
Onions – 10 pounds
Peas (snap) – 2 pounds
Squash (summer) – 20 pounds
Tomatoes – 15 pounds
Peppers – 5 pounds
Turnips – 5 pounds (roots)