Need to stretch your gardening space? We've all heard about going vertical, but here's another way to take your garden to new heights. This tower garden uses less than one square foot of ground space and supports seventeen plants. I did this experimentally last year, planting basil and bok choy. The basil got a bit leggy after several months, but I think that's my fault for being a little lax in caring for the tower. The bok choy worked beautifully.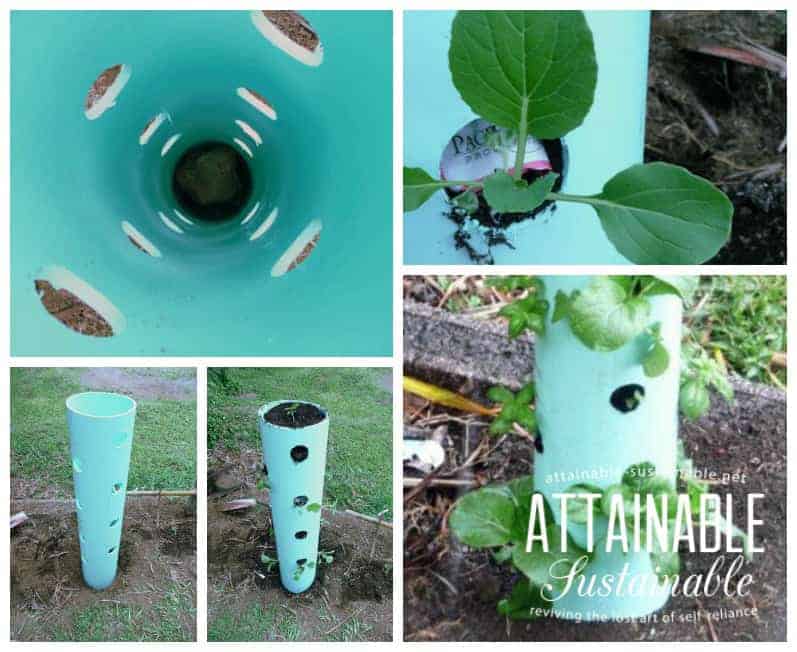 You'll need: 
8″ pvc pipe* (mine is just shy of 4′ in length and was scrounged from a construction site trash pile)
1-1/2″ hole saw
potting soil
seedlings (greens work well)
Aim for four rows of four holes, equally spaced around the pipe. Stagger the holes to allow more space for each plant. Note that I did not do ANY measuring, but my holes are about 7″ apart. Two rows start about 7″ from the top of the pipe; the other two rows start about 3″ from the top of the pipe. The bottom of the pipe will have roughly 12″ of solid pipe.
Dig a 12″ deep hole and bury the bottom of the pipe. Fill the inside of the pipe with potting soil up to the bottom of the first holes. Slide a seedling into the holes, and add potting soil to reach the next set of holes. Continue in this manner until each hole is planted. Add one more plant in the top of the tower.
If your seedlings are really well rooted, you shouldn't have a problem with them staying put. Mine were not, so I wrapped the roots in a square of newspaper before sliding them into the hole. The newspaper made it easier to work with the seedlings and helped prevent the loose soil from escaping.
The photo at the bottom right was taken about two weeks after the tower was completed. During a rainstorm. Through a window. No, I won't win any photography prizes with these images, but I think you get the gist.
One thing I'd do differently: I'd add a length of 2″ pvc, drilled with holes to the center of the tower for easier, more efficient watering. If you try it, I'd love to hear how it works for you.
*Yes, it's plastic, but it was diverted from the landfill. Is pvc safe to plant in for health reasons? I dunno. I don't know if pvc will leach chemicals into the soil, or if the plants will uptake them if they do. Certainly, given the choice between a bunch of pvc towers to garden in or a large, flat piece of sunny space, I'd choose the sunny space. But until I have that, I'll continue experimenting! 
You might also like: