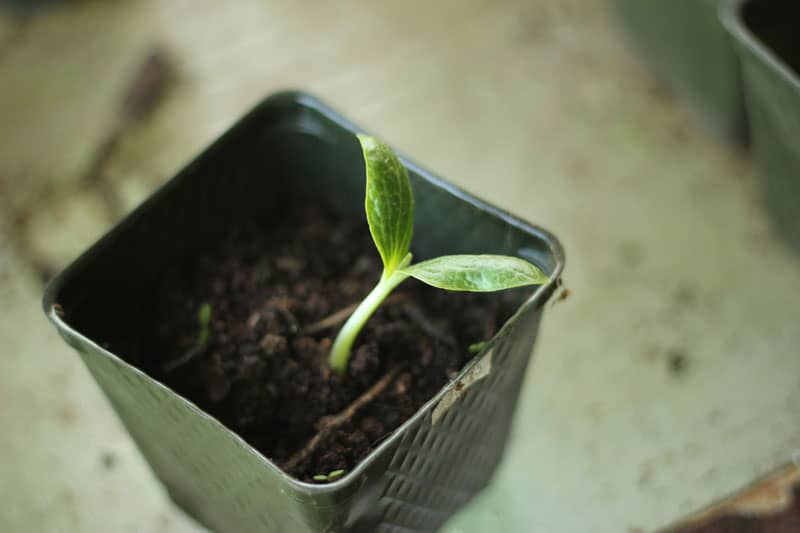 As someone who's been growing a garden – or at least helping to grow a garden – since I was a child, it is almost unfathomable to me that someone could not know how to plant a seed. I've had several people ask me about seed starting recently, though, so I have to assume that there are more people out there who have yet to acquire this knowledge. Good news: It's simple!
To get a head start on the growing season, plan to start your seeds 4-6 weeks before you'll be ready to set them out in the garden. This will be determined by your region's last frost date. You don't want to plant your garden too early, only to have Jack Frost kill all of your little plants.
You will need:
A container: You can reuse nursery containers if you have them, or alternatively, use plastic containers scrounged from the recycle bin*
Potting soil (available at nurseries or hardware stores)
Seeds
Fill your containers with potting soil to within 1″ of the top. Seed packets include planting directions and will note the planting depth for each type of seed. The general rule is to plant a seed twice the depth of its size. Large seeds like squash and beans will be planted deeper than smaller seeds. Other seeds—tomato, pepper, eggplant—are surface sown or just barely covered with soil. Set a seed or two into the appropriately sized planting hole, cover it with soil, and water it. If more than one seed sprouts, use small scissors to snip one off when they get a bit bigger.
The most important thing about growing seeds is that the soil needs to be kept moist during germination. If the soil dries out too much during germination, the little seed will die before you even see a sprout. On the flip side, you don't want to drown them. Try to maintain a moisture level similar to a wrung out sponge. One way to keep the soil moist without disturbing the soil is to mist your seedlings with a spray bottle.
You also need to make sure the seeds have a nice steady temperature and enough light. Some people use grow lights, and those are certainly necessary in colder climates. In warmer climates, you might get by with just a sunny windowsill. Temperatures in the 65-70 degree Fahrenheit range are ideal for starting most seeds. If you don't think your home stays this warm during the time you'll be germinating seeds, you could also try using a heat mat.
Of course, some seeds are best planted directly in the garden once the soil warms. I find that squash, beans, peas, and root crops do better with direct sowing. You'll do it the same way; just skip the pot.
Have you ever planted a seed? Are you new to gardening, or an old hat?
*Yogurt containers, sour cream containers, and plastic bottles with the top trimmed off are all fair game. You MUST make drainage holes in the bottom, though. To do this, heat the pointed end of a large nail and push it through the bottom of your plastic container to make four or five drainage holes.