These easy egg recipes are perfect for using all of those farm fresh eggs from your flock!
The incredible, edible egg
Eggs have had a tough run. They're bad for our cholesterol, we were told. So we separated the yolk from the white, eating things like low-fat egg white omelets. We bought cartons of "egg whites" to avoid the horrors of a fresh egg. 
So silly.
This post may contain affiliate links; I'll earn a small commission if you choose to make a purchase.
Turns out that even though eggs are high in cholesterol, that's not what's causing our high cholesterol problems. (That honor goes to saturated fat.)
Reader Favorites from Attainable Sustainable
Are eggs healthy?
One large egg has 6 grams of protein, less than 5 grams of fat, and less than a gram of carbohydrates.
This makes them a solid option for those who are low-carbing on a Whole30 or paleo diet, two plans that have made eating eggs healthy again.
Eggs are satisfying and filling, and provide nutrients like lutein and xeazanthan.
Farm fresh eggs, healthy and delicious
Springtime generally means an uptick in fresh egg production for those of us who have laying hens.
My girls are no exception, and we count on eggs as one of our local food standbys.
And that is wonderful, except for one teeny, tiny issue: It's really easy to get tired of eggs. (Scrambled, hard boiled, fried, repeat.) We needed some new egg recipes!
Healthy, easy egg recipes
I asked a bunch of blogging friends to share their favorite egg recipes with me to break up the monotony  find new ways to use up our abundance.
If you're lucky enough to have a steady source of fresh eggs, I'm sure you'll find at least one recipe here you'd like to try.
Scrambled and fried
These recipes offer a little twist on the usual fried or scrambled eggs. Spice 'em up, add some veggies, and these eggs are a whole new meal.
Basil for Breakfast [Little Owl, Crunchy Momma]
Spinach Omelette for Two [jarOhoney]
Green Eggs and Ham [Real Food and Real Fitness]
Spring Roots and Garlic Scapes with Fried Eggs [Reformation Acres]
Spicy Eggs, Bacon, and Kale [Fewell Homestead]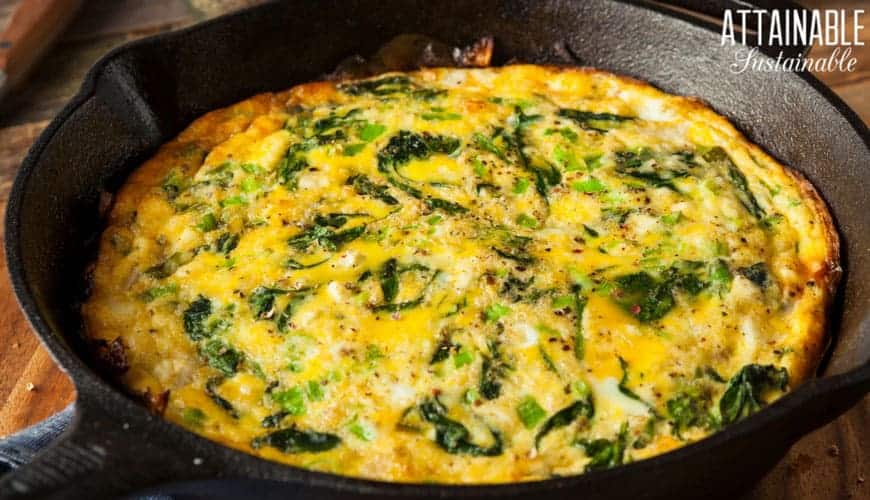 Frittata and Quiche
Whisking eggs and baking them with a variety of vegetables and herbs — with or without a crust — is an easy way to feed a family in a hurry.
Many of these frittata and quiche recipes are a good dinner-in-a-hurry option that you can get away with serving company in a pinch.
Breakfast Egg Muffins [Attainable Sustainable]
        Savory Tartlet Recipe with Roasted Red Peppers and Feta [Attainable Sustainable]
Quiche Lorraine [Reformation Acres]
Bacon and Cauliflower Frittata [Little Owl, Crunchy Momma]
Crustless Quiche [Ever Growing Farm]
Fabulous Frittata [Lil' Suburban Homestead]
Frittata…Your Way [Simple Clean Living]
Gluten Free Artichoke and Cheese Quiche [Don't Mess With Mama]
Vegetable Quiche [jarOhoney]
Crustless Beet Quiche [Fresh Bites Daily]

Muffins, Pancakes, & French Toast
For a sweet breakfast that uses a number of eggs, pancakes and french toast can't be beat. Muffins are great for breakfast but can double as a snack to tuck into a lunchbox, too.
Better than Starbucks Pumpkin Cheesecake Muffins [Attainable Sustainable]
Quick & Easy Healthy Waffles [Attainable Sustainable]
        Blueberry French Toast Casserole [Attainable Sustainable]
Grain-Free Coconut Muffins [Kitchen Stewardship]
Autumn Spiced Pumpkin Pancakes [Kitchen Stewardship]
Paleo Blueberry Muffins [Paleo Gone Sassy]
Amazing Applesauce Muffins [Intoxicated on Life]
Grain-Free Cinnamon Raisin Muffins [The Real Food Guide]
Peaches 'n Cream Overnight French Toast [Real Food Outlaws]
Baked French Toast [Schneiderpeeps]
Custard-Style French Toast [Urban Overalls]

Serving up savory
It's really amazing how many different ways there are to cook with eggs. It's just a matter of seeking out unusual recipes. Most of these savory egg recipes can stand up to dinner time scrutiny.
Avocado Deviled Eggs [Attainable Sustainable]
Healthy Vegetarian Egg Muffins [Attainable Sustainable]
Eggs Florentine [Nourishing Minimalism]
Easy Weeknight Mexican Eggs [Life Currents]
Pizza Poppers [Real Food Carolyn]
Shakshuka [Economies of Kale]
Spinach Souffle Cups [jarOhoney]
Mini Yorkshire Puddings [The Provision Room]
Gluten Free Cheesy Biscuits [Intoxicated on Life]
Creamy Swiss Chard and Eggs [Live Simply]
Cubano Benedict [Cavegirl Cuisine]
Pickled Eggs [Reformation Acres]

Sweet treats
When it comes to using eggs, custards and baked goods are stellar. The options here use real food ingredients and many fit special dietary needs, too.
Liliko'i Bread [Attainable Sustainable]
Paleo Banana Bread [Gutsy by Nature]
Easy Pumpkin Pie [Attainable Sustainable]
Sprouted Angel Food Cake [Simple Clean Living]
Cinnamon Spice Pumpkin Bars [Attainable Sustainable]
Coconut Macaroons [Common Sense Homesteading]
Gluten-Free Pumpkin Custard Cups [Attainable Sustainable]
Flourless Chocolate Mousse Cake [The Urban Ecolife]
Chocolate Waffles [A Girl Worth Saving]
Peanut Butter & Chocolate Cheesecake [Intoxicated on Life]
Paleo Sweet Potato Pie [Hollywood Homestead]
Paleo Macaroons [Hollywood Homestead]