If you send kids off to school every day, you know just how hard it is to come up with zero-waste, healthy school lunch ideas. If you're trying to skip plastic products as well, it's even harder. What's a parent to do? I don't know about you, but I find it easier to cook healthy meals at home than to pack a meal for when we're on the go.
Originally published August 2015; this post has been updated.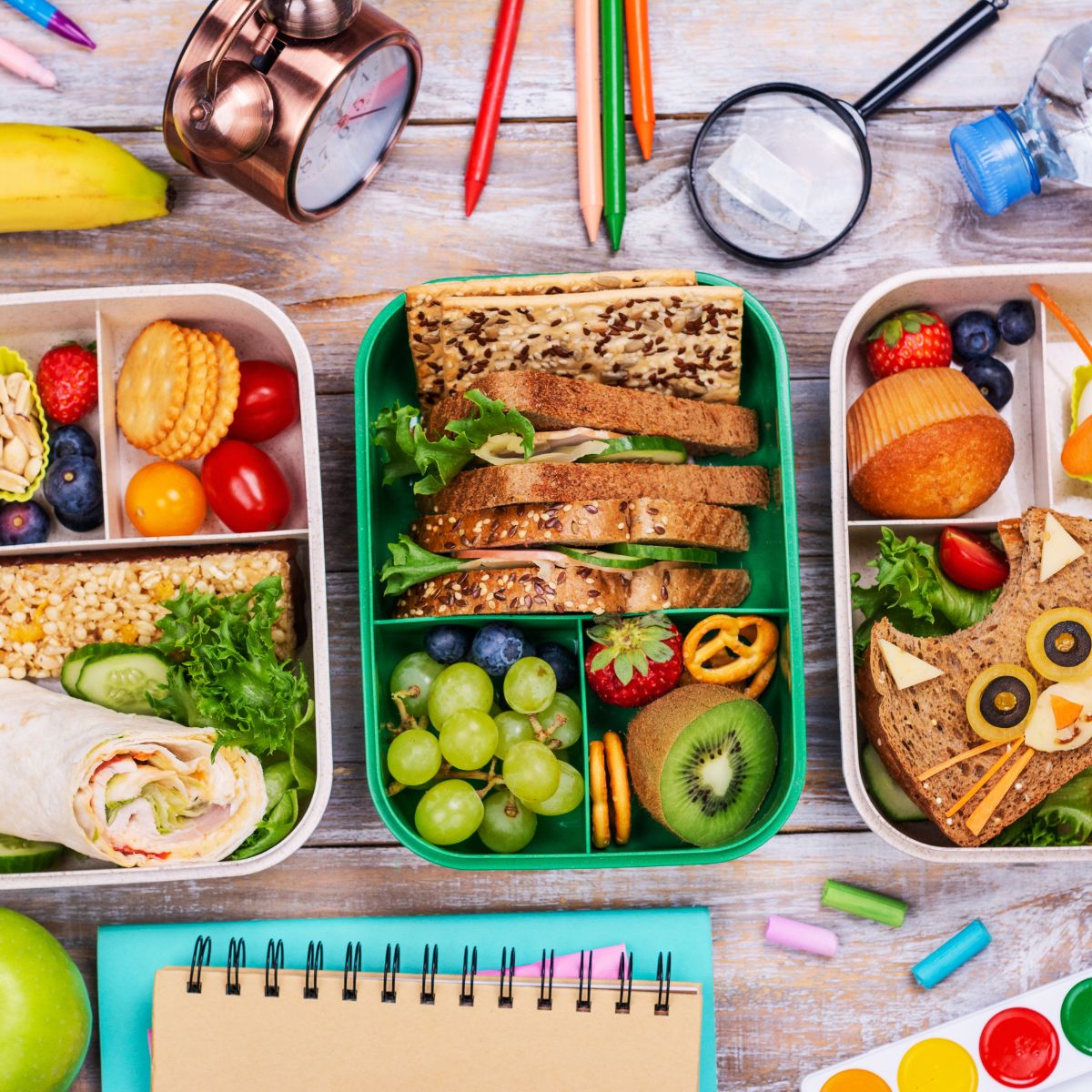 Healthy school lunch ideas
Thinking of the moms and dads making five lunches a week for the back-to-school crowd makes me thankful that my boys are grown, because that grind gets old fast. Am I right, parents??
As with dinner, though, the key to making school lunches with fewer headaches is to plan ahead.
Double Down
My favorite way to plan ahead is to simply double (or triple) something I'm already making.
A side dish pasta or grain salad: Add cubed chicken or lentils to up the protein content and you've got a main dish salad for lunches.
Whole roasted chicken? Pull the meat off the bone for chicken salad.
Making pizza? You might as well make an extra one to pack for tomorrow's lunch.
Waffles for breakfast? Make extra and use them as "bread" for peanut butter and jelly.
Send leftover taco meat along with non-GMO tortilla chips for "nacho scoops."
Leftovers like soup and chili can go straight into the lunchbox if your kids will eat them cold (like mine will). If not, heat them in the morning and send them in a Thermos.

Stock Your Pantry
Make sure that you've always got enough lunch packing supplies in your pantry for an entire week.
Take a Peek Inside My Book!
Get a free excerpt from my book, Attainable Sustainable: The Lost Art of Self-Reliant Living! You'll also get my free weekly newsletter, complete with recipes, gardening tips, and a little peek at what's going on around here — both the zany and the mundane.
This will ease your lunch preparations when you have one of those weeks. Or when you've had an overly busy but fabulous weekend and there's not a meal plan in sight.
Things to keep on hand:

Making school lunch healthy
One of my sons would happily eat peanut butter and jelly sandwiches every. Single. Day. That definitely makes it easy to stock the pantry.
Make a batch of my refried beans and roll up a bunch of burritos for the freezer. Pop them into the kids' lunchbox while they're still frozen; they'll be thawed in time for lunch.
DIY Jello cups allow you to skip the plastic-packaging, plus they're made with actual fruit.
Homemade hummus is easy to make and inexpensive. Pair it with carrot sticks and healthy crackers for a protein-packed lunch.
Make a big batch of granola bars for the freezer. They'll be easy to grab and toss in the lunchbox on busy mornings.
These sweet or spicy — you choose! — crispy chickpeas are an easy, inexpensive snack that are high in protein.
Make healthy muffins
Muffins are easy to transport, making them one of my favorite healthy school lunch ideas. Make a double batch of these and freeze them to last for the week.
Greener lunchbox ideas for school (and work!)
I cringe to think of all the plastic baggies I threw away when I was going to school. We were not a green family. Recent concerns about the safety of plastic in our kids' lunchboxes (and other products) may be a wake-up call for many parents.
Reusable plastic containers reduce the amount of waste generated from each lunchbox, but in the end they're still plastic. Happily, non-plastic alternatives are becoming much more readily available, making a truly healthy lunchbox more accessible.
Consider making some of these reusable snack bags or some beeswax wraps for packing school lunches. They're easy to make and can replace the plastic baggies and wrap you're using.
PlanetBox
Made of stainless steel, the hinged lunchbox opens to reveal five individual compartments of various sizes. It kind of resembles an institutional food tray (or, to date myself, one of those old fashioned TV dinners!).
The raised compartments in the lid allow you to fill the bottom tray generously and still close the lid. When closed, each food item is sealed into its separate compartment, keeping the sandwich from touching the fruit for finicky eaters.
Now, they're not cheap. But the simple styling of the PlanetBox will last a kid through years of school lunches without becoming dated, like the My Little Pony box that is so last year. And bonus for the kiddos: PlanetBox comes with a set of magnets to decorate the outside.
Tiffins
Never heard of a tiffin? I hadn't either up until a few years ago.
A tiffin is a stackable collection of several food containers that easily snap together into one easy-to-carry container.
Stainless steel containers
The kids will need something to carry these in, but the containers from Lunchbots are hard to beat. I have a friend who invested in one for each family member and they've been using them for years.
Drink bottles
I continue to be amazed at the number of people who rely on plastic water bottles on a daily basis. I am adamant about this: There really is no excuse to continue using disposable bottles.
It's wasteful. It perpetuates the use of petroleum products for a container that will be thrown away (or maybe recycled).
And it's becoming more and more apparent that it's not healthy. There are a multitude of options for reusable water bottles out there, but I'm a fan of the insulated S'well bottles for kids' lunches.
Though a bit larger, the Hydroflask wide mouth bottle allows the easy addition of ice. Because they're insulated, these bottles don't sweat and they retain the temperature (hot or cold) of the liquid you fill them with.
Sew up some of these reusable snack bags for packaging snacks!