Sometimes a refrigerator just gets overwhelmed with leftover goodness. And sometimes, the cook just doesn't want to serve the same thing again, even though there's still plenty of life left in that casserole or soup. Or sometimes the cook has a significant other who balks at the same leftover meal twice. Imagine!
Be sure to make up a batch of homemade biscuits to go with your leftover meal — that always improves a meal!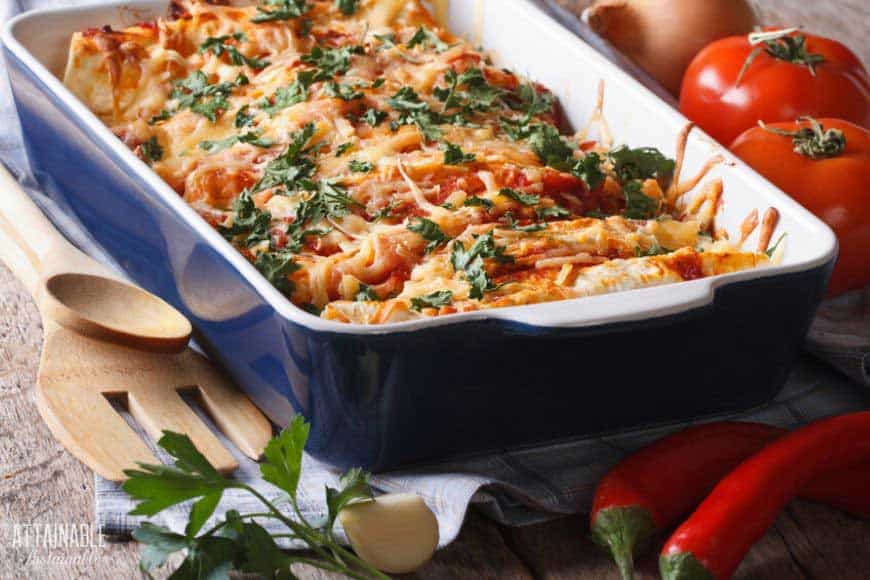 I am that person I mentioned with a significant other who balks at leftovers. My husband will take leftovers in his lunch — once — but anything beyond that elicits grumbling. Even if it's a meal he prepared! On the other hand, both of my sons love leftovers. And I am frugal enough that I'm not going to feed a perfectly good meal to the chickens just because it's boring.
Did you know that roughly 50% of all produce in America is thrown away?? Forty percent of the food in the United States is never eaten. We are a wasteful bunch.
A little bit of kitchen wizardry can transform your boring leftovers from last night's dinner into an entirely new meal. We use a couple of different tactics to avoid burning out on the same pot of chili all week long. The first method involves changing the consistency of the leftovers.
The trick to winning leftover meals
If I have a "dry" casserole, adding liquid transforms the dish into soup. If the leftovers are "wet" like soup, I add ingredients that will absorb the liquid, turning them into a casserole of sorts. Simple, right?
5 Easy Steps to Transform Your Pantry!
Ready to switch from store bought to homemade? Let me help you make some changes! Grab my FREE five-part guide to getting started.
Here's how that looks in practice:
Leftover casseroles and other "dry" meals
Enchiladas + more veggies and broth = Mexican soup
Chicken and rice casserole + chicken broth and some shredded carrots = chicken soup
Refried beans + beef broth = bean soup
Roasted potatoes + mayonnaise + seasoning = potato salad
Pancakes, waffles, or stale bread + milk and eggs = "bread" pudding
Au gratin potatoes + milk = potato soup
Leftover soup
Chicken soup + rice = chicken and rice casserole
Tomato soup + ground beef + seasoning = marinara sauce
Clam chowder + potatoes + cheese = seafood scalloped potatoes
Chorizo soup + ground meat + tortillas = enchilada casserole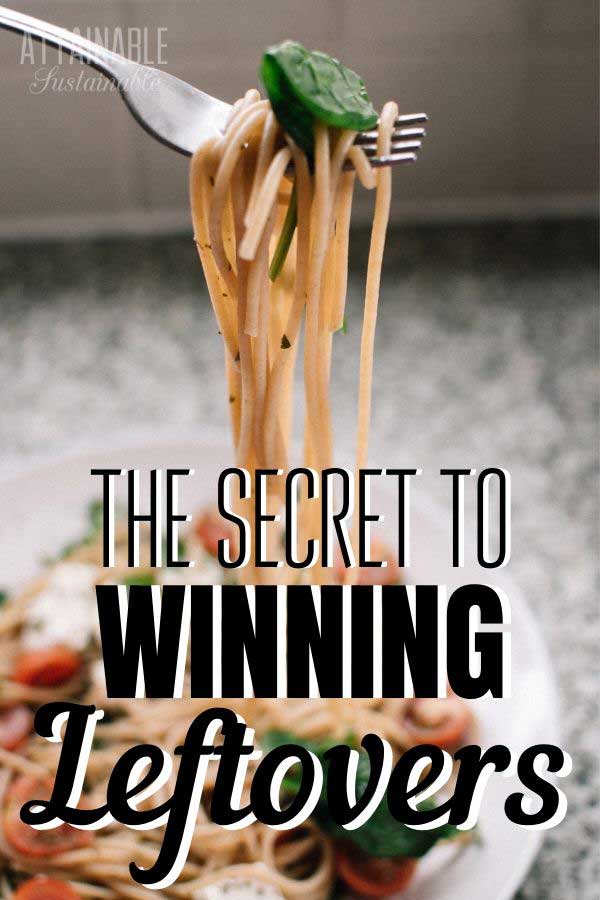 More leftover meal magic
Another way to reinvent leftovers is to use them as a filler or topper. Stir fried veggies inside a sandwich or wrap. Leftover chili as baked potato stuffing. Homemade pizza is another great way to use up bits and bobs of leftovers; just mix and match to create toppings that will work well together.
Utilizing leftovers is a chance to eliminate food waste and get creative in the kitchen. Stir that leftover sour cream-based holiday dip into a "kitchen sink" soup. Use that stale banana muffin by crumbling it and adding it as a topping to an apple cake.
Sure, you might have a few weird meals as you learn to mix and match, but think of all the waste you'll avoid once you become a master of leftovers!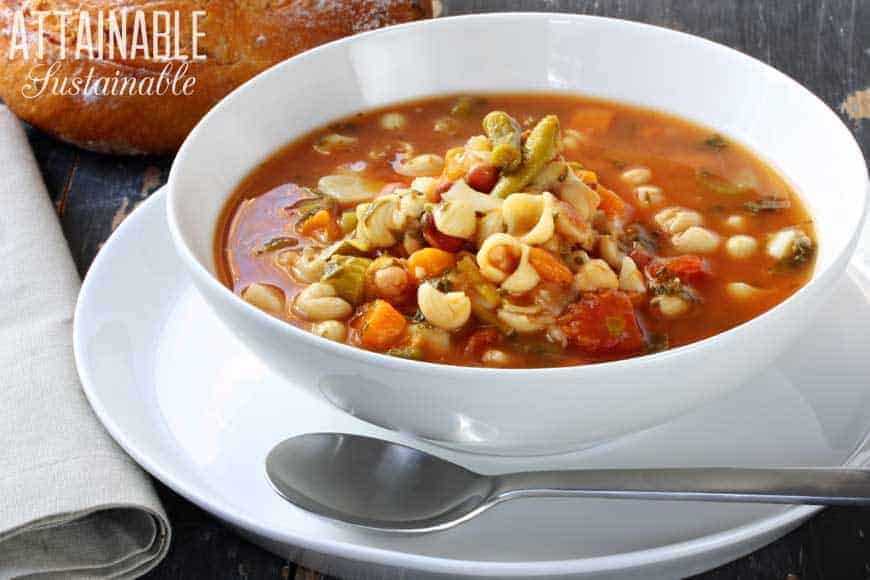 Turn small amounts of leftovers into Memory Lane Soup
When it's time to clean up after dinner, we often have small amounts of vegetables or sauces left in the pan. Not quite enough for a leftover lunch, but enough that I don't want to waste it.
Instead of storing these little bits in the fridge, only to throw it out a couple of weeks later once it's gotten suitably moldy, I keep a container in the freezer where I collect these odds and ends. Green beans, sliced onions, mushrooms, pasta in marinara sauce – it all gets tossed into the same container.
When I use a jar of marinara sauce, I rinse the jar with a little bit of water and pour it into my freezer soup pot. When I make pesto sauce, I add a cup of water to the blender and run it to clean off the remaining sauce and I pour in, too.
The trick is to make sure you're not mixing flavors. I wouldn't, for instance, mix leftover enchilada sauce in the same container that I've saved pesto. Instead, I keep an "Italian style" container and another for "Mexican style" flavors.
When I make soup, I simply add my container of leftover bits (never from someone's plate, by the way) for extra flavor. This reduces our kitchen waste, eliminates clutter in my refrigerator, and stretches our food budget a bit.
I shared this idea with my friend Jane, whose kids have dubbed this "Memory Lane Soup" because they get to revisit all the things they've had for dinner recently. I love that.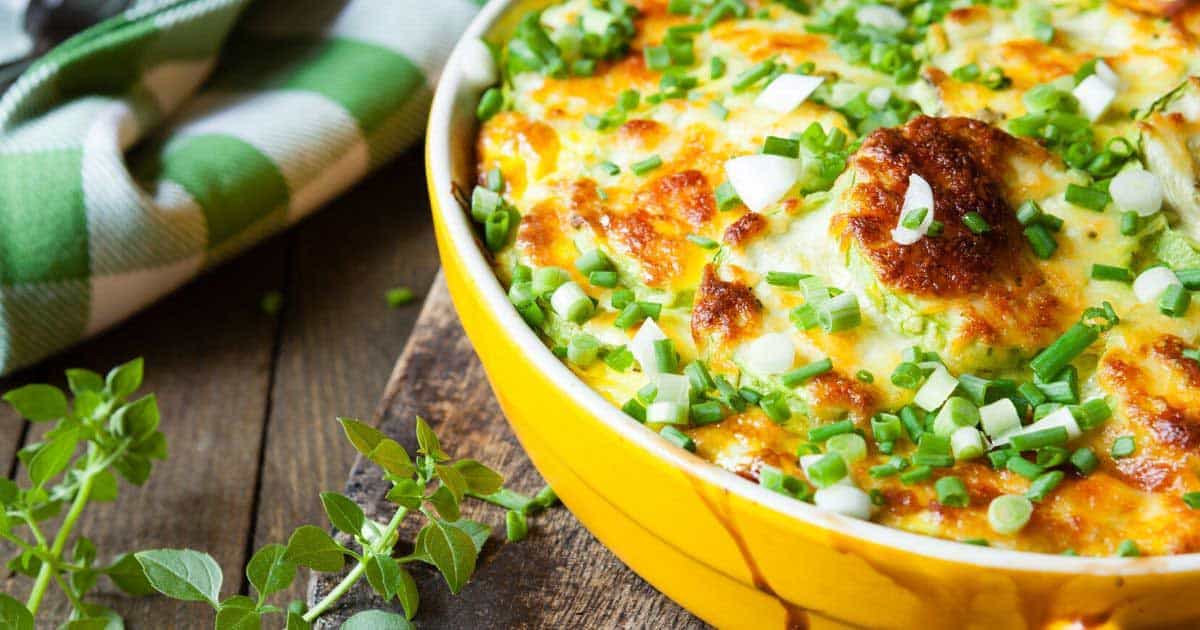 Originally published December 2013; this post has been updated.