This sweet and tangy watermelon rind relish recipe makes good use of watermelon rinds that would otherwise end up in the compost.
Check out even more great summertime canning recipes to stock your pantry here!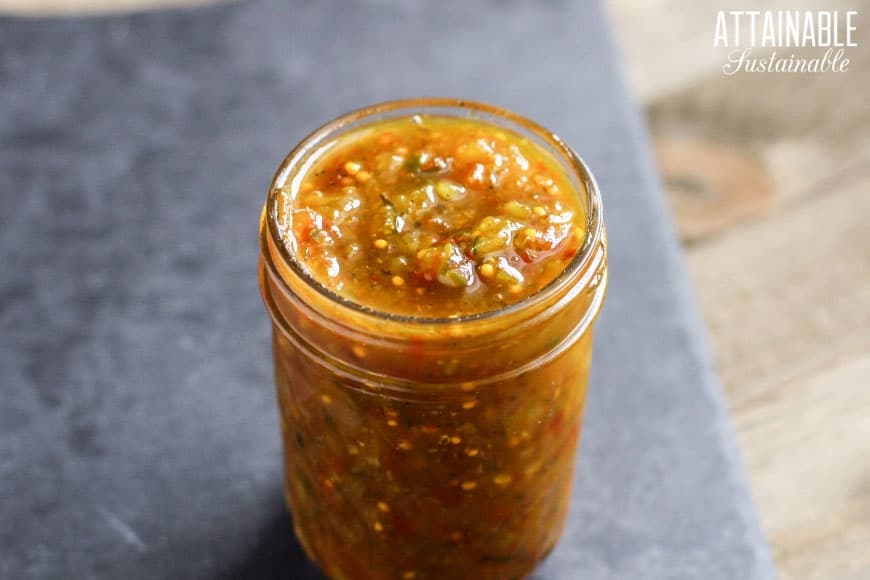 A couple of years ago I made a fabulous relish with my surplus zucchini. It was a sweet relish, very much like the Del Monte hamburger relish I grew up with. I'd been having a hard time finding hamburger relish in stores, so I decided to try making it at home. It was a hit. We used it on hamburgers (of course) but also added it to egg salad and potato salad to really add a nice flavor.
Unfortunately, my squash crop hasn't done very well this year, and I've been so sad to not have zucchini to make more of this delicious relish. Yesterday, my son brought home a watermelon, and as I was cutting it I thought about making watermelon rind pickles.
I've never even had watermelon rind pickles, but it seemed like a great way to eliminate waste, so I cut the rind into pieces. As I set them aside I had a wicked crazy wonderful idea: watermelon rinds might make a great substitute for zucchini in my beloved relish.
5 Easy Steps to Transform Your Pantry!
Ready to switch from store bought to homemade? Let me help you make some changes! Grab my FREE five-part guide to getting started.
Watermelon rind relish recipe – a success!
And oh my. I am so excited about how this watermelon rind relish recipe turned out. And so pleased with myself. It is nearly identical to my original recipe in both flavor and looks. The original recipe is slightly sweeter, but honestly? I think the watermelon rind version is just a bit better. I wouldn't change a thing with this watermelon rind relish recipe – except maybe to double it.
Important: This is not scary. It took me about an hour to make 3 pints of relish. If you know how to operate a stove and chop veggies, you're good to go.
Canning Safety
Canning is an excellent way to preserve food for the pantry, but there are some important safety considerations to keep in mind.
Know the difference between water bath canning and pressure canning. Low acid items must be pressure canned for safety.
Altering ingredients may change the recipe's pH, posing a safety issue.
Use the proper jars and lids. Never reuse lids, with the exception of the Tattler lids that are intended for such a purpose.
For more on canning equipment, please go here.
The recipes on this site have been made following safe canning procedures by a certified Master Food Preserver.
Making this relish
The part of the watermelon that you'll use for this recipe is the pale green or whitish rind. You'll need to remove the outer green part of the watermelon. Compost that. Then cut away the red flesh and serve that up as slices or in a fruit salad. It won't matter if there's a little bit of red flesh still clinging to the rind, as you can see above, but trim most of it away.
While you don't have to have a food processor to make this recipe, it will definitely reduce the amount of chopping you need to do.
If you're not interested in canning this relish to make it shelf stable, simply put it in jars and store in the refrigerator for up to three months.
Home Canning with Confidence
If you're new to canning but love the idea of filling your pantry with shelf-stable pantry items, consider investing in this Home Canning with Confidence e-course with my friend Melissa Norris from Pioneering Today.
In it, Melissa covers everything from basic canning safety to pressure canning your own meat. (Yes, you can do that!) Head over to Home Canning with Confidence to learn how to embrace this method of food preservation and keep your pantry stocked with homegrown produce!
Related: Canning Recipes to Preserve the Summertime Garden Abundance
★ Did you make this watermelon rind relish recipe? Don't forget to give it a star rating below! ★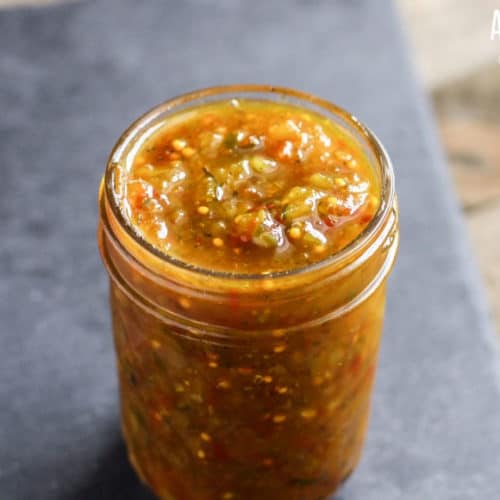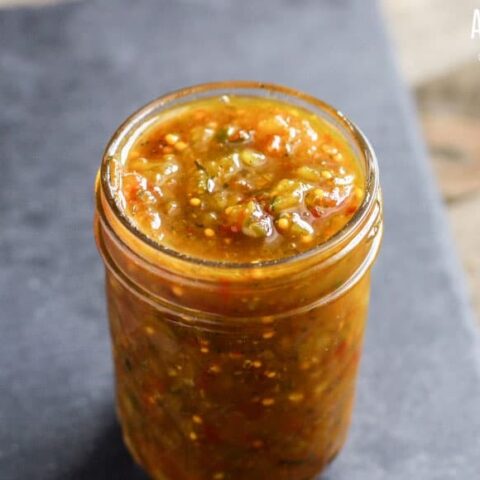 Watermelon Rind Relish Recipe
This recipe came about completely by accident one day when I decided I wouldn't waste the rind from fresh watermelon.
Ingredients
4 cups chopped watermelon rind, dark green outer skin removed
2 cups onion, finely chopped
1 red bell pepper, seeded and diced
1 jalapeno pepper, chopped
1 1/2 cups granulated organic cane sugar
1 1/2 cups vinegar
2 teaspoons mustard seeds
Instructions
A shortcut to start you off: If you have a food processor you can just toss roughly chopped watermelon rind, onions, and peppers into the bowl of the processor and pulse until they're a good size. I like mine in about 1/8 - 1/4" pieces. If you don't have a food processor, just chop them finely by hand.
Combine watermelon rind, onion, peppers, and salt in a large bowl, stirring well. Chill overnight. Place in a colander to drain; rinse thoroughly and drain again. Transfer to a large stock pot and add remaining ingredients; bring just to a boil. Simmer for 10 minutes. At this point, the relish is done. You can just put it in jars and then in the refrigerator to use right away or give as gifts.
If you'd like your relish to be shelf stable, you'll need to process it. Ladle hot relish into sterilized jars, leaving 1/4-in. head space. Wipe rims with a damp cloth (to assure a good seal), screw sterilized lids on, and process for 10 minutes in a boiling water bath. (Click through for a complete tutorial on water bath canning if you've never done it before.)
Nutrition Information:
Yield:

16
Serving Size:

1 grams
Amount Per Serving:
Calories:

92
Unsaturated Fat:

0g
Sodium:

181mg
Carbohydrates:

21g
Sugar:

19g
Originally published in August 2011; this post has been updated.