Does your grocery budget feel restrictive? Especially when aiming for healthy food for your family? Check out these tips for eating healthy on a budget.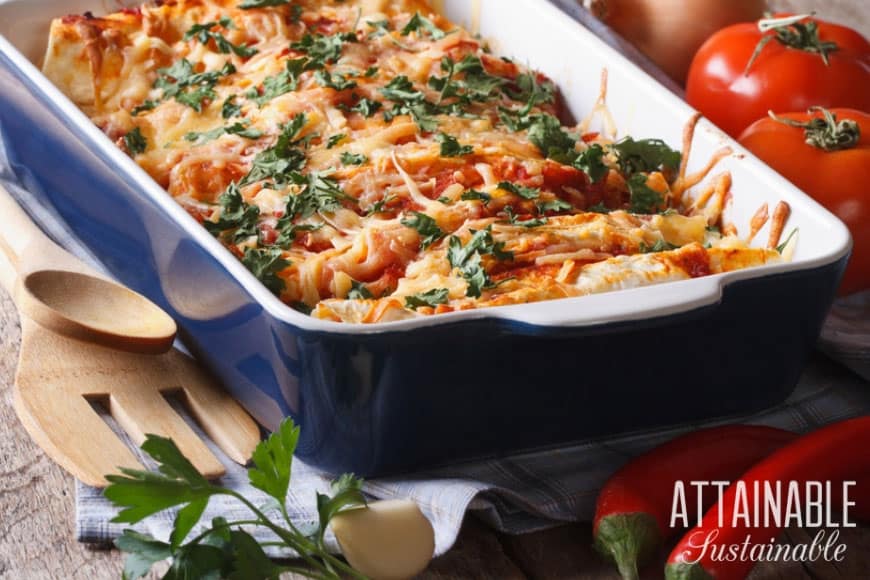 Over on the Attainable Sustainable Facebook page, I posted this video of Robyn O'Brien discussing America's food system at TEDxAustin.
This post may contain affiliate links; I'll earn a small commission if you choose to make a purchase.
It's a very compelling video in which Ms. O'Brien offers a calm and concise look at the foods we're feeding our families. For instance, did you know that genetically engineered corn is regulated by the EPA as an insecticide because it releases insecticides as it grows?
Reader Favorites from Attainable Sustainable
Tortilla chips, anyone? Not exactly healthy food!
After seeing the video, Sophia, one of my Facebook followers wrote:
How can the average (poor) family of five eat on healthier food? I'm wanting to, but stumped.
It's a valid question. Learning about some of the atrocities in our supermarkets is the surest way to convince oneself that organic is the way to go. But organic food is expensive. It's a sad day when food grown and prepared naturally is the alternative and not the norm, but that's a whole 'nother story.
I live in a state that is notorious for its high food prices, so I'm all too aware just how challenging eating healthy on a budget can be, but some of my tactics may work for you.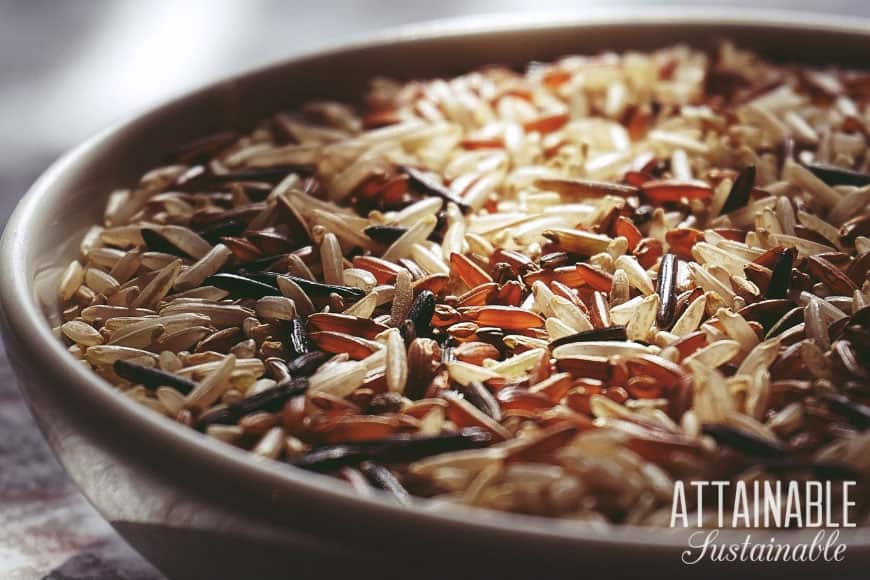 Eating healthy on a budget
Stop buying food products and start buying real, healthy food
Crackers (much as we love them), boxed cereal, and packaged granola bars are a food product, even if they're organic – and they're expensive. Swapping to organic cereal may eliminate some contaminants from your diet, but it's still not real food — and it's wildly expensive. Instead, try homemade breakfast alternatives like granola, oatmeal, or muffins. Snack on baby carrots, apples, and sunflower seeds.
Shop the bulk food aisle
The bulk food aisle at my health food offers primarily organic versions of dry beans, pasta, nuts, and seeds. Sold by the pound, these items are generally less expensive than their packaged counterparts, saving you money and creating less waste, as long as you bring your own bags. Read more about buying and storing bulk dry goods here.
Cook (and eat) healthy food at home
Cook double
Instead of making one lasagna, make two and freeze one for another night. Make twice as many pizza doughs as you'll need and freeze the excess. Frozen meals will save you on busy nights, eliminating the what's-for-dinner panic and preventing an unexpected expense for take out. This not only saves time and money, but it saves energy as well.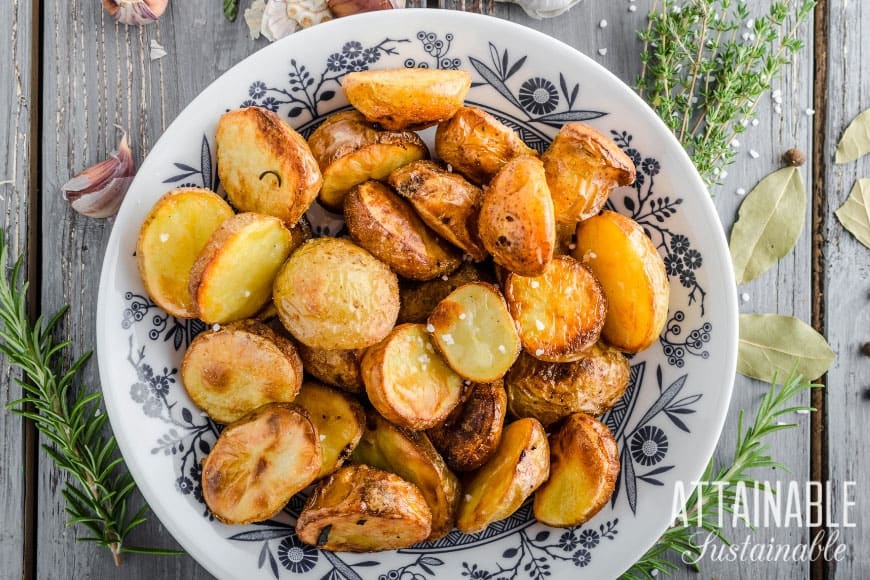 Eat less meat
Unless you raise your own or have access to an inexpensive meat source, buying meat is expensive. Buying sustainable meat is even more expensive. If you're a meat loving household (as mine is) Meatless Monday is a good inspiration and offers up a variety of meatless recipes.
This hearty sweet potato curry doesn't rely on meat and it's budget-friendly way to eat more healthy food. It's easy to make, too. This zucchini lasagna is vegetarian and uses garden fresh produce. And when you do have meat on the menu, learn how to make it stretch.
Learn to love beans
They're filling and cheap. Homemade chili and refried beans are an inexpensive meal option, as are these homemade baked beans. If you've been buying canned versions of these, switching to homemade allows you to avoid the BPA that comes from the lining of the cans and you'll be pleasantly surprised at the savings.
Stop snacking
We are a nation of snackers, but it's an expensive habit and not at all conducive to eating healthy on a budget. This is one we're still working on, but I'm inspired by a friend of mine who just simply doesn't provide snacks. Her family eats meals and the kids are expected to fill themselves and make it to the next meal. It's old fashioned, but it works.

Choose local
Buy in season
Fruits and vegetables are less expensive when they're in season in your region, which is important when you're trying to combine eating healthy with a tight budget. Indulge like crazy when strawberries are in season and then let it go. Buying strawberries from South America is expensive and terrible for our environment, not to mention not sustainable at all.
Visit farmers markets
If your community has more than one, check them all out. I find that some cater to a higher end crowd, and thus have higher prices. Find the market that has the best prices and frequent that one.
Make friends with a gardener
Successful gardeners generally have an abundance to share. Offer to help in the garden or barter a skill you have in exchange for surplus vegetables.
Grow some of your own food
If you're new to gardening, there is an initial investment in getting set up as you work to either amend soil or fill pots with potting mix, but in the long run it will save money. Let's say you spend $5 on a bag of potting soil and salvage a pot or bucket for planting in. Spend $2 on a packet of lettuce seeds, sow them, and in a month's time (give or take) you'll be rewarded with multiple heads of lettuce. If you're paying $2 for a head of lettuce, you only need to grow four to recoup your costs – after that, it's essentially a free salad.
And that, my friends, is gold when you're eating healthy on a budget.