Does your grocery budget feel restrictive? Especially when aiming for wholesome food for your family? By incorporating some smart meal planning ideas, you'll be eating well on a budget in no time!
Originally published Sept 2019; this post has been updated.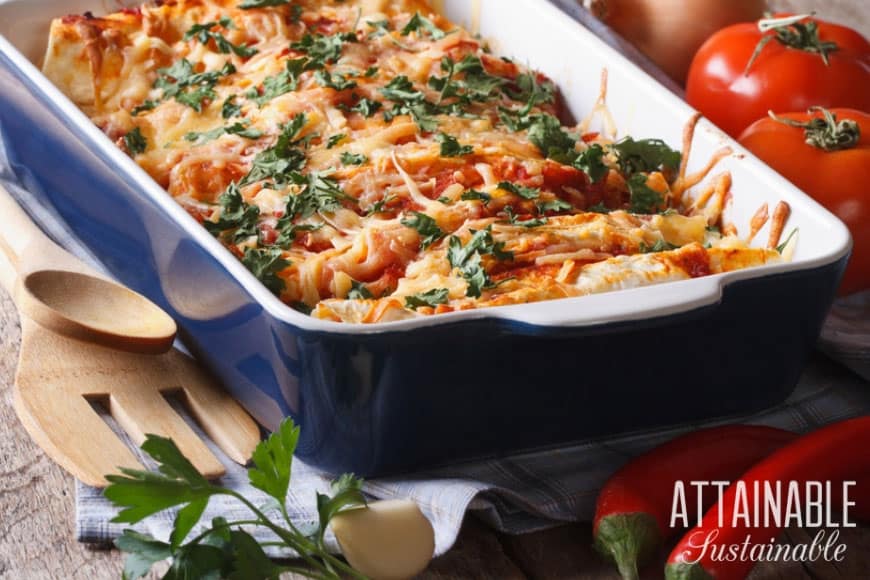 Over on the Attainable Sustainable Facebook page, I posted this video of Robyn O'Brien discussing America's food system at TEDxAustin.
It's a very compelling video in which Ms. O'Brien offers a calm and concise look at the foods we're feeding our families. For instance, did you know that genetically engineered corn is regulated by the EPA as an insecticide because it releases insecticides as it grows?
Tortilla chips, anyone? Not exactly health food!
After seeing the video, Sophia, one of my Facebook followers wrote:
5 Easy Steps to Transform Your Pantry!
Ready to switch from store bought to homemade? Let me help you make some changes! Grab my FREE five-part guide to getting started.
How can the average (poor) family of five eat on healthier food? I'm wanting to, but stumped.
It's a valid question. Learning about some of the atrocities in our supermarkets is the surest way to convince oneself that organic is the way to go. But organic food is expensive. It's a sad day when food grown and prepared naturally is the alternative and not the norm, but that's a whole 'nother story.
I live in a state that is notorious for its high food prices, so I'm all too aware just how challenging eating wholesome food on a budget can be, but some of my tactics may work for you.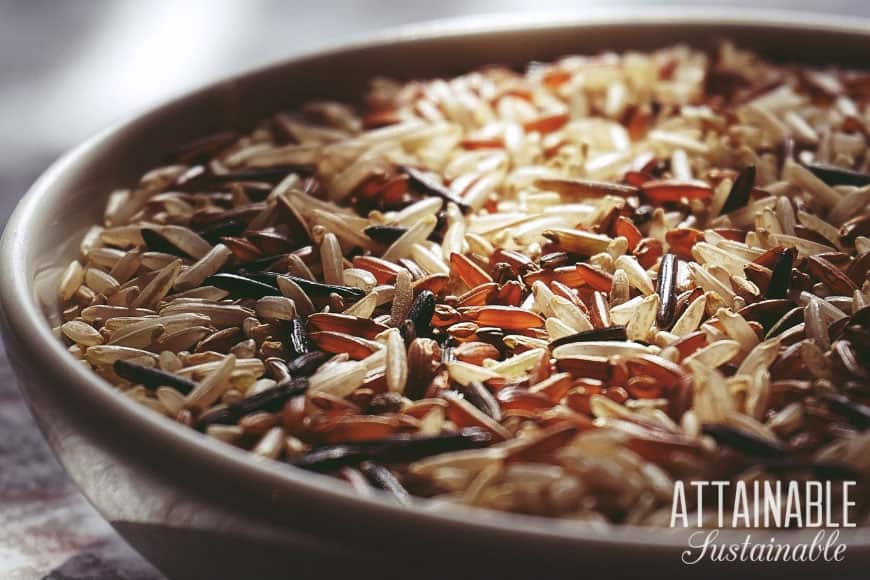 Eating Wholesome Food on a Budget
Stop Buying Food Products and Start Buying Real Food
I've said this a lot, but learning to make food in your own kitchen is key to living a more self-reliant lifestyle. If you're aiming to live a more self-reliant lifestyle (and I have to assume you are, since you're here and reading) my vote for the number one place to start is the kitchen.
Crackers (much as we love them), boxed cereal, and packaged granola bars are a food product, even if they're organic – and they're expensive.
Swapping to organic cereal may eliminate some contaminants from your diet, but it's still not real food — and it's wildly expensive. Instead, try homemade breakfast alternatives like granola, oatmeal, or muffins. Snack on baby carrots, apples, and sunflower seeds.
Shop the Bulk Food Aisle
The bulk food aisle at my health food offers primarily organic versions of dry beans, pasta, nuts, and seeds. Sold by the pound, these items are generally less expensive than their packaged counterparts, saving you money and creating less waste, as long as you bring your own bags. Read more about buying and storing bulk dry goods here.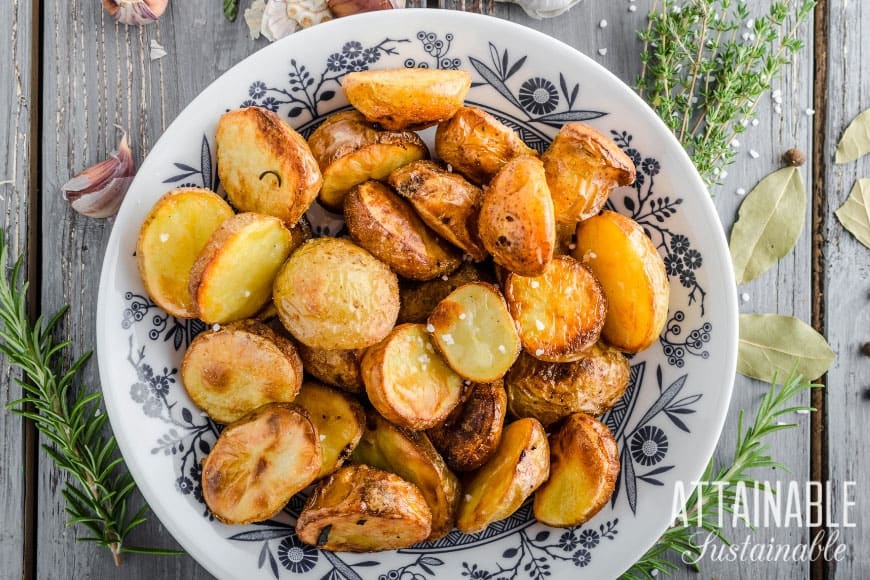 Better Food at Home
Go look in your cupboard. How much of what's there would be considered ingredients? How much has an ingredients list? I'm not suggesting that you get rid of everything with a label.
But I firmly believe you can learn to make an awful lot of what your family eats, resulting in better food, less packaging, and (bonus) a lower grocery bill. Follow these simple steps to make cooking at home easier. Instead of counting on takeout, enjoy meals cooked at home with a little bit of planning.
Take Stock
The best place to begin when considering your meal plan is in your own kitchen. See what's in your freezer and fridge. Is there anything you need to use before it expires? You might find some veggies you forgot you bought last week.
Evaluate the spices and seasonings you already have. If you stock up staples like rice, couscous, or quinoa, do a quick count – how much is left? Make a list of the things you're out of.
Keeping staple ingredients like flour, eggs, and milk on hand means you can whip up a quick meal in a pinch. Dry pasta and beans are the basis for many easy recipes. You'll need items like oil, vinegar, sugar, and seasonings.
Select your Recipes
Once you've made a list of the ingredients you have in your home and the ones you'd like to incorporate for the week, it's time to create your meal plan. Keep your list in mind as you consider what you and your family will eat for the next seven days.
If you discovered a pack of boneless chicken breasts hiding in the back of your freezer, find a couple of recipes that will allow you to use them up. Strategic meal planning can make your week go more smoothly, too. For instance, if you expect Tuesday to be absolutely nuts, plan to throw something into the slow-cooker that morning so you don't have to deal with dinner in the evening.
Hot tip: If your latest challenge is expanding your kids' palates, ask them to help you find a fun recipe to try together. They'll be more likely to eat it!
Make a list
Now that you know exactly what meals you'll make during the week and which ingredients you'll need to make them, you're ready to create your shopping list.
Write your list on a piece of paper or tap it out in an app so you don't forget anything.
If you split your shopping between multiple stores, maintain separate lists.
Group items together so you don't find yourself backtracking through the store.
Get specific – note how many pounds of pork you'll purchase.
Get what you need
Grab your reusable grocery bags and hit the stores. When you shop, stick to your list. Don't get distracted by the prepackaged, over-processed foods in the center aisles – try to shop the store's perimeter.
Also, investigate your grocer's bulk section. Many grocers carry everything from spices and starches to lentils and beans in bulk.
Shopping in bulk lets you get the exact quantity you need for your recipe, cuts down on packaging waste, and is often cheaper than the pre-packaged alternative. It's worth exploring the next time you're in the store.
Buy in Season
Fruits and vegetables are less expensive when they're in season in your region, which is important when you're trying to combine wholesome food with a tight budget.
Indulge like crazy when strawberries are in season and then let it go. Buying strawberries from South America is expensive and terrible for our environment, not to mention not sustainable at all.
Visit Farmers Markets
If your community has more than one, check them all out. I find that some cater to a higher end crowd, and thus have higher prices. Find the market that has the best prices and frequent that one.
Make Friends with a Gardener
Successful gardeners generally have an abundance to share. Offer to help in the garden or barter a skill you have in exchange for surplus vegetables.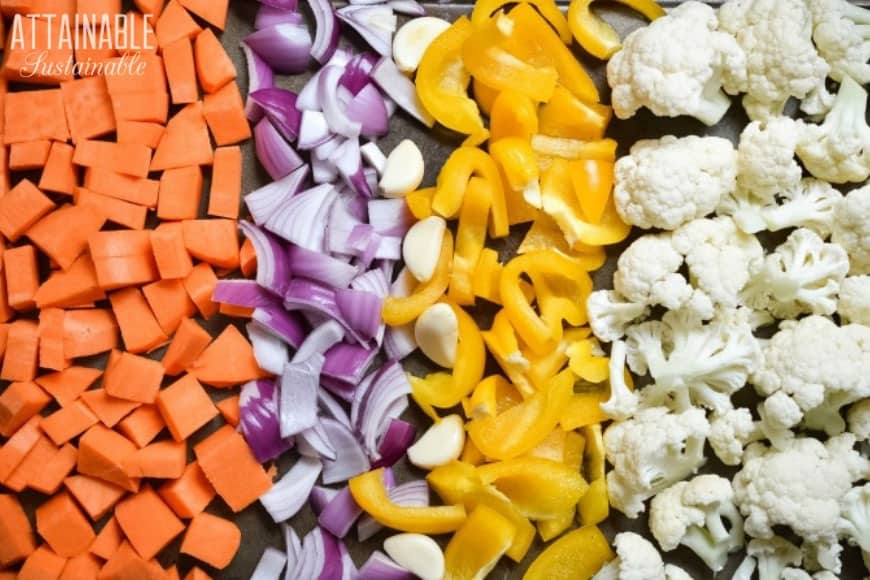 Double your recipes
You can cut your work in the kitchen nearly in half simply by doubling recipes. Instead of making one lasagna, make two and freeze one for another night. Make twice as many pizza doughs as you'll need and freeze the excess.
Frozen meals will save you on busy nights, eliminating the what's-for-dinner panic and preventing an unexpected expense for take out. This not only saves time and money, but it saves energy as well.
Eat Less Meat
Unless you raise your own or have access to an inexpensive meat source, buying meat is expensive. Buying sustainable meat is even more expensive. If you're a meat loving household (as mine is) Meatless Monday is a good inspiration and offers up a variety of meatless recipes.
This hearty sweet potato curry doesn't rely on meat and it's budget-friendly. It's easy to make, too. This zucchini lasagna is vegetarian and uses garden fresh produce. And when you do have meat on the menu, learn how to make it stretch.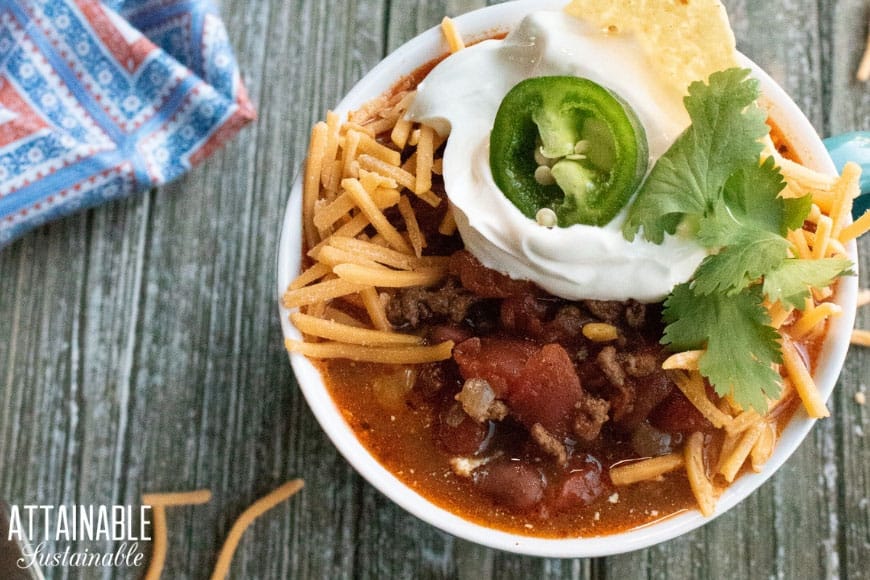 Learn to Love Beans
They're filling and cheap. Homemade chili and refried beans are an inexpensive meal option, as are these homemade baked beans. If you've been buying canned versions of these, switching to homemade allows you to avoid the BPA that comes from the lining of the cans and you'll be pleasantly surprised at the savings.
Stop Snacking
We are a nation of snackers, but it's an expensive habit and not at all conducive to eating well on a budget. This is one we're still working on, but I'm inspired by a friend of mine who just simply doesn't provide snacks. Her family eats meals and the kids are expected to fill themselves and make it to the next meal. It's old fashioned, but it works.

Prep for the week
Carve out an hour or two on Sunday to prepare for the week ahead. The actual prep steps will vary depending on your meal plan for the week, but you can always wash your fruits, dice some vegetables, or simmer some sauces in advance. If you don't have time to make breakfast each morning, prepare a big batch of breakfast burritos or muffins so you have something ready.
Consider what you can do to make your life a little easier for the rest of the week and tackle as much as you can ahead of time.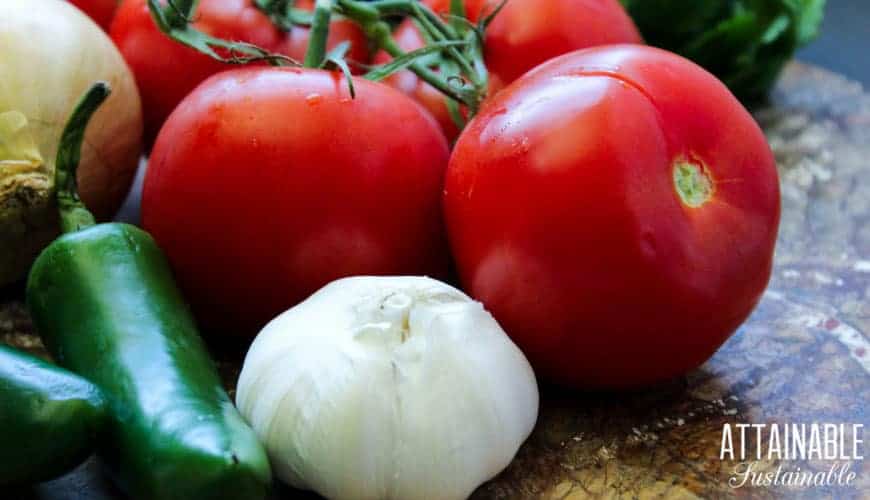 Grow Some of Your Own Food
If you're new to gardening, there is an initial investment in getting set up as you work to either amend soil or fill pots with potting mix, but in the long run it will save money.
Let's say you spend $5 on a bag of potting soil and salvage a pot or bucket for planting in. Spend $2 on a packet of lettuce seeds, sow them, and in a month's time (give or take) you'll be rewarded with multiple heads of lettuce. If you're paying $2 for a head of lettuce, you only need to grow four to recoup your costs – after that, it's essentially a free salad.
And that, my friends, is gold when you're on a budget.