Looking for some small vegetable garden ideas? Make the most of the space you have with these vegetables.
Years ago, when my family moved into a home in a subdivision, the very steep front yard was filled with pineapple plants (undeniably cool, I know). It was probably an easy way for the previous resident to use the awkward space, but we wanted more productivity from the only sunny spot in the yard. The pineapples ripened over the course of several months, and as they did, we pulled out the plants and shared them with friends and neighbors.
But we felt that plants that bear only a single fruit every eighteen months or so just wasn't the best use of the small garden space.
Small vegetable garden ideas
We opted to terrace the area and planted some veggies.
We also converted the driveway. The concrete drive was situated in the sunniest spot on our lot. Instead of battling the shade and poor soil conditions that existed in other level parts of our yard, we imported some soil to create raised beds right on top of the concrete so we could start growing immediately. We used Smart Pots and planters made from stacked banana stumps. The banana stumps were mush after just six months or so, but they're great for short term planter beds.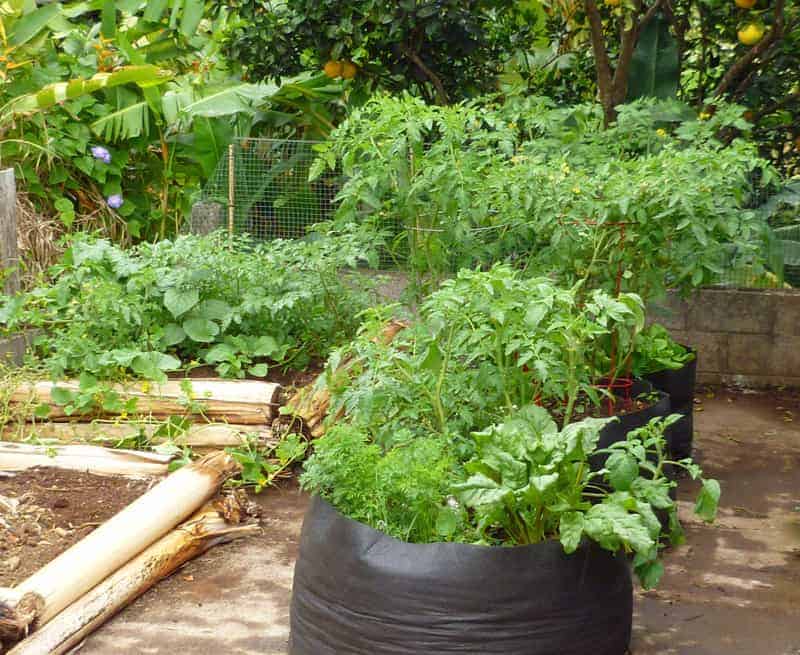 Good vegetables for abundance in your small garden plot
Tomatoes — Caged and supported, a tomato plant takes up roughly a 2′ x 2′ piece of ground. One will produce a steady flow of ripe red fruit during the summer months. As I estimated in an earlier post, a single tomato plant can bear 20-30 pounds of fruit. [How to grow tomatoes]
Green beans — A happy green bean plant will awe you with how many pods you can pull off during the season. Six bush bean plants can produce a colander full of beans every few days. Or, save space and grow pole beans vertically.
Hot peppers — Unless you like your food fiery, you probably only need a plant or two for fresh use. A jalapeño pepper produces fruit all season long, so you'll be able to spice up your meals throughout the summer. You might need two plants if you plan to preserve homemade salsa for the pantry. Bell peppers, on the other hand? I've not had enough success with them to invite them back to my garden, with one exception. Gypsy bell (a hybrid) is a smaller sweet pepper that is prolific. It doesn't require the long growing season that a standard bell pepper does. [How to grow hot peppers]
Squash — We've all heard stories about people running away from a gardening neighbor bringing yet more zucchini to the door. Squash does take up a fair amount of space in the garden, but it's also prolific. If you've got a neighbor who grows and shares squash, you might want to save that space for something else. If not, you will be pleasantly surprised at the abundance a single seed can produce. Choose a small variety like Patty Pan to take up less space in your small garden plot. Another option is to grow your zucchini plant inside a tomato cage to force it to grow more upright.
Greens — Greens like lettuce and spinach are easy to grow and will keep your salad bowl full. Those with warmer weather to contend with will do well with Swiss chard, which will produce new leaves all summer long. And remember to save the tops from your beets and radishes – they're edible, too! [How to harvest lettuce to make it last]
Eggplant — A single Japanese long eggplant takes up roughly 15 square inches, but continually produces fruit throughout the growing season. Varieties that put out larger fruit take up a bit more space.
You might also like:
This post may contain affiliate links; I'll earn a small commission if you choose to make a purchase.