What's it going to look like in six months? Or a year? While we have never had a crystal ball to see the future, up until recent events, we could assume a certain level of continuity. That we'd gather with neighbors and friends over a summertime grill next summer, just as we did last year. Or that you could walk into the grocery store and pick up your favorite item without thinking twice about whether or not it would be on the shelf. Well, so much for that — there are uncertain times ahead.
Be sure to check out this collection of skills to learn for a more self-sufficient lifestyle, too.
A friend of mine recently asked me what I was stocking up on, in light of current events. I tend to maintain a pretty full pantry, so I didn't have to do a lot of over-the-top shopping, but not everyone lives like we do. Heck, not everyone even cooks! I started formulating a list for her, then realized there are probably a lot of people wondering the same thing, so I'm putting it here.
We've seen in the past month or so an interruption of the system that has many of us feeling panicked. We're concerned about getting the products we're used to using. We're concerned about income (or the loss of it). And we're worried about our health and the health of our loved ones.
Taking steps to prepare for uncertain times
Many of us are taking drastic steps, isolating ourselves to protect our communities. While an inconvenience, taking that step feels like an action item. Something that we can control in a wildly uncontrollable situation. But there are other steps we can take, as well, toward making sure that our family will be okay through the tough times that may be ahead.
Let's start with food
It's probably time to shift back to cooking with ingredients rather than depending on some of our favorite ready-made options. This is easier on a tight budget and pantry staples like dry beans and rice can be stored for years. Now, don't go hoarding.
Take a Peek Inside My Book!
Get a free excerpt from my book, Attainable Sustainable: The Lost Art of Self-Reliant Living! You'll also get my free weekly newsletter, complete with recipes, gardening tips, and a little peek at what's going on around here — both the zany and the mundane.
You're just shifting to a new way of cooking. Instead of buying a ready-to-eat vegan burrito bowl from the frozen food section, you're going to make that burrito bowl from scratch. Instead of hoping that there's a loaf of bread on the shelf, you're going to learn to make your own.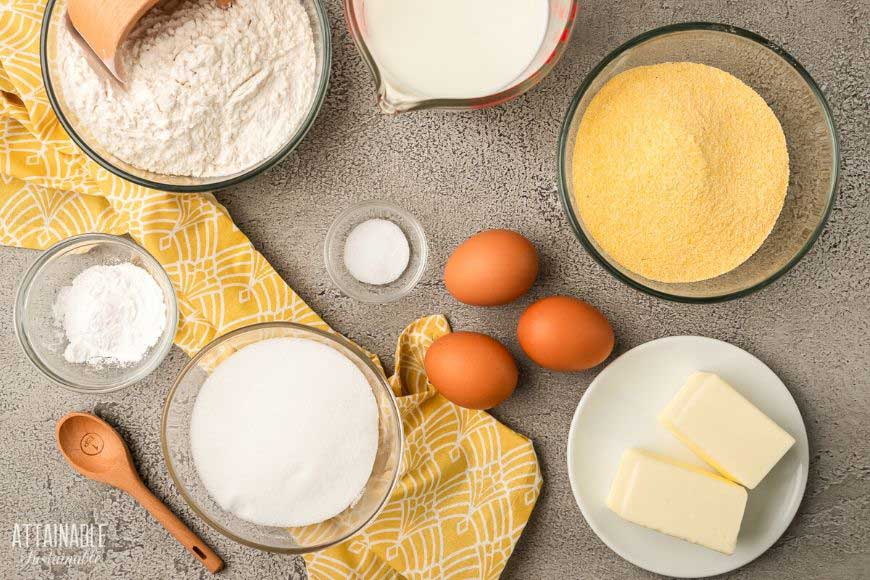 Basic baking supplies to have on hand
Flour. Choose all-purpose flour or gluten free options if necessary for your health. This is the basis for inexpensive and filling breakfast pancakes or waffles, homemade bread, and the occasional chocolate chip cookie.
Oats. Besides making a filling old-fashioned breakfast, oats can be ground into oat flour in your blender to add a nutritional boost to recipes. It's also the basis for homemade granola.
Sugar. Even savory yeast breads can require sugar to help with the fermentation process.
Baking powder and baking soda. These are used as leavening to make quick breads rise. Without it, baked goods would be dense and flat.
Yeast. This is the ingredient that makes loaves of French bread or dinner rolls rise. We've seen a shortage of yeast already as people go back to baking bread at home. Happily, you can capture wild yeast and make a sourdough starter to reduce your dependency on commercial yeast. Here's how.
Butter. Refrigerated, butter lasts quite a long time. You can also freeze it.
Oil. For baking purposes, choose a light oil. My preference is avocado oil.
Shortening. Not something I normally cook with, but in a pinch a can of shortening can stand in for butter if you run out. It's shelf-stable, so no need for refrigeration.
Salt. You'll need this for both savory and sweet baked goods.
Expanded baking supplies
Cornstarch. Used as a thickener for custards and puddings, as well as savory recipes like gravy.
Chocolate chips. Trust me.
Cocoa powder. An occasional chocolate cake or chocolate muffins can make a bad day better.
Honey. It lasts forever on the shelf and can be used to sweeten drinks as well as homemade jams and jellies.
Dry milk powder. Many baked goods call for milk. Make your carton of milk last longer and instead mix up what you need from dry powder. You can also get dried buttermilk powder and coconut milk powder.
Dried fruit. Raisins, dried cranberries, and other dried fruit adds a sweetness to baked goods and are an excellent addition to homemade granola recipes.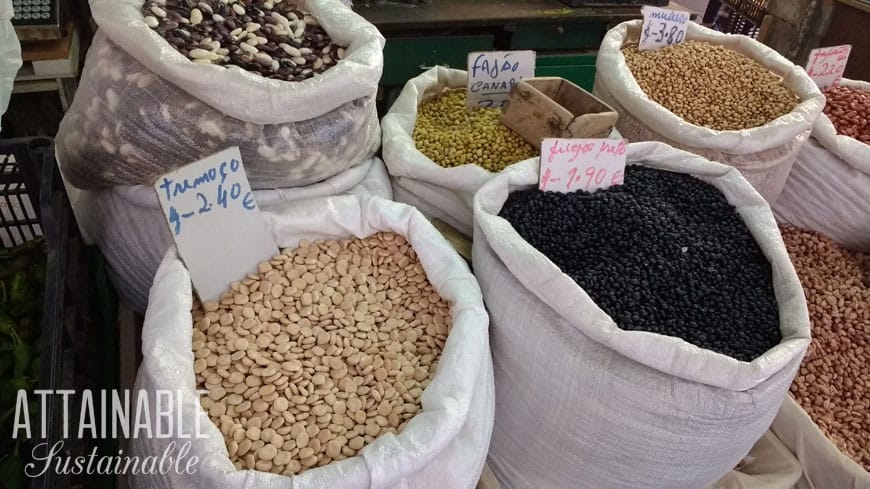 Basic pantry items to have on hand
Dry beans. A great meatless and non-perishable source of protein, beans can become a main course as refried beans, a hearty addition to salad, or the basis for delicious homemade hummus.
Rice. Get your favorite kind of rice, along with something different like wild rice or black rice to break up the monotony.
Pasta. Dry pasta can be store for a long time. Get some for making spaghetti, some for cold pasta salads, which are great for using up leftovers.
Whole grains. Wheat berries can be the basis of a whole grain salad, plus if you've got a sturdy blender you can grind them into whole wheat flour. Barley can be stirred into soup.
Tuna. Shelf stable and fairly inexpensive, tuna is a good source of protein to have to stretch the length of time between shopping trips.
Nuts. This is a more expensive option, but nuts are a great addition to granola and baked goods.
Peanut butter. It's cheap. Kids love it. It tastes good.
Popcorn. It's a cheap snack and makes movie watching fun.
Oil. In addition to frying and baking, a light oil is the basis for this 60-second homemade mayonnaise and egg-based salad dressings.
Tomatoes. We use tomatoes in a lot of recipes, so I tend to keep stewed tomatoes and even prepared marinara sauce on hand.
Coffee. If your day isn't complete without coffee, make sure you have a backup container of your favorite blend on hand at all times.
Vinegar. You'll use this for making salad dressings, marinating foods, and even preserving fresh veggies.
Spices and seasonings. Check the spices you use regularly to make sure the jars are full.
Things to think about:
Moisture is the death knell of dried goods. Plan for storing bulk foods in an airtight container. This can be half-gallon Mason jars or a five-gallon bucket equipped with a Gamma lid. Adding moisture absorbers will help extend the life of these items.
One cup of dried beans nets roughly three cups of cooked beans. If you prepare extra beans, you can freeze them for a quick meal later.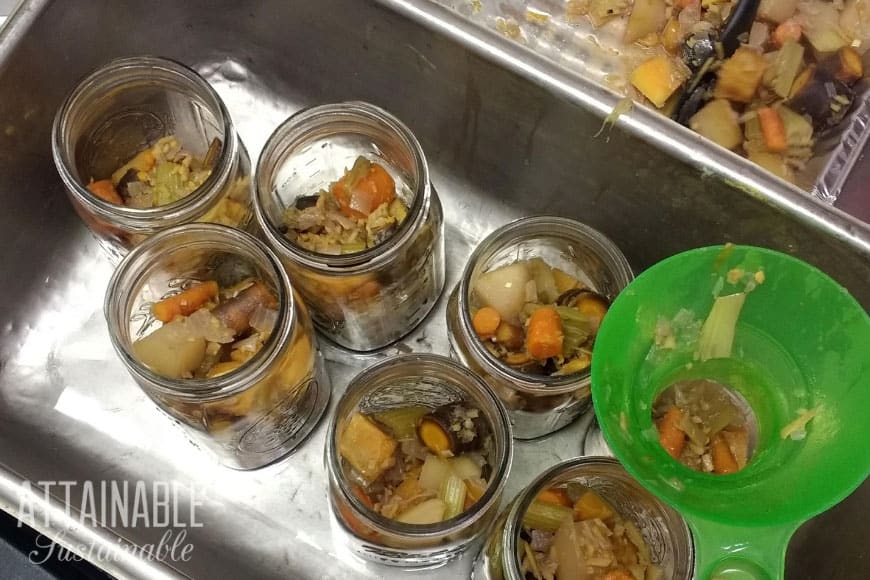 Extending the life of your food
Non-perishable items are easy to tuck away in the pantry. But fresh produce poses the problem of having a short shelf-life. You can circumvent this to a point by opting for vegetables and fruits with a longer shelf life. Celery lasts longer than lettuce; apples last longer than berries.
[adthrive-in-post-video-player video-id="cyCANXVM" upload-date="2020-07-23T20:12:53.000Z" name="Introduction to the Canning Jar System" description="From glass canning jars to lids and rings, here's what you need to know to start preserving food at home." player-type="default" override-embed="default"]
But you can also use a variety of methods to preserve those vegetables. You can make simple refrigerator pickles, or delve into a variety of other food preservation methods, which you can learn more about here, along with any special equipment required and some recipes to try.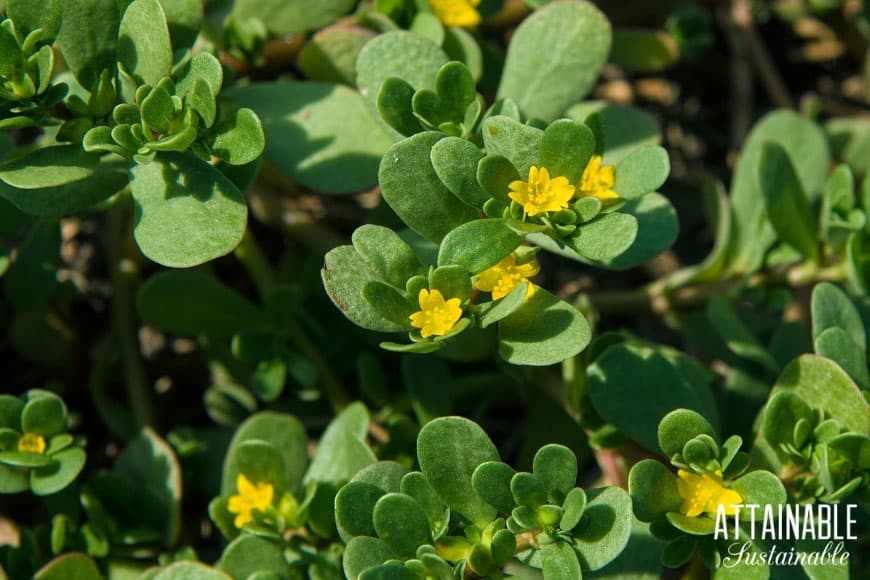 Beyond the supermarket
If you've always considered the supermarket or big box stores your sole source of food, it's time to think outside the box. Farmers markets are a great way to acquire fresh produce, but in light of social distancing measures in place, many have changed operations. Some markets are offering a drive-through option, and many farmers are pivoting to a delivery method. Find out what's available in your region to support local farmers.
Learn about foraging and gleaning
Foraging takes advantage of the abundance of wild food that's available to us, if we know where to look. You don't really need any special tools for this, but you will need a bit of knowledge. You can read about wildcrafting in different parts of the country as a beginning point. But consider adding a good book on the topic to your bookshelves. One that is regional will serve you well. There are also many backyard herbs and wild foods that can be used for health purposes.
Gleaning requires a bit of local connection. You may know a backyard farmer who has more apples in their orchard than they can use. Maybe there's an abandoned pear orchard that you can get permission to harvest from. (That really happened to me, years ago!) One household often can't use all of the produce that their backyard plum tree produces. Offer to help harvest (especially useful to older folks) for a share of the fruit. Or trade one of your skills for their abundance.
Drinking water. If you rely on bottled water in plastic, this is a great time to break the habit! Invest in a good quality water filter (Berkey makes a great one) and you can use it to process municipal water, or if things get dire, rain water.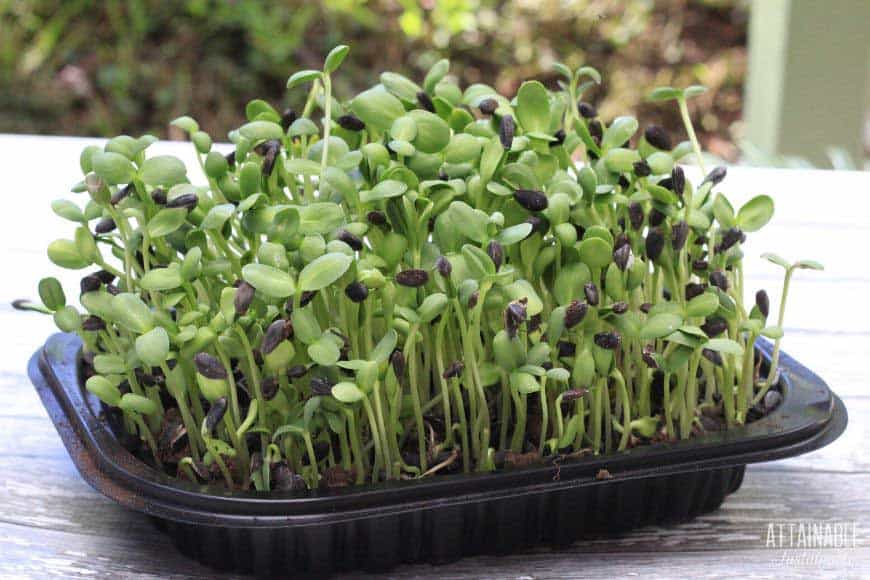 Raise some food
Here's what I'm most concerned about: access to food. So, what this means for me is making sure that I've planted as much as I can. For people who live in urban areas, this can be trickier. While producing some of your own food may seem like a huge undertaking if you've never done it before, there are some easy starting points, and some can even be done if you live deep in the city.
Grow sprouts. This requires nothing more than seeds and a jar. Consider broccoli, mung bean, and lentils to get started. Pick up a variety of sprouting seeds and you'll be able to grow some fresh food right on your countertop, year round. If you typically buy sprouts, you'll be surprised how easy it is to grow your own, and how much less expensive.
Grow microgreens. These are also easy to grow in a small space and will provide fresh greens without a trip to the store or farmers market. You can use an upcycled container for growing these, but you will need seeds and some potting soil. Here's how to grow microgreens. Tip: When you're done harvesting, dump the roots into a 5-gallon bucket or a large trash can with a lid. Add used coffee grounds, crushed eggshells, and vegetable scraps until the bucket is full. The roots and scraps will break down, and the resulting compost can be used to plant more microgreens.
Start gardening. If you're new to gardening, the easiest way to get started with growing an outdoor garden is in containers. A single Swiss chard plant in a pot will produce all season long and it's easy to grow. Pick up some bags of potting soil and seeds. You can use a variety of containers for planting, many of which can be upcycled from what you have on hand. Just be sure that there are drainage holes. There are numerous posts on this site about gardening. If you feel called to start growing a larger garden for yourself or your community, peruse the entire collection here.
Consider chickens. Now, this comes with a caveat. Raising animals requires a certain level of commitment. They need care, and you need to be prepared in case something goes wrong. Can you dispatch an injured bird if necessary? What happens when they get old and stop laying eggs? (Will you still want to pay for their feed?) All that said, keeping chickens at home can provide a welcome source of protein in uncertain times.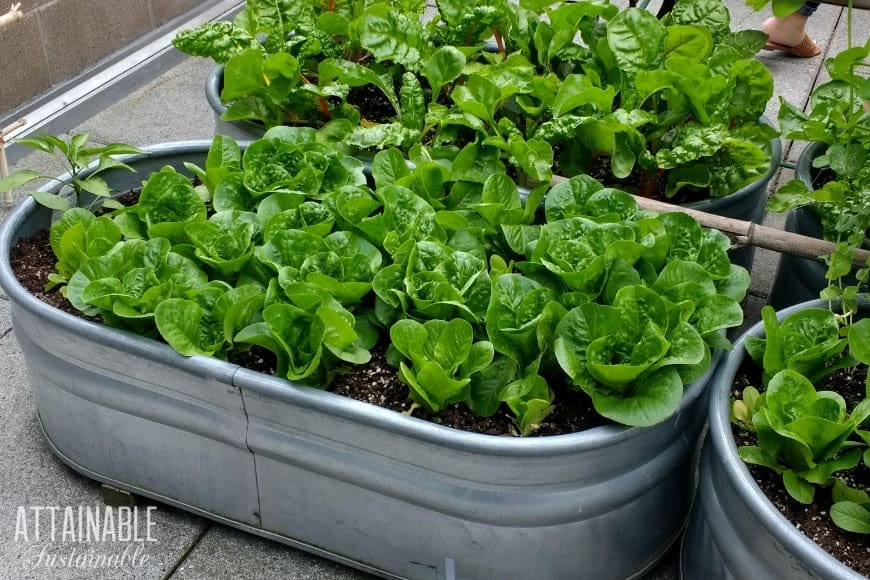 Personal hygiene
When money gets tight, who wants to spend it on expensive disposable items? If you've got young children, consider investing in a stack of cloth diapers. They last forever, they are one-size-fits-all, and you will save a small fortune. Ladies, keep a menstrual cup on hand. You might hesitate to adopt this method while you have easy access to disposable feminine hygiene products, but in a pinch you'll be happy to have it. [More info about this idea here.]
And for goodness sake, stop hoarding toilet paper. Try these toilet paper alternatives instead.
Household maintenance
Laundry and dirty dishes don't stop piling up, even in a crisis. Make sure you have laundry soap, dish soap, and other cleaning supplies on hand. I make many of my own cleaning products (some of my favorite recipes are in my new book), so this also means I need to have other items on hand. Plus, there are some basic toolbox items that I think every household should have on hand, even in the best of times. You never know when you'll need them!
Lye (for soapmaking)
Washing soda
Baking soda (in larger quantities than the little box)
Citric acid
Bleach for disinfecting (not part of my usual day-to-day, but something to have on hand now)
Rubbing alcohol for making wipes
Duct tape
Hammer and nails
Tarp
Rope or clothesline
Entertainment
Think about how you'll entertain yourself during these weird times and make sure you have supplies to tackle those projects on hand. Order oils and butters for making personal care products (like a soothing balm for over-washed hands!), fabric for quilting, or yarn for knitting and crocheting. You might also want to have some puzzles, games, and a deck of cards on hand, too.
These are all pretty basic supplies that should be readily available to you. Add a few of these items to your shopping list each time you go to slowly build a stocked pantry. That stocked pantry will provide peace of mind and give you one less thing to worry about. For more, this is a very thoughtful read on being prepared without panic.
Now tell me: What's on YOUR must-have list as you look ahead to uncertain times?