Looking for ways to save money on your groceries? You're not the only one. Here are more then a dozen cheap dinner ideas, budget recipes, and tips for cutting food costs.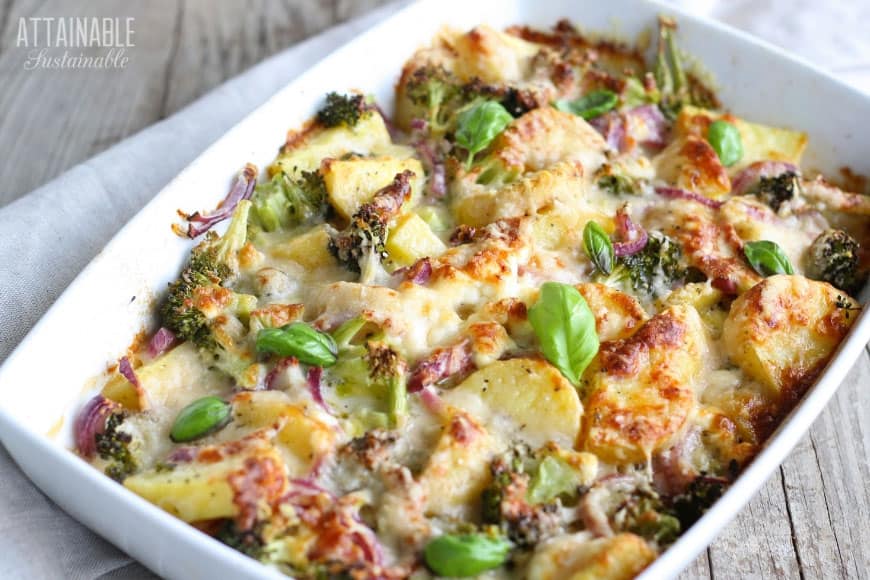 I ran across a post the other day at Broke Parents lamenting the high cost of eating healthy. In her post, Bobbi says:
I am constantly seeing chefs and health/nutrition experts on TV claiming it's a myth that it costs a lot to eat a healthy diet.
They go through all of these examples to disprove this "fallacy," which usually involve some really unbelievably low prices for the healthy options. Well, sorry—I'm just not buying it.
Perhaps for a single person with a modest appetite, the cost difference between healthy and unhealthy wouldn't be as great. I have a household of five, four of whom are male—and three of those are in their teens or early 20s.

5 Easy Steps to Transform Your Pantry!

Ready to switch from store bought to homemade? Let me help you make some changes! Grab my FREE five-part guide to getting started.
As anyone who has ever tried to feed teenaged boys knows, they generally don't eat like birds. Instead, the food seems to just vanish immediately after you buy it.
One of the tenets of living more self-reliantly is cooking at home, from wholesome ingredients instead of depending on ready made meals or ingredients. [Check out these easy swaps you can make.] But is it possible to do it inexpensively??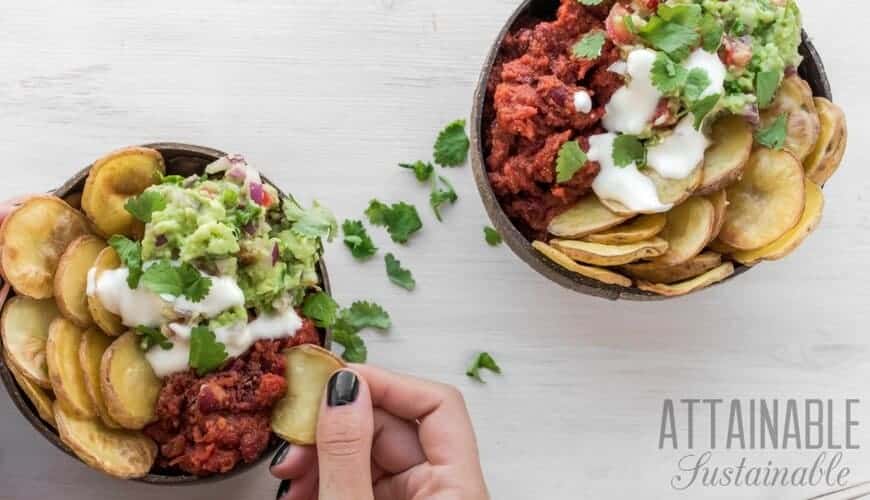 How does one feed a family without breaking the bank?
Budget recipes are a good starting point. You'll need to have some of those bookmarked. Cheap dinner ideas and inexpensive lunch menus will help you stay on track with your budget. But beyond that, there are some other tactics to take as well.
Here's the conundrum: Eating lower quality (but seemingly less expensive) foods is less filling than eating nutrient dense options. This creates a need to eat (and pay for) more of that low quality food as our bodies seek nutrients.
A better bet is to rely on some well-loved nutritious budget recipes. And beans.
It's fun to joke about, but beans and legumes are your friends if you're looking for cheap dinner ideas. Beans are full of fiber, potassium, folate, iron, manganese and magnesium. They're cholesterol- and fat-free, plus they're filling. But they're not the only inexpensive, healthy option.
Consider recipes that are heavy on potatoes, sweet potatoes, oats, and eggs. These are all nutritious and filling foods. Also very nutritious, albeit less filling? Greens like kale and spinach. There are plenty of budget recipes to choose from. (See below for some of my favorite recipes for cheap dinner and breakfast ideas.)
But first, some tactics to consider for cutting your grocery costs while still eating homemade healthy food.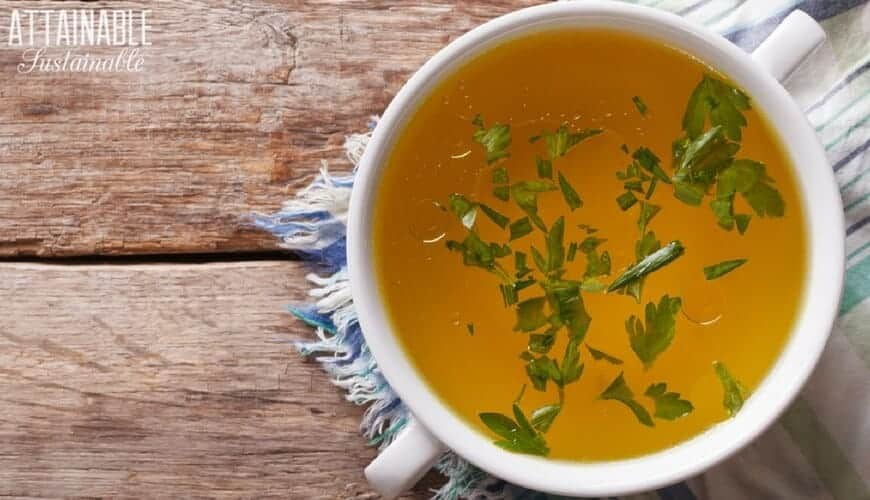 Learn to make broth
Making broth from a roasted chicken is probably one of the most frugal ways to put calories on the table. Bone broth is nutrient-dense and uses items that would otherwise be tossed to the chickens or go in the trash. And it's easy to make. Click through for my chicken stock recipe.
Broth can be sipped hot from a mug or used as an ingredient in budget recipes like soups and stews. (Soups and stews are one of the best cheap dinners you can make — go here for ideas.)
Make what you need, use what you make
One of the biggest ways to save money on food is to stop wasting food. I'm guilty of it. You're guilty of it. That half a serving of soup that got pushed to the back of the fridge. The last slice of bread you didn't eat before it got moldy. The lettuce that wilted before you turned it into salad. That's money down the drain. It doesn't matter how cheap your recipes are if you're throwing half of it away.
If you won't use a big pot of soup before it goes bad, portion it out and freeze some for later so it doesn't go to waste. Or use this trick for transforming it into a whole new meal. (For the finicky ones who don't like to eat the same meal all week long.)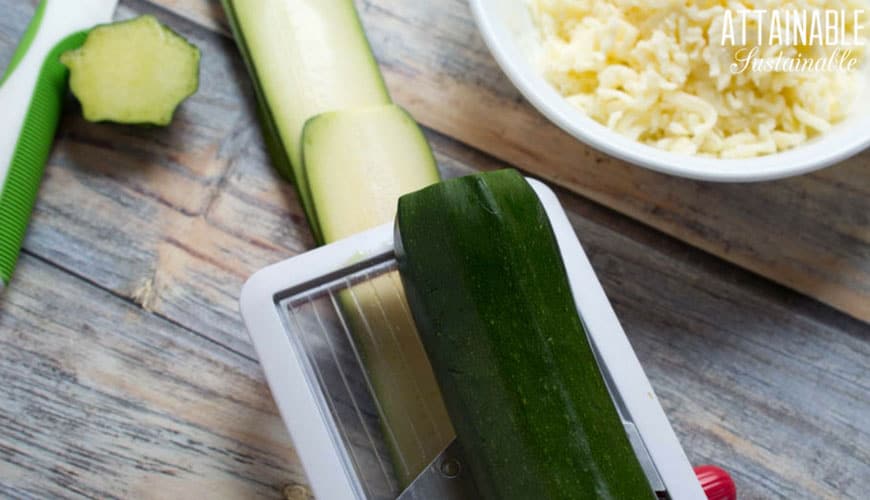 Look for low-cost options
Instead of looking for a favorite fruit or vegetable and lamenting the cost, switch gears. Seek out the least expensive options and learn to love them.​ Zucchini is generally pretty prolific and cheap (or free) during summer months and great for adding to recipes. Try it raw with a dip, stuffed, baked into a cake, made into a fritter, turned into a relish, pickled, or sliced into salad.
Are apples cheap when they're in season? Learn to make and preserve applesauce, then cook the cores and peels down into apple butter. Carrots? They're relatively inexpensive any time of year.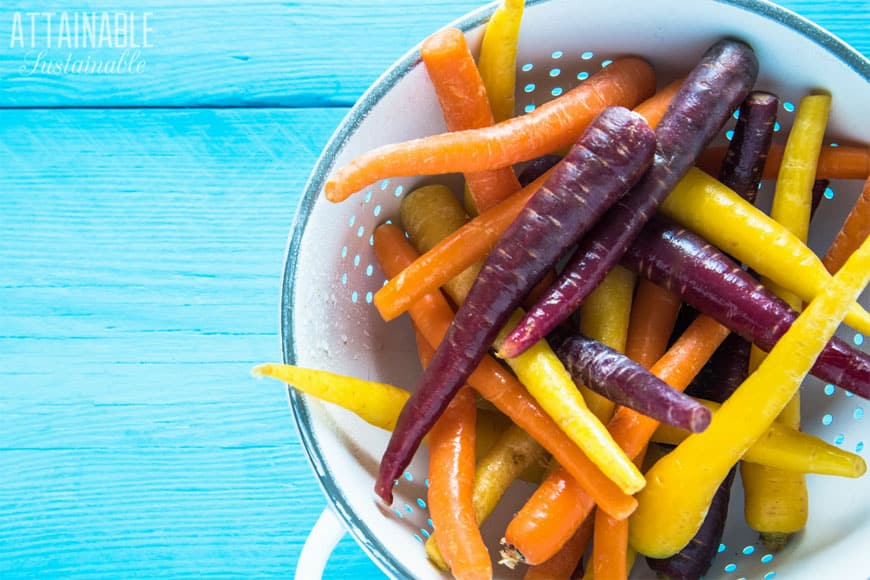 Make a list of your favorite cheap dinner ideas
You've been here: No meal planned or prepped, people are hungry, and you need to get dinner on the table. This is when your food budget is the most vulnerable to takeout sabotage! If you have a list of your favorite cheap dinner ideas and make sure to keep ingredients on hand to make them, you'll save a last-minute dash to the supermarket and some cash.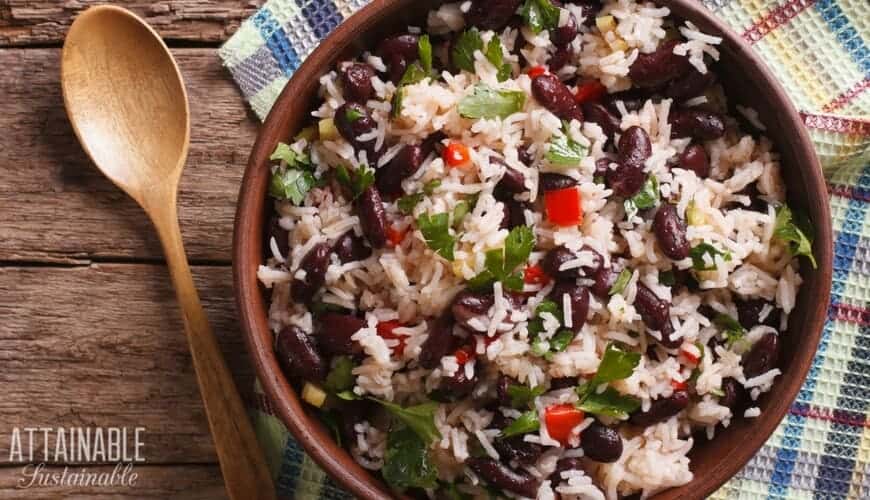 Plan your meals
Knowing what you need for your weekly menu will allow you to get it all at once, eliminating costly stops for "just one thing" that turns into a cart full. This also allows you to take leftovers into account. Cook a roast on Sunday and you can turn it into enchiladas for Tuesday. Having plans will eliminate "emergency" stops for takeout.
Cook from scratch, taking it as close as you can to the source
Dry beans are less expensive than canned beans and taste great. Lentils are cheap and cook faster than beans.
Grow your own
Even if it's just a windowsill full of microgreens or sprouts, it's something. Have a sunny deck or a small spot in your yard that you'd give over to growing food? You can grow 17 plants in just a square foot of ground. Put several of these towers up and you'll be in salad for months.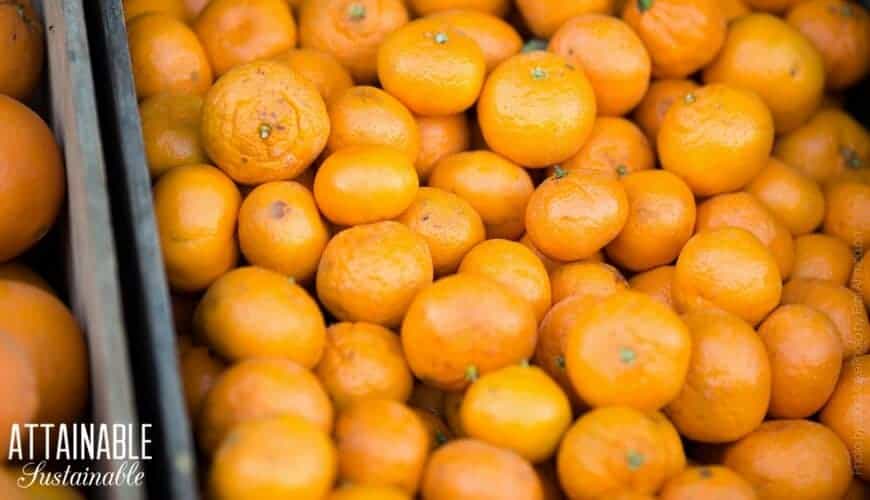 Eat seasonally
A short growing season can add a level of difficulty to the dilemma, but it's possible. Buy produce when it's in season and preserve it at home. This allows you to take advantage of seasonal low prices to make your favorite budget recipes. If you're not ready to delve into home canning, freezing is easy to do. Fermenting is another option for extending the shelf life of your produce.
If you garden, transform your summer squash abundance into this cheesy zucchini lasagna. Or make a batch of garden-fresh sweet potato curry.
Consider an Instant Pot
Yes, it's an investment. But there are two reasons I think an Instant Pot is worthwhile. One, we're all busy. Pressure cooking allows us to get a decent dinner on the table in a hurry – even if your recipe starts with dried beans! Another perk? Pressure cooking turns really inexpensive cuts of meat into tender morsels.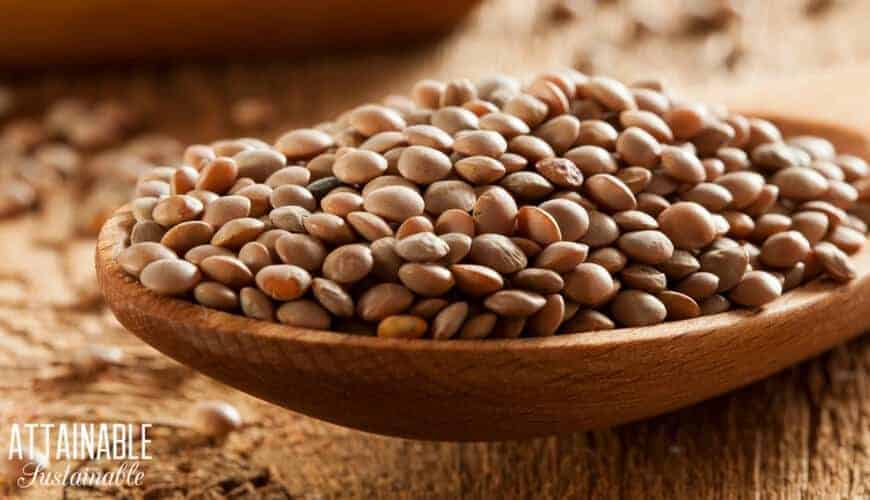 Buy in bulk
In most cases, you'll pay less per unit if you buy larger quantities. It's often less expensive because you're not paying for the costs of individual packaging. Seek out a natural food store than has a bulk food section.
Take your own cloth bags to fill, or see if you can buy the items you use a lot in bulk packaging. (I can get 25-pound bags of dry beans and grains at my local store, but I have to order them.) [See more about storing bulk food items here.]
Try bartering
Offer your skills to a farmer at the market or a gardening neighbor in exchange for their excess.

Look for "seconds"
My local tomato grower sells her not-so-pretty fruit at a bargain basement price. They're still perfectly edible. I use these fresh and also use them for making my own salsa, marinara, and pizza sauce. Ugly apples make great applesauce. Bruised peaches work for peach butter.
Start foraging
My friend tells me that asparagus grows wild in her home state every spring. Blackberries grow wild in many regions. Purslane is a weed that many people pull, but it's also highly nutritious. Sound intriguing? It's called foraging and it's an excellent way to save money and really focus on what's available locally. Check out this TED presentation from professional forager Tama Matsuoka Wong and learn how to add foraged foods to your budget recipes.
Plant perennial shrubs and trees that fruit
An edible landscape is beautiful, plus it will provide food for years to come. Even if you have no desire whatsoever to become a gardener, fruit trees and berry bushes take very little effort to maintain and they will produce year after year. Need a shade tree? Why not put in one that will make fruit?
Budget recipes abound
It is fast to grab cheap takeout, no doubt about it. The trick to incorporating more budget-friendly wholesome foods into your routine is to get so good at them that you can get dinner on the table in a hurry. It takes practice and repetition so that a new-to-you recipe is easy enough to make with your eyes closed. (My go-to for a fast fixing meal? Tacos.)
Give these budget-friendly recipes a try. I bet more than one will end up in your rotation of cheap dinner ideas or on your breakfast table!
Breakfast:

Lunch and dinner:
So how about you? What ways to save money have you implemented while still feeding your family healthful options?